Foamed Plastics Market Size Analysis
According to a recent survey conducted by ChemView Consulting, the Global Foamed Plastics Market grew at a CAGR of 3.7% between 2017-2021 and is estimated to be US$ 57,884.3Mn in 2022. Currently, the market is anticipated to grow at a CAGR of 4.1% and is expected to reach a valuation of US$ 86,510.4Mn by 2032 end.
Foam plastics, also known as plastic foams, cellular foams, expandable foams, structural foams, blown foams, sponges, and microcellular foams, are materials having expanded cell structures. They can be flexible, supple, or unyielding.
The typical procedure entails introducing a dispersed gas, followed by cooling or curing. Most plastics can be turned into foams using foaming techniques. Film or sheet is used to make various unique items molded into desired forms.
Market Dynamic
GROWING SUSTAINABILITY CONCERNS DRIVE THE DEMAND FOR FOAMED PLASTIC
A significant amount of the treatment process cost is related to the cost of sorting foamed plastic trash. Foamed plastic recycling and reuse have gained popularity as a solution to this problem and have opened up a profitable market for foamed plastics producers.
It cannot be easy to group similar materials and sort them according to their material container codes when recycling foamed plastics. This lowers the price of recycling while also resulting in effective recycling. Recycling professionals compress foamed plastic into a small, manageable size. Additionally, foamed plastic can be broken down and reused using solutions like limonene.
STRICT REGULATIONS ON THE USE OF FLEXIBLE POLYURETHANE FOAM
Significant barriers to the growth of the foam plastics market include the implementation of strict environmental regulations and the risk to human health posed by the use of toluene diisocyanate (TDI) and methylene diphenyl diisocyanate (MDI) as raw materials in the production of polyurethane foams.
The Toxic Substances and Disease Registry Agency states that the frequency and duration of exposure determine the impact of TDI and MDI on a consumer's health. Some individuals exposed to TDI and MDI have manifested asthmatic symptoms, including wheezing and shortness of breath. These health issues are expected to prevent the foam plastics market from growing throughout the forecasted period.
THE MANUFACTURE OF BIO-BASED POLYOLS
Polyols must be used in the creation of polyurethane foam. In response to growing worries about the industry's dependency on fossil fuels and the harmful effects that plastics have on the environment, the polyurethane foam industry has been on an ongoing journey to become more sustainable.
Additionally, market participants have a fantastic chance to produce bio-based polyols that may be used to make polyurethane foams and other products. Polyols are an efficient choice that is also sustainable. They are top-notch raw materials that can create a wide range of finished products and applications, including rigid foam, foam plastics, coatings, adhesives, sealants, and elastomers.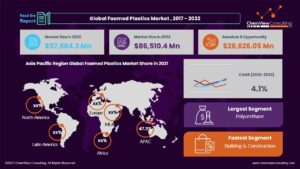 Market Segments Covered in Report
By Product Type:
Packaging
Food Packaging
Transport Packaging
Wrapping
Cushioning
Insulation
Building & Construction
Others
By Material:
Polyurethane (PU) Foams
Expanded Polystyrene (EPS) Foam
Vinyl (Plastisol, PVC) Foams
Others (PE Foam, PP Foam)
By Distribution Channel:
Direct Sales
Indirect Sales
Hypermarkets/Supermarkets
Convenience Stores
Online Retailing
By Region and Country:
North America (U.S., Canada)
Latin America (Brazil, Mexico, Rest of Latin America)
Europe (Germany, Italy, France, UK, Spain, Netherlands, Norway, Russia, Rest of Europe)
Asia-Pacific (China, Japan, South Korea, India, Indonesia, Thailand, Vietnam, Australia & New Zealand, Rest of Asia-Pacific)
Middle East (Saudi Arabia, Turkey, UAE, Rest of Middle East)
Africa (South Africa, Nigeria, Egypt, Rest of Africa)
Segment-Wise Analysis
Which product type is increasing in its demand in the anticipated period?
In the building and construction sector, foamed polymers are widely used. They are an appealing option for the building industry because of their strength, cost-effectiveness, longevity, and high flexibility and versatility. They also require little maintenance. Seals, window and door profiles, pipelines, floor covering, and insulation are all applications for foamed plastics.
The building and construction sector is likely to expand in the years to come because of increased public and private investment. Construction of social infrastructures, such as healthcare, education, and infrastructure, as well as other consumer end-markets, has a chance to increase as the economy shifts to one that is consumer and services-driven.
The market for foamed plastics is projected to be significantly impacted by growth in the building and construction sector because it is the key end-user of foamed plastics. The Building & Construction industry will likely generate gains for the foamed plastic market during the forecasted period.
Why is the Polyurethane (PU) Foam segment increasing its demand in the foreseen period?
The segment for polyurethane resin is anticipated to have the greatest CAGR. Low density, low water absorption, relatively strong mechanical strength, and effective insulating qualities are all characteristics of polyurethane. There are much different rigidity, hardness, and density levels of foams made from PU resin.
Upholstery, bedding, automotive and truck seating and cutting-edge inorganic plant substrates for roof or wall gardens use low-density flexible foams. RTM cores and thermal insulation both use low-density foams.
Region-Wise Analysis
The regions analyzed for the market include North America, Europe, Latin America, Asia Pacific, Middle East, and Africa.
Due to its high-foamed plastic production, which accounts for nearly 47.3% of the region's market share, the Asia Pacific is predicted to maintain its top spot in the global market. Foamed plastics market growth is fueled by the region's expanding automotive, building and construction, and food service sectors.
Foamed plastics use is prohibited here, which has caused a decline in both North America and Europe (as stated above). The market for foamed plastics is expected to expand significantly in Latin America, the Middle East, and Africa throughout the forecast period, with a CAGR of approximately 6% and 7%, respectively.
Competition Analysis
Given a large number of predicted regional and regulated competitors, the market for foamed plastics appears to be highly fragmented. As a result, it is projected that this market will be extremely competitive.
All major businesses concentrate on giving customers customized solutions that meet their needs. Additionally, the producers strongly emphasize expanding their global market reach, diversifying their product lines, and increasing the volume of foamed plastics they produce.
The recent developments in the Global Foamed Plastics Market:
In June 2020, Agilyx Corporation and Dolco Packaging, a Tekni-Plex Inc. subsidiary, worked together to increase the recycling of polystyrene (PS) packaging and other PS consumer goods. The company hopes this partnership will enhance plastic recovery from 10% to 90%
A list of some of the key suppliers present in the market are:
Berry Global Inc.
Dart Container Corporation
Sealed Air Corporation
Pactiv LLC
Tekni-Plex, Inc.
Groupe Guillin SA
D & W Fine Pack LLC
Genpak, LLC
UFP Technologies, Inc.
Sirap Gema S.p.a
Report Coverage and Highlights
Our comprehensive, data-backed, and facts-oriented report provides niche and cross-sectional analysis at global and country levels.
Assessment of the historical (actual data) and current market size (2017-2021), market projections (2022-2032), and CAGR.
The market assessment across North America, Europe, East Asia, South Asia & Pacific, Latin America, Middle East, and Africa.
Competitive tactical intelligence, key strategies adopted by top players, production capacity and company shares analysis, product brand surveys, and export-import analysis
Pricing analysis to set and benchmark your current or future offerings across each product type helps you understand whether your pricing strategy is aligned with market expectations and can be compared to market disruptions.
Predictions on critical supply and demand trends and technological expertise needed to address operations scalability.
Consumer behavior shifts and their implications for players, list of end-users, and their consumption analysis.
Key drivers, restraints, opportunities, and emerging trends impacting the market growth.
Value chain analysis (list of manufacturers, distributors, end-users, and average profitability margins).
Strategic market analysis, recommendations, and future headways on crucial winning strategies.
| | |
| --- | --- |
| Research Scope | Details |
| Forecast period | 2022-2032 |
| Historical data available for | 2017-2021 |
| Market analysis | USD Million for Value and Tons for Volume, and CAGR from 2022 to 2032 |
| Key regions covered | North America, Latin America, Europe, Asia-Pacific, Middle East, and Africa |
| Key countries covered | US, Canada, Brazil, Mexico, Germany, Italy, France, UK, Spain, Netherlands, Norway, Russia, China, Japan, South Korea, India, Indonesia, Thailand, Vietnam, Australia & New Zealand, Saudi Arabia, Turkey, UAE, South Africa, Nigeria, Egypt |
| Key segments covered | By Type, Material, Distribution Channel, and Region |
| Customization scope | Available upon Request |
| Pricing and purchase options | Available upon Request |