Fuel Cell Market Size Analysis
According to a research survey conducted by ChemView Consulting, in 2022, the Global Fuel Cell Market was worth US$ 391.3 Mn and is expected to grow at a CAGR of 22.6% over the forecast period. The market is expected to hit US$ 3,001.6 Mn by 2032 end.
The main drivers of market expansion are the rising need for clean power generation with low or no emissions. The demand for fuel cells will also increase due to numerous laws and restrictions on carbon emissions shortly.
Examples of applications for fuel cells include uninterruptible power supply (UPS) systems, military power units, various electric appliances, combined heat and power (CHP) systems, submarines, and autos. Because it emits no pollutants, fuel cell technology is becoming increasingly popular as a heating source in commercial buildings. Over the following several years, this is probably to the global fuel cell market's advantage.
Market Dynamic
THE POPULARITY OF CLEAN ELECTRIC ENERGY DRIVES THE MARKET
The Paris Agreement and the cooperation of political leaders from all over the world in lowering their nations' carbon footprints have given green and renewable technology a boost in the marketplace. Because they produce no emissions, fuel cells fall under the category of green and renewable technologies, and their use is increasing because of the regulations governing carbon emissions.
Governments worldwide are anticipated to assist the improvements by providing funds for different initiatives, including research and appropriate financing schemes. Having a strong regulatory and policy framework is crucial because government firms must provide an environment conducive to investment.
HIGH TECHNOLOGY COSTS HAMPER THE MARKET GROWTH
The expansion of the FCEV market may be hampered by the high cost of fuel cell technology. Investment risks such as capital and operational expenses and under-utilization of various facilities about FCEV are likely to hinder the growth further.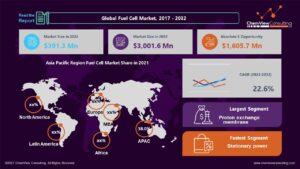 Market Segments Covered in Report
By Source:
Hydrogen-powered
Methanol powered
Biogas powered
Natural gas powered
Hydrocarbons powered
By Design:
Solid oxide fuel cell (SOFC)
Proton exchange membrane (PEM)
Molten carbonate fuel cell (MCFC)
Others
By Application:
Stationary power
Portable power
Transportation power
Specialty vehicles
Fuel cell electric vehicles
Auxiliary power units
Material handling equipment
By Region and Country:
North America (U.S., Canada)
Latin America (Brazil, Mexico, Rest of Latin America)
Europe (Germany, Italy, France, UK, Spain, Netherlands, Norway, Russia, Rest of Europe)
Asia-Pacific (China, Japan, South Korea, India, Indonesia, Thailand, Vietnam, Australia & New Zealand, Rest of Asia-Pacific)
Middle East (Saudi Arabia, Turkey, UAE, Rest of Middle East)
Africa (South Africa, Nigeria, Egypt, Rest of Africa)
Segment-Wise Analysis
Which application segment of  Fuel Cell is expected to emerge as the largest?
The stationary power segment is expected to emerge as the largest application segment over the forecast period. Factors such as high efficiency and flexibility to use different fuels are expected to boost the growth of the stationary application segment.
Why is the proton exchange membrane design segment expected to dominate during the forecast period?
In terms of units, the proton exchange membrane fuel cell (PEMFC) market will dominate in 2021. The significant usage of PEMFC in stationary, transit and portable applications is principally responsible for the segment's high market share.
Region-Wise Analysis
The regions analyzed for the market include North America, Europe, Latin America, Asia Pacific, the Middle East, and Africa.
Regarding units, Asia Pacific held the highest proportion of the worldwide fuel cell market in 2021. This is mostly because of Japan's ENE-FARM program, which has encouraged using PEMFCs and SOFCs for micro-CHP applications there. The region's fuel cell market has expanded due to laws and initiatives in China and South Korea that favor using fuel cell systems for transportation.
Due to supportive policies to reduce carbon footprint in the area and the availability of funds for fuel cell research and development, the North American fuel cell market maintained a sizable share in terms of capacity in 2020.
Competition Analysis
Because of the ongoing technical developments being brought by both established vendors and new competitors, the worldwide fuel cell industry is extremely competitive. Players in the market are focusing on fortifying their ties with system installers and considering merger and cooperation strategies to boost their position in the value chain and broaden their geographic reach.
Some of the key developments that have taken place in the Fuel Cell Market include:
In January 2022, Doosan Fuel Cell Co., Ltd. and Korea Hydro & Nuclear Power (KHNP) signed a contract to improve hydrogen fuel cell operation and maintenance capabilities. According to the terms of the agreement, the two businesses will collaborate to create a plan for technical training in hydrogen fuel cell operation and maintenance, as well as a nearby green hydrogen fuel cell project for distributed electricity.
In March 2022, At the HORIBA MIRA West Midlands location in the UK, Ceres and HORIBA MIRA formed cooperation for fuel cell testing and creating a Ceres fuel cell test facility.
A list of some of the key suppliers present in the market are:
Toshiba Corporation
Panasonic Corporation
Hydrogenics Corporation
Kyocera
AFC Energy
Ballard Power Systems, Inc.
Ceres Power Holdings PLC
Aisin Seiki Co. Ltd.
Ceramic Fuel Cells Limited
Doosan Corporation
Global Fuel Cell Market 2022-2032: Report Coverage and Highlights
Assessment of the historical and current market size (2017-2021), market projections (2022-2032), and its contribution to the parent market
Key drivers, restraints, opportunities, and key emerging trends impacting market growth
Predictions on critical supply, demand, and technological trends and changes in consumer behavior
Value chain analysis (list of manufacturers, distributors, end-users, average profitability margins, etc.)
Segment-wise, country-wise, and region-wise market analysis
Competition mapping, market share analysis, key strategies adopted by top players, and competitive tactical intelligence
Key product innovations and regulatory framework
Covid-19 impact on the market and how to navigate
Strategic market analysis and recommendations on crucial winning strategies
| | |
| --- | --- |
| Research Scope | Details |
| Forecast period | 2022-2032 |
| Historical data available for | 2017-2021 |
| Market analysis | USD Million for Value and Tons for Volume, and CAGR from 2022 to 2032 |
| Key regions covered | North America, Latin America, Europe, Asia-Pacific, Middle East, and Africa |
| Key countries covered | US, Canada, Brazil, Mexico, Germany, Italy, France, UK, Spain, Netherlands, Norway, Russia, China, Japan, South Korea, India, Indonesia, Thailand, Vietnam, Australia & New Zealand, Saudi Arabia, Turkey, UAE, South Africa, Nigeria, Egypt |
| Key segments covered | By Source, Design, Application, and Region |
| Customization scope | Available upon Request |
| Pricing and purchase options | Available upon Request |