Insoles Market Size Analysis
According to a research survey conducted by ChemView Consulting, in 2022, the Global Insoles Market was worth US$ 5.2 Bn and is expected to grow at a CAGR of 10.2% over the forecast period. The market is expected to hit US$ 11.3 Bn by 2030 end.
The market is being driven by rising chronic foot diseases, increased awareness among people to treat these disorders, increased healthcare spending, and growth in sports activities. Insoles keep the feet comfortable, give support, enhance body posture, and allow the foot-sole to breathe by absorbing sweat around the feet.
Market Dynamic
What are the causes driving the rise in demand for Insoles?
Increased physical activity, such as walking and jogging, has put additional strain on people's joints worldwide. A higher collective impact during dynamic exercises causes foot pain and illnesses.
Growing obesity rates, high diabetes prevalence, and an increase in various foot and back ailments are the primary causes driving demand for orthopedic insoles. Global internet penetration has been increasing year after year. Customers can now easily obtain information on the numerous shoe inserts available on the market.
What are the opportunities in the Insoles Market?
The prevalence of plantar fasciitis is anticipated to rise as the number of diabetic individuals rises. Plantar fasciitis is a common degenerative illness that affects adults aged 45 to 50 years or older. It frequently causes chronic heel discomfort, with diabetic people being particularly vulnerable.
According to the World Health Organization (WHO), the estimated incidence of plantar fasciitis with discomfort in the US was 0.9%. Based on the previous considerations, demand for orthopedic insoles will likely rise during the forecast period.
What are the major benefits that customers prefer when choosing Insoles?
Users choose comfort over money when selecting an insole. Consumers will not hesitate to spend a high price if the insoles give them relief from strain and pain. People who live in severe surroundings prefer insoles that provide comfort through heating or cooling.
People who live in areas with heavy snowfall or ice-covered mountains like to use heated insoles to keep their feet warm while participating in activities such as skiing.
What are the major challenges confronting the Insoles Market?
While insoles have played an important role in providing the utmost comfort to patients suffering from foot diseases, poor prescription has exacerbated problems in numerous cases, increasing pain and discomfort and aggravating pre-existing medical conditions. Also, the product's penetration is projected to be limited due to a lack of awareness in developing countries.
COVID-19 Impact
The epidemic of COVID-19 had a huge influence on insole sales. The spread of COVID-19 saw a decrease of nearly 0.7% in 2020.
With government-imposed lockdowns and the fear of COVID infection, the number of people venturing outside for work, sports, and other activities decreased, affecting footwear sales and reflecting a similar economic curve in the market for insoles.
With the number of cases lowered and vaccination programs being held across the country in 2021, the market is currently in a recovery phase and is expected to recover by 2022 fully.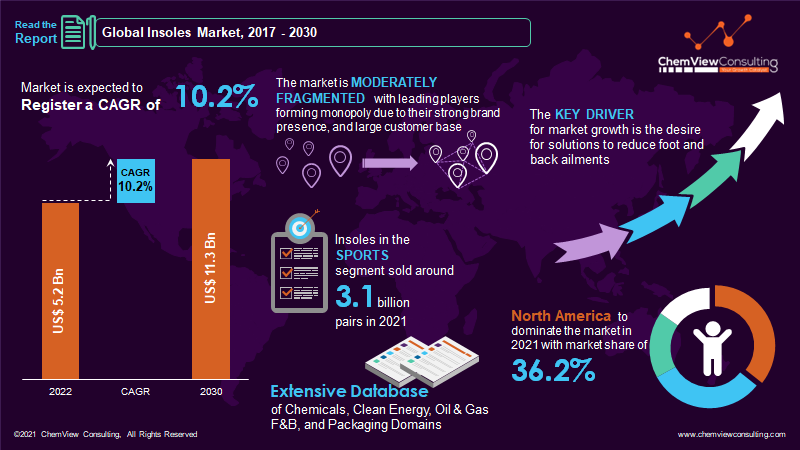 Segment-Wise Analysis
Why are Gel Insoles expected to grow at the fastest CAGR?
Because of gel insoles' shock-absorbing qualities, the casual and sports insoles market section is expected to grow rapidly during the projected period. Gel insoles effectively distribute pressure and impact the heel, preventing soft tissue damage.
Sportspeople, athletes, regular walkers, and runners prefer gel insoles since these activities require high shock absorption. The gel is essential in cushioning the shock created by strenuous physical exercises and reducing foot injury.
Why Sports and the therapeutic segment is likely to grow the most rapidly throughout the forecast period?
The population suffering from flat feet, heel discomfort, ankle pain, and other related disorders is the primary growth contributor in the therapeutic segment.
Running and heavy weight lifting, in particular, are increasing demand in sports applications. The sports industry is driving the insoles business with enhanced cushioning and sweat absorption.
In 2021, both segments accounted for 35.0% of the market worldwide, while the Sports segment alone sold approximately 3.1 billion pairs.
Why is the North American region cementing its global dominance in the Insoles Market?
North America is the most profitable market for insole producers, with an absolute dollar opportunity of roughly US$ 11.9 billion. North America manufactures one out of every four insoles produced worldwide.
Why is the United States such a large market for insoles?
In 2020, the United States accounted for more than 81.0% of the North American insole market. The country is a significant importer of footwear and related accessories. Sporting insoles are popular so regional manufacturers will have plenty of opportunities.
The growing senior population will provide opportunities for orthotic insole makers in the next years. These factors will be reinforced by a rise in fitness-related activities, which will strain the foot and increase the demand for supportive insoles.
Which country has promising opportunities in the Asia-Pacific Insole market?
China accounts for more than 55% of Asia-Pacific insole production. One of the most significant segments in the country is insoles for casual use.
Several companies in China are primarily focused on producing low-cost insoles by investing in developing raw materials and manufacturing technologies. The country's vast population, per capita spending capacity growth, and awareness of the benefits of utilizing modern insoles would provide sufficient opportunities for insole makers.
Competition Analysis
For the last two decades, the market has been fiercely competitive, and leading players have engaged in various organic and inorganic approaches to expand their market position and presence. Top companies are expanding into raw material development and production to complete control of the value chain.
Several insole producers are broadening their portfolios by entering the accessories market.  In this regard, insole producers are producing items like anti-fungal sprays, foot lotions, odor control sprays, and so on, which not only extend the life of the insoles but also assist customers in maintaining the health of their feet.
Some of the key developments that have taken place in the Insoles Market include:
Wiivv collaborated with Volumental, an artificial intelligence-powered footwear recommendation system, to develop an omnichannel 3D-footwear customization platform.
TOM-CAT Solutions collaborated with ComfortFit Labs to develop foot and ankle scanning technologies. This technology is fully integrated with hardware and software in a small device.
Powerstep has introduced a new orthotic recovery slider for men and women that features built-in arch support and a simple and secure slip-on design.
A list of some of the critical suppliers present in the market are:
ARNEPLANT, S.L.
Bauerfeind
Dongguan Jianhui Shoes Material Co.,Ltd
Dongguan S-King Insoles Limited
Scholls
Foot Science International
Gifral Srl
Guangzhou Shunyang SM Co Ltd
Materialise
Miami Srl
Noene
O2 Partners, LLC.
Peacocks Medical Group
Podfo
Precise Insole
Prodways Group
Protalus
Stable Step, LLC
SUPERFEET WORLDWIDE, INC.
Implus Footcare, LLC
Sidas
Ottobok
Aetres Worldwide Inc.
WinterSteiger
Stable Step, LLC (Power Step)
Footbalance System Ltd.
ComfortFit Orthotic Labs, Inc.
Euroleathers
ProFoot, Inc.
Currex GmbH
Wiiv
Market Segments Covered in Report
By Type:
Prefabricated
Customized
3D Printed
By Material:
By Application:
By Consumer:
By Sales Channel:
Direct Sales
Indirect Sales
By Region and Country:
North America (U.S., Canada)
Latin America (Brazil, Mexico, Rest of Latin America)
Europe (Germany, Italy, France, UK, Spain, Netherlands, Norway, Russia, Rest of Europe)
Asia-Pacific (China, Japan, South Korea, India, Indonesia, Thailand, Vietnam, Australia & New Zealand, Rest of Asia-Pacific)
Middle East (Saudi Arabia, Turkey, UAE, Rest of Middle East)
Africa (South Africa, Nigeria, Egypt, Rest of Africa)
Global Insoles Market 2022-2030: Report Coverage and Highlights
Assessment of the historical and current market size (2017-2021), market projections (2022-2030), and its contribution to the parent market
Key drivers, restraints, opportunities, and key emerging trends impacting market growth
Predictions on critical supply, demand, and technological trends and changes in consumer behavior
Value chain analysis (list of manufacturers, distributors, end-users, average profitability margins, etc.)
Segment-wise, country-wise, and region-wise market analysis
Competition mapping, market share analysis, key strategies adopted by top players, and competitive tactical intelligence
Key product innovations and regulatory framework
Covid-19 impact on the market and how to navigate
Strategic market analysis and recommendations on crucial winning strategies
| | |
| --- | --- |
| Research Scope | Details |
| Forecast period | 2022-2030 |
| Historical data available for | 2017-2021 |
| Market analysis | USD Billion for Value and Tons for Volume, and CAGR from 2022 to 2030 |
| Key regions covered | North America, Latin America, Europe, Asia-Pacific, Middle East, and Africa |
| Key countries covered | US, Canada, Brazil, Mexico, Germany, Italy, France, UK, Spain, Netherlands, Norway, Russia, China, Japan, South Korea, India, Indonesia, Thailand, Vietnam, Australia & New Zealand, Saudi Arabia, Turkey, UAE, South Africa, Nigeria, Egypt |
| Key segments covered | By Type, Material, Application, Consumer, Sales Channel, and Region |
| Customization scope | Available upon Request |
| Pricing and purchase options | Available upon Request |