Pouches Market Size Analysis
According to a research survey conducted by ChemView Consulting, in 2022, the Global Pouches Market was worth US$ 42.4 Bn and is expected to grow at a CAGR of 5.0% over the forecast period. The market is expected to hit US$ 62.6 Bn by 2030 end.
Pouches are made from materials that have been thoroughly sterilized. These materials aid in product protection, making them perfect for food, beverage, and healthcare packaging. The pouches are made with various laminated films that protect the contents from moisture, light, and odor while preserving the freshness of food and beverages.
Because of changing lifestyles and improvements in food processing processes, the Pouches Market has been rapidly rising, and this trend is likely to continue during the forecast period.
Market Dynamic
What factors are driving the increase in demand for Pouches?
The surge in packaged food consumption and the cost-effectiveness of pouches are expected to fuel worldwide pouches market expansion.
The key factors driving market expansion are rising demand for packaged food and beverages and the convenience and cost-effectiveness of pouches. Pouches take up less space in vehicles due to their compactness. Furthermore, they are lightweight, which cuts transportation costs greatly. The availability of different pouch closure choices, such as spout, zipper, and tear notch, boosts demand.
What opportunities exist in the Pouches Market?
The key impetus for pouch-based packaging solutions is the country's high market penetration of Ready-to-Eat (RTE) meals due to a busy lifestyle and many working people. Pouches are often used for packaging various food products such as dairy, snacks, smoothies, and others. Because of changing lifestyles and advances in food processing processes, the worldwide packaged food industry has been rapidly rising, which is likely to create ample opportunities for market expansion during the forecast period.
End-use companies' increased desire for sustainable packaging solutions due to rising regulatory pressure and consumer awareness about sustainability will likely boost product demand in the future.
COVID-19 Impact
With the onset of COVID-19, there was a significant decline in electronics and personal care product sales. During the early stages of the pandemic, product sales were impacted due to supply chain disruption. The stoppage in China, a significant raw material provider, hurt packaging makers worldwide.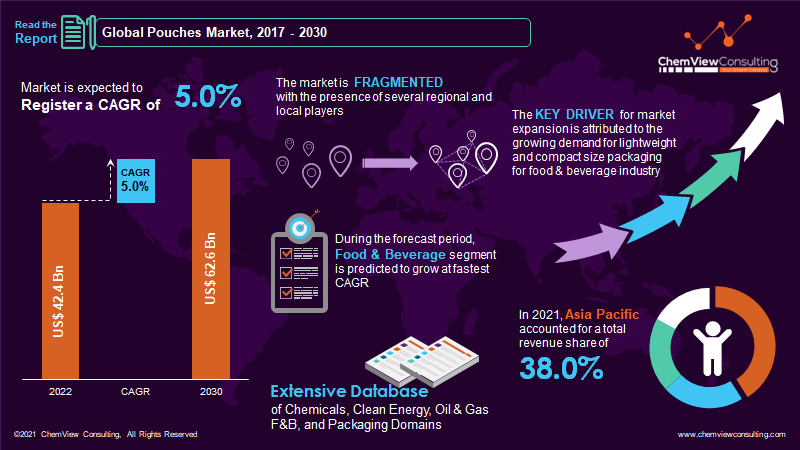 Segment-Wise Analysis
Why are Stand-up Type Pouches projected to have the highest CAGR?
The stand-up pouches segment is expected to lead the pouches market in value from 2022 to 2030. These pouches are extensively used in the food and beverage industries because they are robust and provide better product stability. Because of the growing demand for compact and lightweight packaging, solutions are commonly employed in food and beverage packaging. Furthermore, they are widely utilized for light products such as coffee, tea, condiments, and candies.
Why is the Food & Beverage segment expected to expand the fastest during the forecast period?
Regarding value and volume, the food & beverages sector in the pouches market is expected to grow at the fastest CAGR during the forecast period. Because of their malleability and low weight, pouches are favored and ideal beverage packaging alternatives. They also safeguard the products from contamination. Because of these characteristics, the food & beverage industry is expected to command a sizable market share.
Which material type sector is expected to increase the fastest over the projected period?
From 2022 to 2030, the bioplastic material market is expected to grow fastest. The substance has similar qualities to plastic and is fully biodegradable. Furthermore, increasing strict laws on plastic packaging and increased consumer awareness of sustainable packaging options are likely to boost the growth of the bioplastics material segment in the coming years.
Which treatment type sector will likely grow the fastest over the forecast period?
In 2021, the standard treatment type segment led the market, accounting for more than 60.0% of total revenue. The increased use of traditional treatment pouches in food and beverage, personal care, and cosmetics is attributed to their reduced cost and higher durability.
Why is the Asia Pacific region cementing its global dominance in the Pouches Market?
In terms of value, the Asia Pacific pouches market is expected to develop at the fastest CAGR from 2022 to 2030. It accounted for more than 38.0% of total revenue in 2021. The rising demand for pouches from densely populated nations such as India and China is driving market expansion in the Asia Pacific region.
The growing use of pouches in food, drinks, healthcare, personal care & home care, oil & lubricants, and agricultural products is expected to fuel the growth of the Asia Pacific pouches market. Consumer buying power is increasing, particularly in China, India, and Vietnam, fueling demand for packaged food goods, likely to drive market expansion.
Competition Analysis
Because of the existence of both domestic and global firms, the sector is highly fragmented. Key industry players primarily provide customized packaging products and use mergers and acquisitions and new product development techniques to acquire a competitive advantage over others.
Amcor plc is one of the industry's top companies; it caters to all end-use sectors and primarily concentrates on acquisitions and new product launches to strengthen its market leadership.
Some of the key developments that have taken place in the Pouches Market include:
In June 2019, Amcor acquired Bemis Company Inc. (US) to expand its capabilities. Bemis Company Inc. (US) is a global participant in the flexible packaging sector, offering consumers a variety of pouches. This strategic strategy is expected to broaden Amcor's product offering and geographic footprint globally.
In June 2019, Smurfit Kappa introduced a stand-up bag for olive oil that weighs 17 times less than glass packaging and is available in 1.5 L pouches. This innovative pouch is inexpensive and contributes to lower plastic use and CO2 emissions during transit.
A list of some of the key suppliers present in the market are:
Amcor plc
Bemis Company, Inc.
Coveris
Mondi
Smurfit Kappa.
Sealed Air.
Sonoco Products Company
WINPAK LTD.
Dai Nippon Printing Co., Ltd
Giriraj Polimer
Paras Print Pack
Packman Industries
Scoya Pharmatech
Swiss Pac Pvt. Ltd
, Shiva Plastics
Shako Flexipack Pvt. Ltd
Kamakshi Lamipack Private Limited
Vee Dee Enterprises
Rkp Polybags Private Limited
Market Segments Covered in Report
By Type:
Stand-up Pouches
Block Bottom
Bottom Gusset
Side Gusset
Flat Pouches
Pillow
Four-Side Sealed
Three-Side Sealed
Roll Stock
By Material:
Plastic
Metal
Paper
Bioplastics
By Treatment Type:
Aseptic
Standard
Retort
Hot-Filled
By Application:
Food & Beverage
Medical & Pharmaceuticals
Cosmetic & Personal care
Others
By Pouches Weight:
<10 gms
10-20 gms
20-50 gms
50-70 gms
>70 gms
By Sealer:
Direct Heat Sealer
Vacuum Pouch Sealer
Others
By Region and Country:
North America (U.S., Canada)
Latin America (Brazil, Mexico, Rest of Latin America)
Europe (Germany, Italy, France, UK, Spain, Netherlands, Norway, Russia, Rest of Europe)
Asia-Pacific (China, Japan, South Korea, India, Indonesia, Thailand, Vietnam, Australia & New Zealand, Rest of Asia-Pacific)
Middle East (Saudi Arabia, Turkey, UAE, Rest of Middle East)
Africa (South Africa, Nigeria, Egypt, Rest of Africa)
Global Pouches Market 2022-2030: Report Coverage and Highlights
Assessment of the historical and current market size (2017-2021), market projections (2022-2030), and its contribution to the parent market
Key drivers, restraints, opportunities, and key emerging trends impacting market growth
Predictions on critical supply, demand, and technological trends and changes in consumer behavior
Value chain analysis (list of manufacturers, distributors, end-users, average profitability margins, etc.)
Segment-wise, country-wise, and region-wise market analysis
Competition mapping, market share analysis, key strategies adopted by top players, and competitive tactical intelligence
Key product innovations and regulatory framework
Covid-19 impact on the market and how to navigate
Strategic market analysis and recommendations on crucial winning strategies
| | |
| --- | --- |
| Research Scope | Details |
| Forecast period | 2022-2030 |
| Historical data available for | 2017-2021 |
| Market analysis | USD Billion for Value and Tons for Volume, and CAGR from 2022 to 2030 |
| Key regions covered | North America, Latin America, Europe, Asia-Pacific, Middle East, and Africa |
| Key countries covered | US, Canada, Brazil, Mexico, Germany, Italy, France, UK, Spain, Netherlands, Norway, Russia, China, Japan, South Korea, India, Indonesia, Thailand, Vietnam, Australia & New Zealand, Saudi Arabia, Turkey, UAE, South Africa, Nigeria, Egypt |
| Key segments covered | By Type, Material, Treatment Type, Application, Pouches Weight, Sealer, and Region |
| Customization scope | Available upon Request |
| Pricing and purchase options | Available upon Request |