Global Aerogel Market Size Analysis
According to a research survey conducted by ChemView Consulting, in 2022, the Global Aerogel Market was worth US$ 716.5 Mn and is expected to grow at a CAGR of 10.2% over the forecast period. While the historical CAGR is 8.9%, the market is expected to hit US$ 1,892.5 Mn by 2032 end.
Aerogels are a subclass of synthetic porous lightweight materials created from gels in which the gel's liquid component has been replaced by gas without the gel's structure significantly collapsing. The end product is solid with an incredibly low density and thermal conductivity. Numerous chemical substances can be used to create aerogels.  Some polymer-based aerogels feel like stiff foams, whereas silica aerogels feel like brittle expanded polystyrene. By supercritical drying or freeze-drying, the liquid portion of a gel is removed to create aerogels.
Market Dynamic
THINNER AND LIGHTER ALTERNATIVE TO CONVENTIONAL GELS
There are certain drawbacks to conventional insulation materials, such as polyurethane foam, mineral wool, rock wool, and stone wool. To attain the correct R-value, for instance, thick layers of these materials are needed, which results in the loss of valuable floor space in new construction. It is considerably more difficult to add high insulation levels to older structures because the extra layers alter the aesthetic appeal of the building. Therefore, aerogels are anticipated to be a perfect replacement for conventional insulating materials in new construction to meet energy standards set by various regulatory authorities and prevent structural compromises.
Aerogel materials can conserve a large amount of energy that would otherwise be required for heating and cooling due to their poor thermal conductivity and reduced thickness. Due to its characteristics, including low weight and poor thermal conductivity, aerogels are utilized for clothing in cold climates. They are frequently employed for industrial insulation as well.
HIGH MANUFACTURING COST RESTRICTS THE MARKET
One of the main factors limiting the expansion of the aerogel industry is the high cost of producing aerogel. The high price of raw materials (for alkoxide-based precursor materials), labor-intensive process technologies (solvent exchange steps, lengthy reaction times constrained by diffusion), and the installation of relatively small production capacities for businesses are the main causes of the high cost of silica aerogels.
It is expensive because substantial R&D is needed to manufacture aerogel materials. The synthetic processes utilized to make aerogel materials are not as flexible. Due to the highly specialized production processes used in aerogel manufacture, a sophisticated facility is needed. Supercritical drying is the step in the aerogel manufacturing process that costs the most money.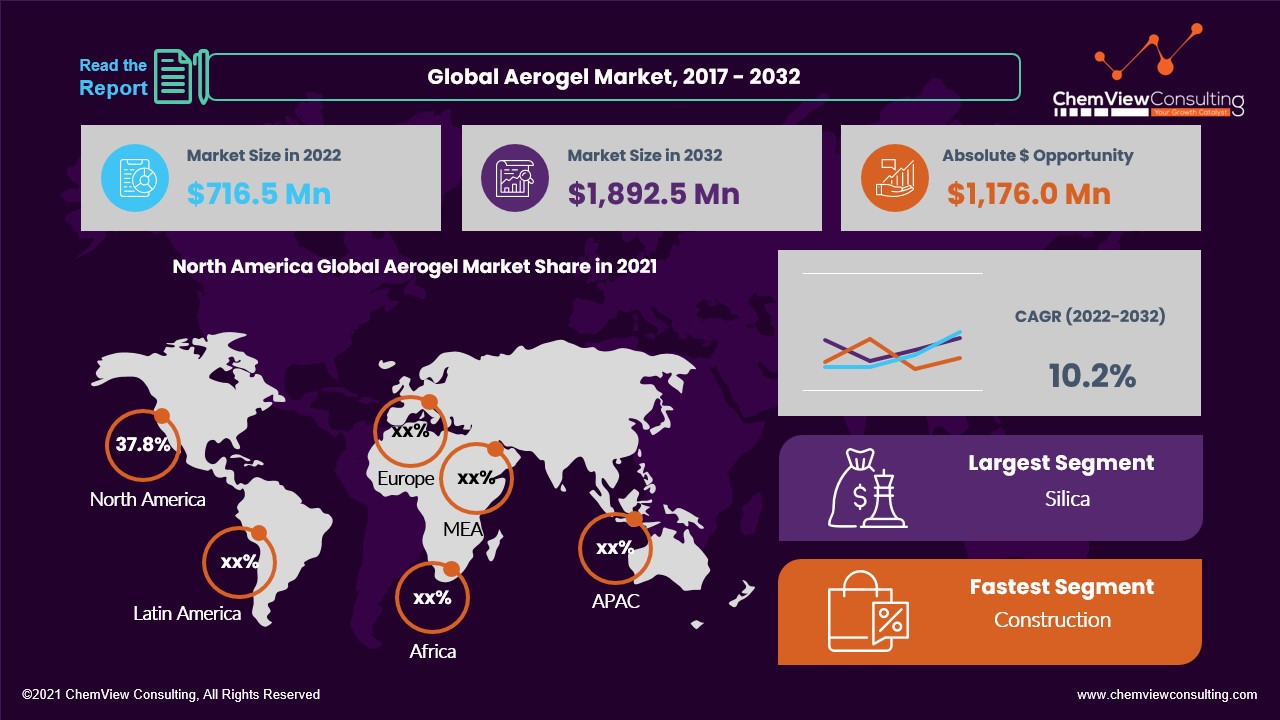 Market Segments Covered in Report
By Product Type:
Silica Aerogel
Polymer Aerogel
Carbon Aerogel
By Application:
Aerogels for Oil & Gas
Aerogels for Marine & Aerospace
Aerogels for Performance Coating
Aerogels for LVHS
Aerogels for Day-Lighting
Aerogels for Automotive
Aerogels for Construction
By Form:
Monolith Aerogel
Blanket Aerogel
Article Aerogel
Panel Form Aerogel
By Processing:
Virgin Processed Aerogel
Fabricated Aerogel
By Region and Country:
North America (U.S., Canada)
Latin America (Brazil, Mexico, Rest of Latin America)
Europe (Germany, Italy, France, UK, Spain, Netherlands, Norway, Russia, Rest of Europe)
Asia-Pacific (China, Japan, South Korea, India, Indonesia, Thailand, Vietnam, Australia & New Zealand, Rest of Asia-Pacific)
Middle East (Saudi Arabia, Turkey, UAE, Rest of Middle East)
Africa (South Africa, Nigeria, Egypt, Rest of Africa)
Segment-Wise Analysis
Why is the Silica-based aerogel estimated to be the largest utilized type?
The process for making silica aerogel is very flexible and has a low cost. The greatest combination of low thermal conductivity and good optical transparency makes silica aerogels popular. They are transparent, but the Rayleigh scattering effect gives them the appearance of being blue, leading to their common names of frozen smoke and blue smoke.
The silica-based aerogel market is driven by its excellent insulating qualities, low price, wide availability of raw materials, and adaptable manufacturing technique. The first kind of aerogel to be sold commercially is Silica. Fabrics made of silica aerogel are particularly fascinating because they are light and transparent. Many applications can use a visibly transparent super-insulating material.
Why is it anticipated that the Construction category revenue would grow?
Due to an increase in the usage of aerogels as high-performance insulating plaster in buildings, revenue in the construction category is anticipated to grow at a considerably quick CAGR over the projected period. Insulating application made of aerogel is nonflammable and guards against small fires inside buildings. Aerogels can be used to save energy while renovating
Region-Wise Analysis
The regions analyzed for the market include North America, Europe, Latin America, Asia Pacific, the Middle East, and Africa.
With a revenue share of 8%, North America dominated the global market, and it is anticipated that it will continue to grow over the projected period. Due to its rapid application and product innovation expansion, North America has enormous growth potential. For instance, the region's fast-increasing production of hybrid and electric vehicles is predicted to support the product demand due to its broad range of potential applications in car batteries.
Europe is anticipated to have significant growth. The primary element influencing the regional market is the European Union's energy efficiency policy, which requires all buildings in nations, including Germany, the United Kingdom, Spain, and Italy, to lower their energy use by 0%.
Competition Analysis
Climate change-related concerns about sustainability are forcing businesses and industries to abide by tight environmental regulations and adapt current materials and technology to satisfy set requirements and specifications. To increase their market presence, major firms are using a variety of tactics, including media advertising and the planning of trade shows. Additionally, several businesses are working with associations to create applications for particular industries. Further, companies are getting the exclusive right to sell goods from well-known brands.
The key developments in the Global AerogelMarket are:
In January 2020, Armacell, a global supplier of tailored and flexible foam, recently announced a partnership with Slovenian business Melamine d.d. and smartMELAMINE. Through this partnership, Armacell agreed to market the melamine resin-made non-wovens produced by smartMELAMINE. It is a high-performance material that satisfies several criteria, such as emission levels. It is UV and flame resistant in addition to not melting, burning, or shrinking, making it an excellent acoustic and thermal insulator for uses in the transportation sector.
In September 2020, the new insulating roof coating, Quartzene, was created by Svenska Aerogel AB in partnership with French manufacturer La Celtique and distribution partner Novcoat. Quartzite is a nanomaterial made of Silica and has qualities that are similar to those of conventional aerogel. Thermal insulating roof coatings made of quartzite combine insulation with reflection, which lowers inside temperatures during the summer, reduce the need for air conditioning and satisfies energy-efficient smart building requirements.
A list of some of the key suppliers present in the market are:
Aspen Aerogels
Cabot Corporation
Aerogel Technologies
Nanotech Co. Ltd.
Armacell
Guangdong Alison Hi-Tech
Active Aerogels
Enersens
JIOS Aerogel
BASF
Global Aerogel Market 2022-2032: Report Coverage and Highlights
Assessment of the historical and current market size (2017-2021), market projections (2022-2032), and its contribution to the parent market
Key drivers, restraints, opportunities, and key emerging trends impacting market growth
Predictions on critical supply, demand, and technological trends and changes in consumer behavior
Value chain analysis (list of manufacturers, distributors, end-users, average profitability margins, etc.)
Segment-wise, country-wise, and region-wise market analysis
Competition mapping, market share analysis, key strategies adopted by top players, and competitive tactical intelligence
Key product innovations and regulatory framework
Covid-19 impact on the market and how to navigate
Strategic market analysis and recommendations on crucial winning strategies
| | |
| --- | --- |
| Research Scope | Details |
| Forecast period | 2022-2032 |
| Historical data available for | 2017-2021 |
| Market analysis | USD Million for Value and Tons for Volume, and CAGR from 2022 to 2030 |
| Key regions covered | North America, Latin America, Europe, Asia-Pacific, Middle East, and Africa |
| Key countries covered | US, Canada, Brazil, Mexico, Germany, Italy, France, UK, Spain, Netherlands, Norway, Russia, China, Japan, South Korea, India, Indonesia, Thailand, Vietnam, Australia & New Zealand, Saudi Arabia, Turkey, UAE, South Africa, Nigeria, Egypt |
| Key segments covered | By Product Type, Application, Form, Processing, and Region |
| Customization scope | Available upon Request |
| Pricing and purchase options | Available upon Request |