Aluminum Tubes Market Size Analysis
According to a recent survey conducted by ChemView Consulting, the Global Aluminum Tubes Market grew at a CAGR of 4.5% between 2017-2021 and is estimated to be US$ 1,641.3 Mn in 2022. Currently, the market is anticipated to grow at a CAGR of 5.3% and is expected to reach a valuation of US$ 2,750.9 Mn by 2032 end.
Tube packaging is gaining popularity among packaging makers worldwide in the cosmetics and oral care industries. Unique qualities of aluminum material include ease of molding, low weight, resistance to corrosion, etc.
Manufacturers are now more commonly used aluminum than other alternatives because of its superior packing qualities. The market for aluminum tubes worldwide is growing due to these causes.
Market Dynamic
ORAL CARE & COSMETIC SEGMENT WILL PROPEL THE MARKET
In the cosmetics business, where the majority of haircare, skincare, makeup, and other products are produced, aluminum tubes have a variety of uses. Typically, these tubes are squeeze or twist tubes with various attached caps, including nozzle caps, stand-up caps, flip-top caps, and others. Aluminum tubes are in high demand in the cosmetic and oral care industries because of their potential to protect the inside product from airborne contaminants, vapors, UV radiation, etc.
These elements are pressuring producers to expand the variety of aluminum tubes they offer. For instance, Hankel released hair color in boxes to their portfolio in November 2021. The lines are made of 100% recyclable aluminum to promote environmentally friendly packaging options. These user-friendly aluminum tubes that can be recycled shield the product from the elements. Professionals and consumers face future market expansion and higher demand for aluminum tubes.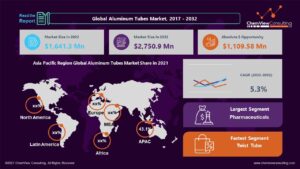 Market Segments Covered in Report
By Tube Type:
Squeeze Tube
Twist Tube
Others
By Product:
Stand-up cap
Nozzle Cap
Flip Top Cap
Other Caps
By Capacity:
Less than 50 ml
50 to 100 ml
100 to 150 ml
Above 150 ml
By End-User:
Cosmetics and Personal Care
Food
Pharmaceuticals
Industrial
Homecare
Others
By Region and Country:
North America (U.S., Canada)
Latin America (Brazil, Mexico, Rest of Latin America)
Europe (Germany, Italy, France, UK, Spain, Netherlands, Norway, Russia, Rest of Europe)
Asia-Pacific (China, Japan, South Korea, India, Indonesia, Thailand, Vietnam, Australia & New Zealand, Rest of Asia-Pacific)
Middle East (Saudi Arabia, Turkey, UAE, Rest of Middle East)
Africa (South Africa, Nigeria, Egypt, Rest of Africa)
Segment-Wise Analysis
Which is the most important tube type segment in the Aluminum Tubes market?
Twist Tube is the most important tube type segment in the Aluminum Tubes market.
Which end-user is expected to expand the fastest during the forecast period?
Pharmaceuticals are expected to expand the fastest during the forecast period.
Region-Wise Analysis
The regions analyzed for the market include North America, Europe, Latin America, Asia Pacific, Middle East, and Africa.
The Asia Pacific region dominated 43.1% of the global market for aluminum tubes. Due to the increased need for easy packaging solutions across many industries, including personal care, cosmetics, and pharmaceutical, the area will experience considerable expansion over the forecast period.
On the global market for aluminum tubes, the Europe area accounts for 26% of the market. Because the pharmaceutical and cosmetics industries are increasingly adopting creative and sustainable packaging solutions, this region's market is expected to account for a sizeable share.
Competition Analysis
These actions have enabled market participants to increase their clientele and revenue. With the increasing demand for aluminum tubes in the worldwide industry, market players can anticipate attractive growth prospects in the future.
A list of some of the key suppliers present in the market are:
Montebello Packaging
Alltub Group
Norsk Hydro
Linhardt GmbH & Co.
Perfect Containers Pvt. Ltd.
Tubettificio M. Favia s.r.l.
Oriental Containers Pvt. Ltd
Report Coverage and Highlights
Our comprehensive, data-backed, and facts-oriented report provides niche and cross-sectional analysis at global and country levels.
Assessment of the historical (actual data) and current market size (2017-2021), market projections (2022-2032), and CAGR.
The market assessment across North America, Europe, East Asia, South Asia & Pacific, Latin America, Middle East, and Africa.
Competitive tactical intelligence, key strategies adopted by top players, production capacity and company shares analysis, product brand surveys, and export-import analysis
Pricing analysis to set and benchmark your current or future offerings across each product type helps you understand whether your pricing strategy is aligned with market expectations and can be compared to market disruptions.
Predictions on critical supply and demand trends and technological expertise needed to address operations scalability.
Consumer behavior shifts and their implications for players, list of end-users, and their consumption analysis.
Key drivers, restraints, opportunities, and emerging trends impacting the market growth.
Value chain analysis (list of manufacturers, distributors, end-users, and average profitability margins).
Strategic market analysis, recommendations, and future headways on crucial winning strategies.
| | |
| --- | --- |
| Research Scope | Details |
| Forecast period | 2022-2032 |
| Historical data available for | 2017-2021 |
| Market analysis | USD Million for Value and Tons for Volume, and CAGR from 2022 to 2032 |
| Key regions covered | North America, Latin America, Europe, Asia-Pacific, Middle East, and Africa |
| Key countries covered | US, Canada, Brazil, Mexico, Germany, Italy, France, UK, Spain, Netherlands, Norway, Russia, China, Japan, South Korea, India, Indonesia, Thailand, Vietnam, Australia & New Zealand, Saudi Arabia, Turkey, UAE, South Africa, Nigeria, Egypt |
| Key segments covered | By Tube Type, Product, Capacity, End-User,  and Region |
| Customization scope | Available upon Request |
| Pricing and purchase options | Available upon Request |