Global Ammonia Market Size Analysis
In 2022, the ammonia market was estimated to be worth US$ 1,67,45.3 Mn. The historical CAGR being 3.4% from 2017-2021, by 2032, it is anticipated to have grown to US$ 1,79,574.4 Mn, marking a CAGR of more than 4.4%.
Ammonia has been used extensively in producing industrial explosives and fertilizers due to high demand. Certain macroeconomic factors, like the expanding population, the agricultural sector, and the mining industry, have significantly impacted the market.
Market Dynamic
THE HIGH QUALITY AND QUANTITY OF CROPS DRIVE THE MARKET  
The desire for crops to be produced in greater quality, quantity, and yield has led to substantial growth in the agricultural sector around the world. Particularly in emerging countries, the agriculture industry contributes significantly to a nation's GDP. Growing agricultural production increases the demand for agrochemicals such as fertilizers (urea, MAP, DAP, etc.), indirectly increasing the demand for ammonia.
Ammonia consumption has increased due to the continually rising need for fertilizers, enhancing the market's value throughout the projection period. Furthermore, farmers will profit from government fertilizer subsidies, raising the demand for ammonia regionally.
DECLINE IN SOIL QUALITY HAMPER THE MARKET
In some areas, the demand for ammonia exceeds domestic output for various uses. These areas consequently rely heavily on imports. North America must import ammonia to meet its demand, which forces the region to deal with multiple issues like price volatility and a lack of suppliers, limiting the ammonia market to some extent.
Additionally, soil quality has significantly declined worldwide due to the widespread use of chemical fertilizers and pesticides. The market for organic fertilizers is rising due to the growing desire for sustainable agricultural practices that reduce risk generation and carbon emissions.
COVID-19 Impact
The COVID-19 epidemic is anticipated to have immediate and long-term effects on several businesses, including agricultural, textile, mining, and other end-user industries. These effects could have an impact on the ammonia market. The disruption of the supply chain and the stoppage of fertilizer production had a significant effect on the agriculture sector. For instance, it has been anticipated that the COVID-19 pandemic will affect around 48.0% of substantial European farming firms.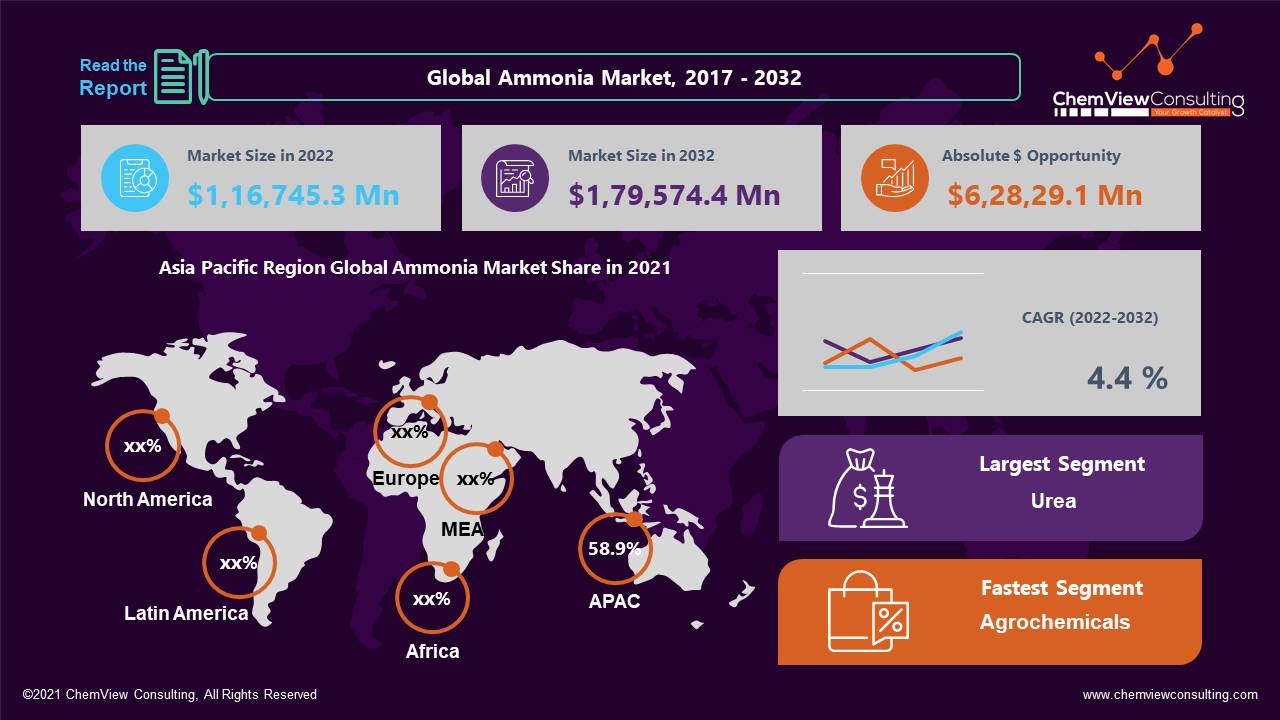 Market Segments Covered in Report
By Product Type:
Anhydrous Ammonia
Aqueous Ammonia
By Application:
MAP (Mono-ammonium Phosphate)
DAP (Di-ammonium Phosphate)
Urea
Nitric Acid
Ammonium Phosphate
Ammonium Nitrate
Others
By Region and Country
North America (U.S., Canada)
Latin America (Brazil, Mexico, Rest of Latin America)
Europe (Germany, Italy, France, UK, Spain, Netherlands, Norway, Russia, Rest of Europe)
Asia-Pacific (China, Japan, South Korea, India, Indonesia, Thailand, Vietnam, Australia & New Zealand, Rest of Asia-Pacific)
Middle East (Saudi Arabia, Turkey, UAE, Rest of Middle East)
Africa(South Africa, Nigeria, Egypt, and the Rest of Africa).
Segment-Wise Analysis
What factors are responsible for Anhydrous Ammonia's High Demand?
Due to the product's high demand and wide availability in gaseous and liquid forms, the anhydrous ammonia segment's share is anticipated to be on the higher side.
Furthermore, significant ammonia suppliers expect to strengthen their value chains through downstream manufacturing and by upholding long-term agreements with customers.
Throughout the forecast period, the market is anticipated to grow at a high CAGR of 5.4%. Additionally, over the forecast period, robust fertilizer demand, notably demand for nitrogen- and phosphate-based fertilizers, is anticipated to enhance anhydrous ammonia demand.
Which application is expected to generate higher revenue streams?
The urea category is regarded as a well-known one with significant market appeal. Between 2022 and 2032, the segment is predicted to generate an additional US$ 36.24 billion market opportunity.
It can be due to the increased usage of fertilizers throughout various regions to improve crop output quality and quantity. The need for agrochemicals, particularly fertilizers, is rising along with the agricultural sector's growth globally due to increased urbanization and population growth, which is driving up ammonia consumption.
Region-Wise Analysis
Which country will be the highest ammonia producer during the projected period?
China is a significant producer and consumer of ammonia worldwide. Ammonia usage has been fueled by the nation's many fertilizer productions, which is further supported by the presence of numerous industries there. China's expected annual ammonia production is 49.0 million tonnes, compared to the anticipated 44.0 million tonnes of yearly ammonia demand.
Competition Analysis
Leading market players are concentrating on increasing their production capacity to meet the escalating demand from end customers. They are purchasing additional ammonia producers to broaden their customer base and strengthen their industry leader position. Instead of producing brown ammonia, some businesses have chosen to produce green ammonia and have changed their equipment to do so.
Some of the key developments that have taken place in the Ammonia Market include:
In May 2022, one of the major ammonia producers, Mitsui & Co., Ltd., and one of the biggest producers, CF Industries Holdings, Inc., announced a partnership to build a brand-new ammonia plant in the US.
In May 2022, the largest clean ammonia facility in the world may be built in Geismar, Louisiana, according to an announcement from Nutrien Ltd.
In May 2022, Air Products, OQ, and ACWA Power struck a cooperative development agreement to work together to establish a green hydrogen-based ammonia production facility.
A list of some of the key suppliers present in the market are:
CF Industries Holdings, Inc
Potash Corp
Orica Limited
Incitec Pivot Ltd
Mitsubishi Gas Chemical Co., Ltd.
Praxair, Inc.
Achema AB
Linde Group
Jiangsu Huachang Chemical Co. Ltd.
Koch Fertilizer LLC
SABIC
BASF SE
The Dow Chemical Company
Toggliazot PJSC
OCI Nitrogen
Haifa Chemicals Ltd.
CNPC (China National Petroleum Corporation)
Trammo Inc
Haldor Topsoe A/s
Yara International ASA
Global Ammonia Market 2022-2032: Report Coverage and Highlights
Assessment of the historical and current market size (2017-2021), market projections (2022-2032), and its contribution to the parent market
Key drivers, restraints, opportunities, and key emerging trends impacting market growth
Predictions on critical supply, demand, and technological trends and changes in consumer behavior
Value chain analysis (list of manufacturers, distributors, end-users, average profitability margins, etc.)
Segment-wise, country-wise, and region-wise market analysis
Competition mapping, market share analysis, key strategies adopted by top players, and competitive tactical intelligence
Key product innovations and regulatory framework
Covid-19 impact on the market and how to navigate
Strategic market analysis and recommendations on crucial winning strategies
| | |
| --- | --- |
| Research Scope | Details |
| Forecast period | 2022-2032 |
| Historical data available for | 2017-2021 |
| Market analysis | USD Million for Value and Tons for Volume, and CAGR from 2022 to 2030 |
| Key regions covered | North America, Latin America, Europe, Asia-Pacific, Middle East, and Africa |
| Key countries covered | US, Canada, Brazil, Mexico, Germany, Italy, France, UK, Spain, Netherlands, Norway, Russia, China, Japan, South Korea, India, Indonesia, Thailand, Vietnam, Australia & New Zealand, Saudi Arabia, Turkey, UAE, South Africa, Nigeria, Egypt |
| Key segments covered | By Product Type, Application, and Region |
| Customization scope | Available upon Request |
| Pricing and purchase options | Available upon Request |