Antimicrobial Packaging Market Size Analysis
According to a research survey conducted by ChemView Consulting, in 2022, the Global Antimicrobial Packaging Market was worth US$ 8,761.2 Mn and is expected to grow at a CAGR of 4.1% over the forecast period. While the historical CAGR is 4.7%, the market is expected to hit US$ 13,094.0 Mn by 2032 end.
Antimicrobial packaging is specially created packaging that works to prevent the growth of bacteria and other pathogens. It increases the product's shelf life by suppressing pathogenic development. Paperboard, plastic, biopolymers, and other materials are used to make these packaging materials. Antimicrobial packaging also makes use of two different packaging technologies.
One of these is known as controlled release, which involves the packaging material slowly releasing chemicals into the food it contains. The other is active packaging, which introduces antimicrobial compounds into the food. The bacteriocins, organic acids, enzymes, and plant extracts are also used as antimicrobial agents in this package. Cartons, pouches, and bags are additional packaging materials utilized in antimicrobial packaging.
Market Dynamic
DEMAND FOR PACKAGED FOOD IS BOOSTING THE DEMAND IN THE ANTIMICROBIAL PACKAGING MARKET
Due to a rise in global disposable income, packaged food demand is increasing. This is increasing the market's demand for antimicrobial packaging. Additionally, packaged food has always posed a serious health risk, which is why governments worldwide have set numerous laws.
The food processing industry makes significant investments in creating healthier packaging techniques to comply with these legal criteria. As a result, there is a rising need for antimicrobial packaging. One of the largest end consumers of antimicrobial packaging is the healthcare sector. Furthermore, the healthcare sector has expanded dramatically in recent years, increasing the demand for antimicrobial packaging.
RAW MATERIALS COST FLUCTUATIONS RESTRAINS THE MARKET
One of the restraints on the market's expansion is the variation in the price of raw materials required to make antimicrobial packaging. On the other hand, technical innovations in antimicrobial packaging items, such as improvements in biopolymers and biodegradable packaging materials, are anticipated to increase the packaging's microbial resistance. This is predicted to produce profitable prospects for expanding the antimicrobial packaging market during the forecast period.
THE MANY END-USER SECTORS ARE BETTER SUITED FOR THE VARIOUS KINDS OF ANTIMICROBIAL PACKAGING
The numerous end-user industries, such as the food and beverage, pharmaceutical, and medical equipment sectors, are better suited for the various types of customizable antimicrobial packaging, such as pouches and cartons. In addition, new packaging innovations such as trays, bags, cups, cans, blister packs, and many more are opening up a wide range of opportunities for the antimicrobial packaging sector.
Expanding end-user sectors, including food and beverage, consumer goods, personal care, healthcare, consumer goods, agricultural products, and many others, will generate lucrative opportunities for the antimicrobial packaging market throughout the expected time frame. The antimicrobial packaging market is rising thanks to these factors and the expanding e-commerce sector.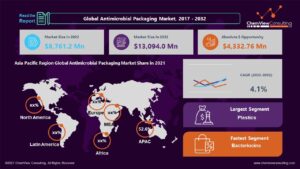 Market Segments Covered in Report
By Base Material:
Paperboard
Plastic
Biopolymers
Others
By Pack Type:
Bags
Pouches
Trays
Carton packages
Cups & lids
Others
By Antimicrobial Agent:
Organic acid
Bacteriocins
Enzymes
Essential oil
Metal ions & oxidizers
Others (gas, fungicides, natural extract, and antibiotics)
By Technology:
Controlled release packaging
Active packaging
By End-Use Industry:
Food & beverages
Healthcare
Personal care
Others (consumer goods and agricultural products)
By Region and Country:
North America (U.S., Canada)
Latin America (Brazil, Mexico, Rest of Latin America)
Europe (Germany, Italy, France, UK, Spain, Netherlands, Norway, Russia, Rest of Europe)
Asia-Pacific (China, Japan, South Korea, India, Indonesia, Thailand, Vietnam, Australia & New Zealand, Rest of Asia-Pacific)
Middle East (Saudi Arabia, Turkey, UAE, Rest of Middle East)
Africa (South Africa, Nigeria, Egypt, Rest of Africa)
Segment-Wise Analysis
Why are plastics projected to ensure the most revenue during the forecast period?
In 2021, 65.5% of the total volume used as the foundation for antimicrobial packaging was made of plastic. Biopolymers are anticipated to experience the most growth during the forecast period, with a 6.5% increase because of their favorable physical, mechanical, and chemical properties. They are recognized as having advantages for digesting waste as well.
Why is the food & beverages sector expected to expand the fastest during the forecast period?
Applications related to food and drink accounted for 47.0% of the market's total volume in 2021. Due to stringent regulations addressing food safety in numerous regional markets, the industry has grown more prominent.
The category is expected to grow at the fastest pace during the projected period, 5.6%. Furthermore, controlled-release packaging technology is becoming increasingly important because of its perfect performance in applications for food packaging.
Region-Wise Analysis
The regions analyzed for the market include North America, Europe, Latin America, Asia Pacific, Middle East, and Africa.
With a market share of 52.6% of global demand, Asia Pacific was the largest regional market. Because of shifting customer tastes for ready-to-eat meals, particularly in countries like China, Japan, and India, the regional market has expanded. The region is also expected to experience the most growth, at 6.7%, during the predicted period.
The U.S. is the main driver of regional growth in North America, which has the second-largest proportion of the Antimicrobial Packaging systems market. Industry leaders place a high priority on the security of these energy storage systems.
Competition Analysis
Due to the entry of new businesses and changing customer needs, the antimicrobial packaging market will experience fierce competition in the years to come. The abundance of small and medium-sized firms and influential international organizations may exacerbate market rivalry.
Some of the key developments that have taken place in the Antimicrobial Packaging Market include the following:
In February 2020, Mondi partnered with Carter, a corrugated packaging business established in Mexico, to provide fresh food with sustainable packaging.
In October 2019, GB 9685-2016 for adhesives and major food contact regulations like Code of Federal Regulation (CFR) Title 21, Food Contact Materials Regulation (EC), Bundesinstitut für Risikobewertung (BfR), and Swiss Ordinance on Food Contact Materials for packaging, BASF introduced a new defoamer called Foamaster WO 2360 that complies with the main food contact regulations for adhesives, paper coating applications, and functional packaging.
A list of some of the key suppliers present in the market are:
BASF SE
The Dow Chemical Company
Mondi Plc
PolyOne Corporation
Biocote Limited
Dunmore Corporation
Linpac Senior Holdings
Microban International
Open Pure Science Ltd.
Take Labo Co.Ltd
Report Coverage and Highlights
Our comprehensive, data-backed, and facts-oriented report provides niche and cross-sectional analysis at global and country levels.
Assessment of the historical (actual data) and current market size (2017-2021), market projections (2022-2032), and CAGR.
The market assessment across North America, Europe, East Asia, South Asia & Pacific, Latin America, Middle East, and Africa.
Competitive tactical intelligence, key strategies adopted by top players, production capacity and company shares analysis, product brand surveys, and export-import analysis
Pricing analysis to set and benchmark your current or future offerings across each product type helps you understand whether your pricing strategy is aligned with market expectations and can be compared to market disruptions.
Predictions on critical supply and demand trends and technological expertise needed to address operations scalability.
Consumer behavior shifts and their implications for players, list of end-users, and their consumption analysis.
Key drivers, restraints, opportunities, and emerging trends impact market growth.
Value chain analysis (list of manufacturers, distributors, end-users, and average profitability margins).
Strategic market analysis, recommendations, and future headways on crucial winning strategies.
| | |
| --- | --- |
| Research Scope | Details |
| Forecast period | 2022-2032 |
| Historical data available for | 2017-2021 |
| Market analysis | USD Million for Value and Tons for Volume, and CAGR from 2022 to 2032 |
| Key regions covered | North America, Latin America, Europe, Asia-Pacific, Middle East, and Africa |
| Key countries covered | US, Canada, Brazil, Mexico, Germany, Italy, France, UK, Spain, Netherlands, Norway, Russia, China, Japan, South Korea, India, Indonesia, Thailand, Vietnam, Australia & New Zealand, Saudi Arabia, Turkey, UAE, South Africa, Nigeria, Egypt |
| Key segments covered | By Base Material, Pack Type, Antimicrobial Agent, Technology, End-Use Industry, and Region |
| Customization scope | Available upon Request |
| Pricing and purchase options | Available upon Request |