Global Barrier Resin Market Size Analysis
According to a research survey conducted by ChemView Consulting, in 2022, the Global Barrier Resins Market was worth US$ 1,39.87.0 Mn and is expected to grow at a CAGR of 5.6% over the forecast period. The market has shown extensive growth as compared to the CAGR of 4.7% during the period 2017-2021. The market is expected to hit US$ 2,41,19.2 Mn by 2032 end.
Barrier resins are used to cover up anything that will be packaged (especially food). In recent years, awareness regarding health has risen quite well. For that reason, consumers want to consume packaged food that is less harmful.
And in food packaging, the barrier resins play a vital role. Medical, textile, and polythene industries in this sector and many more industries needed them.
Market Dynamic
DEMAND FOR BETTER& SAFE PACKAGING DRIVES THE MARKET
The growth of advanced manufacturing processes supported by technological innovation and increased consolidation of players has led to the invention of several drugs that directly boost the pharmaceutical packaging industry. This boost has fueled the growth of barrier resins globally. Barrier resins such as PVDC and EVOH are primarily used to protect pharmaceutical products such as sachets, bottle drug labels, and extrusion packaging against light, moisture, oxygen, biological contamination, mechanical damage, and counterfeiting.
VOLATILE RAW MATERIAL IS HAMPERING THE MARKET
These resins are made from diesel, natural gas, mono-ethylene glycol, and petroleum. These materials are too volatile. The unpredictable nature of the raw materials is pulling back the market growth because high-rated production is not possible till now for the evaporative nature of these raw.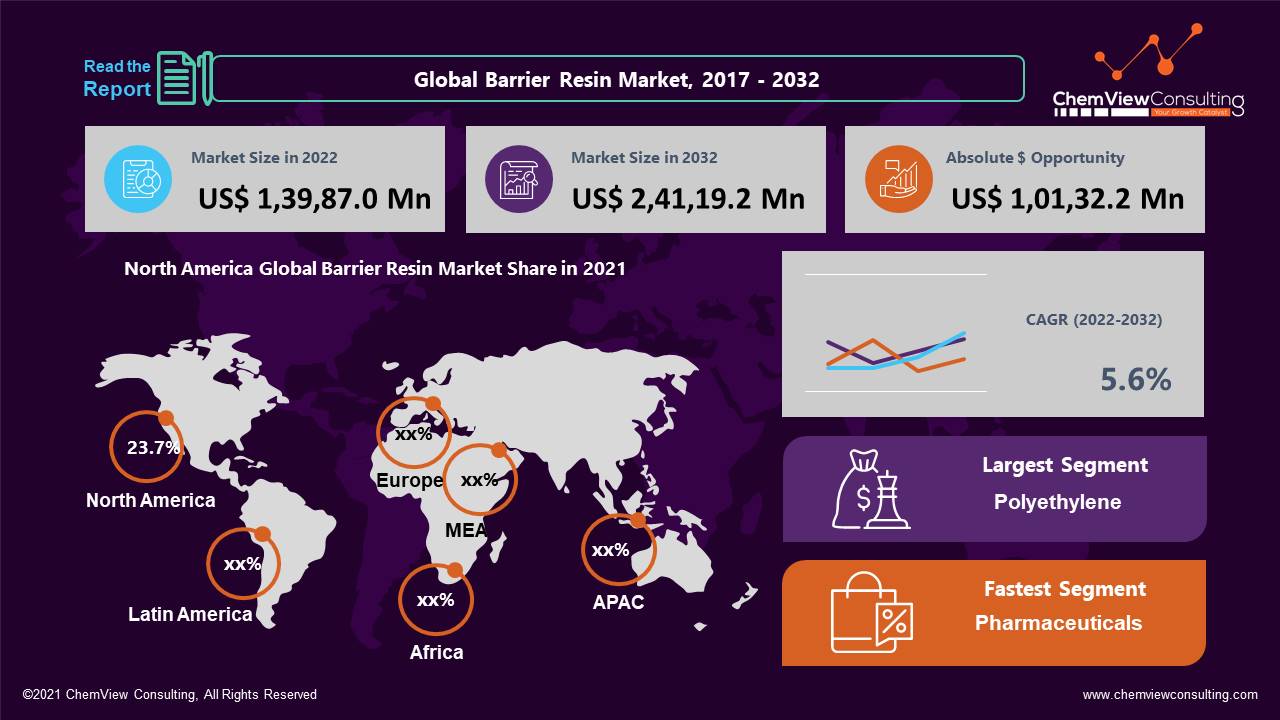 Market Segments Covered in Report
By Nature Type:
Flexible packaging
Rigid packaging
By Composition Type:
Polyvinylidene Chloride
Ethylene Vinyl Alcohol
Polyethylene Naphthalate
Polyamide
Polyethylene terephthalate
Polyethylene
Polypropylene
Polyvinyl alcohol
Others (PS, PVC, EVA& bio-based)
By End-Use:
By Region and Country:
North America (U.S., Canada)
Latin America (Brazil, Mexico, Rest of Latin America)
Europe (Germany, Italy, France, UK, Spain, Netherlands, Norway, Russia, Rest of Europe)
Asia-Pacific (China, Japan, South Korea, India, Indonesia, Thailand, Vietnam, Australia & New Zealand, Rest of Asia-Pacific)
Middle East (Saudi Arabia, Turkey, UAE, Rest of Middle East)
Africa (South Africa, Nigeria, Egypt, Rest of Africa)
Segment-Wise Analysis
Why is the food & beverages sector expected to have a larger market share during the projected period?
According to the study, barrier resins are neutral to the sunlight and other atmospheric conditions; and
It protects the subjected material or substances from any environmental contamination. Moreover, it does not react to hot food. The food delivery companies depend on these resins for their easy availability and low cost.
Developing countries have a high consumption of packaged foods, which has generously expanded the barrier resin market premium. Extended working life higher tendency toward packaged foods instead of fresh foods have driven the market.
Region-Wise Analysis
The regions analyzed for the market include North America, Europe, Latin America, Asia Pacific, the Middle East, and Africa.
Regarding volume, the North America Barrier Resins market is predicted to grow at the fastest CAGR during the forecast period. By 2032, the region's market is estimated to account for 2/5 of the worldwide Barrier Resins market volume. In 2021, North America was the dominating regional sector, accounting for more than 7%of sales.
The Asia Pacific has been the most significant market for Barrier Resins. The region's highly developed construction industry accounts for most of its market share. The building business in the Asia Pacific is also one of the wealthiest in the world. In recent years, the Asia Pacific, particularly China and Japan, has experienced a surge in residential, commercial, and infrastructure building, increasing sales of paints and coatings and boosting the Asian paints and coatings industry.
Competition Analysis
Market participants are improving their supply chains to remain competitive. The competitive landscape section includes key development strategies, market share analysis, and international market positioning analysis of the competitors.
Some of the key developments that have taken place in the Barrier Resins Market include:
In April 2017, Asahi Kasei built a new plastic compound plant in China
In February 2020, Kuraray Co., Ltd. established in Poland a new monosol production facility for PVA water-soluble film as the demand for packaging film for single-dose detergents, pharmaceuticals, and other products grew.
A list of some of the key suppliers present in the market are:
Kuraray Co Ltd.
Exxon Mobil Corporation
The Dow Chemical Company
Cathay Industries
LyondellBasell Industries
Global Barrier Resins Market 2022-2032: Report Coverage and Highlights
Assessment of the historical and current market size (2017-2021), market projections (2022-2032), and its contribution to the parent market
Key drivers, restraints, opportunities, and key emerging trends impacting market growth
Predictions on critical supply, demand, and technological trends and changes in consumer behavior
Value chain analysis (list of manufacturers, distributors, end-users, average profitability margins, etc.)
Segment-wise, country-wise, and region-wise market analysis
Competition mapping, market share analysis, key strategies adopted by top players, and competitive tactical intelligence
Key product innovations and regulatory framework
Covid-19 impact on the market and how to navigate
Strategic market analysis and recommendations on crucial winning strategies
| | |
| --- | --- |
| Research Scope | Details |
| Forecast period | 2022-2032 |
| Historical data available for | 2017-2021 |
| Market analysis | USD Million for Value and Tons for Volume, and CAGR from 2022 to 2032 |
| Key regions covered | North America, Latin America, Europe, Asia-Pacific, Middle East, and Africa |
| Key countries covered | US, Canada, Brazil, Mexico, Germany, Italy, France, UK, Spain, Netherlands, Norway, Russia, China, Japan, South Korea, India, Indonesia, Thailand, Vietnam, Australia & New Zealand, Saudi Arabia, Turkey, UAE, South Africa, Nigeria, Egypt |
| Key segments covered | Nature Type, Composition Type, End-Use,  and Region |
| Customization scope | Available upon Request |
| Pricing and purchase options | Available upon Request |