Calcium Sulphate Market Size Analysis
According to a recent survey conducted by ChemView Consulting, in 2022, the Global Calcium Sulphate Market was worth US$ 1,22,564.9 Mn and is expected to grow at a CAGR of 4.2% over the forecast period. The market is expected to hit US$ 1,84,945.3 Mn by 2032 end. From 2017–2021, when the market's CAGR was 3.6%, the market underwent significant growth.
Calcium Sulphate is a white crystalline, water-soluble powder widely used as an alternative and drying agent in textiles, paper, pulp, and paint industries for water retention. Demand for Calcium Sulphate for construction, coatings, and polymerization applications has been rising significantly across many sectors.
The Calcium Sulphate market is rapidly expanding due to the growing demand for Calcium Sulphate in growing demand from end-users in food & beverages, paper and pulp, paints & coatings, leather tanning, and leather treating industries.
The expanding pulp and paper sector is propelling the calcium sulphate market, which will be used as a surface sizing agent and as a pigment to produce coated paper with high brightness and whiteness.
Furthermore, the demand for calcium sulphate as a desiccant in the anhydrite form in the pharmaceutical and healthcare industries, as well as a calcium supplement important for cell and bone growth and as a whitening or colouring agent, is expected to grow significantly in the forecast period.
Market Dynamic
THE GROWTH IN THE VARIOUS END-USE INDUSTRY HELPS THE MARKET GROW
The global Calcium Sulphate market exhibits high growth prospects. The market is driven by growing demand from end-users in food & beverages, paper and pulp, paints & coatings, leather tanning, and leather treating industries. In the paints & coatings industry, Calcium Sulphate is used as a surface sizing agent for primers in the case of coatings and mural painting. Further, it acts as a pigment for pigments for textile coating applications. The market is also acknowledged for its use in calcium cyanurate formulation in the case of chemical application and calcium carbonate formulation for detergents.
EFFECT OF CALCIUM SULFATE ON HEALTH HAMPERS THE MARKET
Acute exposure to calcium sulfate can create redness and itching of the eyes, sore throat, runny nose, and irritation of the skin and respiratory tract. Calcium sulfate causes irritation to the mucous membrane and can impair the sense of smell and taste, and even cause nose bleeding. It can also create pulmonary nodular fibrosis. Its high intake can cause constipation and hinder the absorption of iron and zinc in the body. Moreover, in the supplements form, calcium sulfate can create a risk of kidney stones, cardiovascular diseases, and prostate cancer on high intake. Thus, the health effects associated with calcium sulfate will create hurdles to the growth of the calcium sulfate market.
INCREASING HEALTHCARE SECTOR CREATES AMPLE OPPURTUNITIES
As a calcium supplement, calcium sulfate is an organic binder used in the pharmaceutical & healthcare sector to enhance bone and cell growth. It also provides a natural organic excipient with essential calcium nutrients. Calcium sulfate is also used as a desiccant in the anhydrite form. This product creates an inexpensive binder, filler, and coating for tablets, capsules, and other healthcare products, which helps decrease the need for synthetic polymers and other non-organic agents.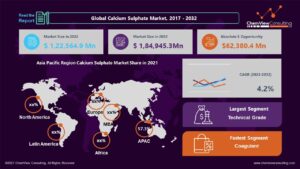 Market Segments Covered in Report
By Product Form:
By Grade:
Technical Grade
Food & Pharma Grade
By Function:
Coagulant
Thickening Agent
Excipient
Desiccant
Additive
Intermediate
By End-use:
Construction
Agrochemicals
Food & Beverages
Cosmetic & Personal Care
Pharmaceuticals
Paints & Coatings
Paper
By Region and Country:
North America (U.S., Canada)
Latin America (Brazil, Mexico, Rest of Latin America)
Europe (Germany, Italy, France, UK, Spain, Netherlands, Norway, Russia, Rest of Europe)
Asia-Pacific (China, Japan, South Korea, India, Indonesia, Thailand, Vietnam, Australia & New Zealand, Rest of Asia-Pacific)
Middle East (Saudi Arabia, Turkey, UAE, Rest of Middle East)
Africa (South Africa, Nigeria, Egypt, Rest of Africa)
Segment-Wise Analysis
Why is the anhydrous form of Calcium Sulphate holding the largest market share?
The anhydrous form of calcium sulfate is the most popular choice among consumers. The anhydrous form of calcium sulfate is in demand because of its superior quality over the other states and because it offers a range of other advantages, such as papermaking properties and desiccants in the healthcare industry.
It is an important industrial chemical producing hydrogen sulfate, rubber, and many other products. It can also be used as a catalytic additive for the catalytic hydrogenation of carbon monoxide in fixed bed reactors. It plays an important role in the paper & pulp industry; its applications include papermaking and coatings.
Why is the Construction segment expected to expand the fastest during the forecast period?
The development of the building and construction industry is expected to drive the demand for calcium sulfate during the forecast period. This is because many key players are entering the space and utilizing calcium sulfate as an additive in aerated block production. This implies that the demand for calcium sulfate will rise steadily over time.
As a result, it may also be expected that some major players have high potential in penetrating the current market due to their extensive experience working with calcium sulfate and its related products such as calcium sulfate slurry, calcium sulfate powder, gypsum wallboard, etc. In addition, the growing popularity of DIY has increased the demand for building materials like cement, plaster, lime, and gypsum during the forecast period.
Region-Wise Analysis
The regions analyzed for the market include North America, Europe, Latin America, Asia Pacific, Middle East, and Africa.
Asia-Pacific (APAC) region held the largest market share in 2021, up to 3.0%, due to the increasing requirement for calcium sulfate in developing countries such as China, Japan, India, and South Korea. China is expected to continue its supremacy in the calcium sulfate market during the forecast period. Growth and development of the market are mainly driven by the trends and developments in the APAC economy, increasing cement production, and increasing use of calcium sulfate in paints & coating. The rapid demand for calcium sulfate in petrochemical industries has led to significant growth in this market.
Developed regions, such as Europe and North America, are estimated to hold around 20.0% market share in the global Calcium Sulphate market during the forecast period owing to increasing government initiatives, such as OSHA, EPA, etc. The Middle East is expected to witness significant growth due to the high demand for pet food and personal care products
Competition Analysis
Key market players are investing in expanding their market footprint to remain competitive. Several vital players invest a fair share of their revenue in research and development in boosting their product portfolio. Market participants focus on technological development and utilizing a product in several applications.
Some of the key developments that have taken place in the Calcium Sulphate Market include:
In 2018, Compagnie de Saint-Gobain SA, a manufacturer of calcium sulfate, stated that it would be expanding its calcium sulfate production facility in Ploiesti to increase its market share in South-East Europe Romania. Additionally, the business opened its fourth Saint-Gobain Gyproc factory in Jhagadia, India.
In 2017, Yoshino Gypsum Co., Ltd. announced plans to develop its Calcium Sulphate production facility in Jakarta, Indonesia, to increase its market share in the Asia Pacific region.
A list of some of the key suppliers present in the market are:
USG Corporation
 Solvay SA
 Honeywell International Inc.
 Boral Limited
 Compagnie de Saint-Gobain SA
 Beijing New Building Materials PLC
 Penta Manufacturing Company
YOSHINO GYPSUM CO., LTD.
 JONOUB GYPSUM
 Celtic Chemicals Limited
 Georgia-Pacific LLC
PABCO Building Products LLC
Global Calcium Sulphate Market 2022-2032: Report Coverage and Highlights
Assessment of the historical and current market size (2017-2021), market projections (2022-2032), and its contribution to the parent market
Key drivers, restraints, opportunities, and key emerging trends impacting market growth
Predictions on critical supply, demand, technological trends, and changes in consumer behavior.
Value chain analysis (list of manufacturers, distributors, end-users, average profitability margins, etc.)
Segment-wise, country-wise, and region-wise market analysis
Competition mapping, market share analysis, key strategies adopted by top players, and competitive tactical intelligence
Key product innovations and regulatory framework
Covid-19 impact on the market and how to navigate
Strategic market analysis and recommendations on crucial winning strategies
| | |
| --- | --- |
| Research Scope | Details |
| Forecast period | 2022-2032 |
| Historical data available for | 2017-2021 |
| Market analysis | USD Million for Value and Tons for Volume, and CAGR from 2022 to 2032 |
| Key regions covered | North America, Latin America, Europe, Asia-Pacific, Middle East, and Africa |
| Key countries covered | US, Canada, Brazil, Mexico, Germany, Italy, France, UK, Spain, Netherlands, Norway, Russia, China, Japan, South Korea, India, Indonesia, Thailand, Vietnam, Australia & New Zealand, Saudi Arabia, Turkey, UAE, South Africa, Nigeria, Egypt |
| Key segments covered | By Product Form, Grade, Function, End-Use, and Region |
| Customization scope | Available upon Request |
| Pricing and purchase options | Available upon Request |