Global Car Wax Market Size Analysis
According to a research survey conducted by ChemView Consulting, in 2022, the Global Car Wax Market was worth US$ 632.7 Mn and is expected to grow at a CAGR of 3.7% over the forecast period. While the historical CAGR is 3.2%, the market is expected to hit US$ 909.9 Mn by 2032 end.
Car wax sales account for 5.5% of the total market for car care goods. With the largest market share, liquid car wax will significantly contribute to global car wax revenue growth from 2022 to 2032.
Car wax and polish are solutions designed to clean the surface of a vehicle's paint using a variety of chemicals, additives, and substances. The goal is to eliminate the dirt particles that build on or below the clear coat finish when driving.
These contaminants may also be brought on by interaction with other moving cars, smog, road salt used by government agencies like highway departments during the winter, bird droppings, and tree sap spills that contain acid.
Market Dynamic
THE PROLIFERATION OF VEHICLES FUELS THE MARKET GROWTH
One of the key factors influencing the growth of the auto wax industry is the proliferation of vehicles due to an increase in their lifespan. The increased demand for automobile accessories drives the global vehicle wax market. One of the main causes is the lengthening lifespan of cars, which has increased the number of vehicles in developed automotive nations like the US, China, Germany, and others.
The growth of the market focus is fueled by the rise in the number of automobiles, fueling the demand for car waxing to raise the resale value of vehicles. In the automobile industry, utility vehicles and passenger cars like pickup trucks, crossovers, and SUVs are rising in popularity.
THE INCREASING USE OF CERAMIC COATING AS A PAINT PROTECTION SUBSTITUTE RESTRICTS THE GROWTH
One of the main issues limiting the growth of the vehicle wax industry is the rising use of ceramic coating as a substitute for paint protection. A key component of the automotive accessories business is paint protection. Car waxing is the most popular paint protection method utilized in the automobile industry.
However, recent developments in the automotive sector have taken the form of ceramic paint coats, which will present a challenge for the global car wax market. Compared to automobile wax, ceramic coating is tougher, more heat-resistant, and more heat-tolerant.
Additionally, compared to automobile wax, ceramic coatings have long-lasting qualities. For instance, while synthetic wax has a wax cycle of 5–6 months, carnauba wax has a wax cycle of 3–4 months.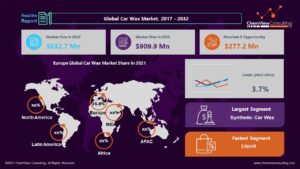 Market Segments Covered in Report
By Type:
Natural Car Wax
Synthetic Car Wax
By Form:
Liquid Car Wax
Car Wax Paste
By Sales Channel:
Car Wax Manufacturers
Car Wax Retailers and Distributors
By End-Use:
Original Equipment Manufacturers
Aftermarket
By Region and Country:
North America (U.S., Canada)
Latin America (Brazil, Mexico, Rest of Latin America)
Europe (Germany, Italy, France, UK, Spain, Netherlands, Norway, Russia, Rest of Europe)
Asia-Pacific (China, Japan, South Korea, India, Indonesia, Thailand, Vietnam, Australia & New Zealand, Rest of Asia-Pacific)
Middle East (Saudi Arabia, Turkey, UAE, Rest of Middle East)
Africa (South Africa, Nigeria, Egypt, Rest of Africa)
Segment-Wise Analysis
What is the significance of Synthetic Car Wax?
Car wax and polish created from synthetic chemicals are known as synthetic products. It is a kind of polymer that can coat the surface of automotive paint to add a layer of defense against bad weather elements like acid rain or road salt.
By eliminating debris from the car's exterior, this substance also aids in cleaning. Because they provide qualities natural waxes cannot, such as resilience for difficult situations (such as acidic rainwater) and long-lasting shine for exterior surfaces without giving off slipperiness after washing, synthetic polymers are frequently used on cars.
Will rising demand for Liquid Car Wax fuel the market expansion as a whole?
Due to its low price and easy-to-apply qualities, liquid vehicle wax is anticipated to grow in popularity over the projected period. The most popular kind is a liquid wax, which can be applied easily and is available in a spray or squeeze bottle.
Since applying liquid car wax takes less time than paste car wax, demand for this product is predicted to continue high in the aftermarket auto care industry. Furthermore, a bottle of liquid resin can be obtained fairly and is generally accessible. Effective liquid wax will provide a car's paintwork with a durable seal that will last for months.
Region-Wise Analysis
The regions analyzed for the market include North America, Europe, Latin America, Asia Pacific, the Middle East, and Africa.
The growth of the car wax market, which has a market share of 8% in the United States, is mostly due to the rise in the number of automobiles in Europe and the wide availability of DIY products for the application of car wax.
Due to its significant presence in the global vehicle fleet, China holds a 7% market share and dominates the car wax industry. The country's rising vehicle production is also anticipated to contribute to the rise in demand for car wax.
Competition Analysis
To lessen the effects of macroeconomic factors and competition from other manufacturers, several regional and international car wax suppliers are concentrating on providing end users with car care services by establishing their car care service facilities in various regions.
A list of some of the key suppliers present in the market are:
Sonax GmbH
Turtle Wax Inc.
Mothers Polish Wax Cleaners Inc.
Chempace Corporation
Treatment Products Ltd.
Darent Wax Company Ltd.
Henkel
SONAX
Malco Products
Report Coverage and Highlights
Our comprehensive, data-backed, and facts-oriented report provides niche and cross-sectional analysis at global and country levels.
Assessment of the historical (actual data) and current market size (2017-2021), market projections (2022-2032), and CAGR.
The market assessment across North America, Europe, East Asia, South Asia & Pacific, Latin America, Middle East, and Africa.
Competitive tactical intelligence, key strategies adopted by top players, production capacity and company shares analysis, product brand surveys, and export-import analysis
Pricing analysis to set and benchmark your current or future offerings across each product type helps you understand whether your pricing strategy is aligned with market expectations and can be compared to market disruptions.
Predictions on critical supply and demand trends and technological expertise needed to address operations scalability.
Consumer behavior shifts and their implications for players, list of end-users, and their consumption analysis.
Key drivers, restraints, opportunities, and emerging trends impacting the market growth.
Value chain analysis (list of manufacturers, distributors, end-users, and average profitability margins).
Strategic market analysis, recommendations, and future headways on crucial winning strategies.
| | |
| --- | --- |
| Research Scope | Details |
| Forecast period | 2022-2032 |
| Historical data available for | 2017-2021 |
| Market analysis | USD Million for Value and Tons for Volume, and CAGR from 2022 to 2030 |
| Key regions covered | North America, Latin America, Europe, Asia-Pacific, Middle East, and Africa |
| Key countries covered | US, Canada, Brazil, Mexico, Germany, Italy, France, UK, Spain, Netherlands, Norway, Russia, China, Japan, South Korea, India, Indonesia, Thailand, Vietnam, Australia & New Zealand, Saudi Arabia, Turkey, UAE, South Africa, Nigeria, Egypt |
| Key segments covered | By Product Type, Form, Sales Channel, End-Use, and Region |
| Customization scope | Available upon Request |
| Pricing and purchase options | Available upon Request |