Chitin Market Size Analysis
According to a recent survey conducted by ChemView Consulting, the Global Chitin Market grew at a CAGR of 5.5% between 2017-2021 and is estimated to be US$ 1,978.3Mn in 2022. Currently, the market is anticipated to grow at a CAGR of 7.6% and is expected to reach a valuation of US$ 4,115.4Mn by 2032 end.
Sales are anticipated to increase throughout the projected period due to rising chitin consumption in several end-use industries, including food and beverage, agrochemicals, and healthcare. Chitin is frequently employed as a cooking thickening in the food and beverage sector, which promotes growth.
Growing demand for natural fiber-based biodegradable composites in various industries is also expected to propel the market. Chitin is anticipated to be widely used in multiple nanotechnology applications, including the fabrication of polymer scaffolds. Additionally, it is used to encapsulate protein payloads. The expansion of R&D efforts in the area of cargo-release characteristics would also contribute to the development of the global market.
Market Dynamic
INCREASING DEVELOPMENT OF CHITIN FROM INSECTS
Leftover shrimp, crab, and lobster produce most of the chitin. Insect chitin, a byproduct of animal feed production, has become a new source of chitin synthesis in Europe. While adult insects are used for reproduction, insect larvae are used as a source of protein for animal feed. The main sources of chitin are the corpses of dead insects and cocoons.
For instance, the Belgian company KitoZyme S.A. has begun producing chitin-based goods, which use non-animal feed as the source of chitin. Creating dietary supplements and other items for use in medicine are two examples of how chitin is employed.
Additionally, Primex has created a novel technique for producing chitosan from arctic shrimp, which can be utilized as a food ingredient. This has led to a surge in the consumption of chitin sources and its byproduct in various end-use industries. It is further expected to propel growth in the chitin market during the forecast period.
STRICT REGULATIONS AFFECTING SALES OF CHITIN WORLDWIDE
Chitin extraction and conversion into chitosan or other derivatives require a lot of energy. The process also produces a significant amount of trash, which must be neutralized using energy and money.
Alkali-recovered proteins' low biological value is also anticipated to be a barrier to their use in the animal feed sector. It takes nearly 300 kg of water to produce 1 kg of chitin, which is expected to continue to be a growth inhibitor for the chitin market.
KEY PLAYERS TO PRODUCE VEGAN CHITIN TO ATTRACT MORE CONSUMERS
Chitin has a wide range of uses in the cosmetics, textile, culinary, and biotechnological industries, as well as in the pharmaceutical, medical, and agricultural fields, because of its potential physicochemical and biological features.
Businesses today invest enormous quantities in research and development efforts to introduce new products with better and expanded qualities. Additionally, they are making vegan goods and non-animal chitin derivatives for vegetarian customers. For instance, BIO21 has introduced new products to support the agricultural sector.
To accommodate the increased demands of consumers, a few other businesses are also growing their manufacturing facilities. For instance, Bayir Extracts increased the size of its production plant in Pune, India. Additionally, BIO21 expanded its production capacity in Indonesia to improve its position.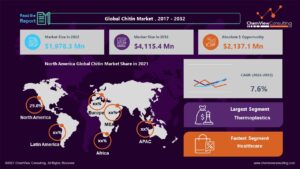 Market Segments Covered in Report
By Derivative Type:
Glucosamine
Chitosan
Others
By End-Use:
Food and Beverages
Agrochemical
Healthcare
Cosmetics and Toiletries
Waste and Water Treatment
Others
By Region and Country:
North America (U.S., Canada)
Latin America (Brazil, Mexico, Rest of Latin America)
Europe (Germany, Italy, France, UK, Spain, Netherlands, Norway, Russia, Rest of Europe)
Asia-Pacific (China, Japan, South Korea, India, Indonesia, Thailand, Vietnam, Australia & New Zealand, Rest of Asia-Pacific)
Middle East (Saudi Arabia, Turkey, UAE, Rest of Middle East)
Africa (South Africa, Nigeria, Egypt, Rest of Africa)
Segment-Wise Analysis
Which is the leading derivative type of chitin?
Based on the type of derivative, the chitin market has been split into three categories: glucosamine, chitosan, and others. Chitosan is a natural fiber that has many different uses. Because of its strong biocompatibility, biodegradability, non-toxicity, bioactivity, fiber grade properties, and superior adsorption rate, it are employed in treating water as coagulants and flocculants.
The most common applications for chitosan are in food and drink. Because it binds dietary fats and lipids in the colon and prevents them from getting saturated in the body, it is used in nutraceuticals and nutritional supplements. Manufacturers of food additives, edible films, and food preservatives employ chitosan widely on a global scale.
The chitin market in the United States is anticipated to be driven by the growing use of chitosan in various end-use industries. Due to the ever-increasing need for non-chemical products and technologies such as membrane surface and UV disinfection in water purification and agrochemical applications, the demand for advanced chitosan is growing at a rapid pace.
Region-Wise Analysis
The regions analyzed for the market include North America, Europe, Latin America, Asia Pacific, Middle East, and Africa.
With a 29.8% market share, North America leads the world. This is because numerous enterprises are based in the food and healthcare sectors. The primary driver of the market's expansion is increased government investment in the pharmaceutical industry.
China is anticipated to experience a CAGR of approximately 13.8%. Compared to other developing countries, the nation has a disproportionately higher number of enterprises producing chitin, chitosan, and glucosamine. Given that the government has more than 20 plants with a combined capacity of 15,000–18,000 tonnes, it is predicted that China produces nearly 80% of the glucosamine consumed worldwide. This element is anticipated to support the expansion of the Chinese chitin market.
Competition Analysis
In recent years, manufacturers have moved their attention to emerging nations to meet the rising demand for chitin. Several significant businesses are focusing primarily on improving their production capacities, research and development (R&D) investments, collaborative partnerships, and mergers and acquisitions to enhance their positions and compete with one another.
The key developments in the Global Chitin Market:
In March 2022, Hive Energy Ltd. purchased CuanTec, a Strathclyde start-up that turns waste from the shellfish industry into high-end chitin-based products. The former has created a brand-new method for extracting the biopolymer chitosan from waste shellfish from different fisheries for use in green products.
A list of some of the key suppliers present in the market are:
Wellable
SHANDONG LAIZHOU HIGHLY BIO-PRODUCTS CO. LTD.
Yaizu Suisankagaku Industry Co.,Ltd
Zhejiang Aoxing Biotechnology Co., Ltd.
Bayir Extracts Pvt. Ltd.
Golden-Shell Pharmaceutical Co. Ltd
Bio21
Panvo Organics Pvt Ltd.
Tidal Vision
Primex EHF
Meron Biopolymers
Heppe Medical Chitosan GmbH
CarboMer, Inc.
DALIAN XINDIE CHITIN CO., LTD
Kunpoong Bio Co. Ltd.
Report Coverage and Highlights
Our comprehensive, data-backed, and facts-oriented report provides niche and cross-sectional analysis at global and country levels.
Assessment of the historical (actual data) and current market size (2017-2021), market projections (2022-2032), and CAGR.
The market assessment across North America, Europe, East Asia, South Asia & Pacific, Latin America, Middle East, and Africa.
Competitive tactical intelligence, key strategies adopted by top players, production capacity and company shares analysis, product brand surveys, and export-import analysis
Pricing analysis to set and benchmark your current or future offerings across each product type helps you understand whether your pricing strategy is aligned with market expectations and can be compared to market disruptions.
Predictions on critical supply and demand trends and technological expertise needed to address operations scalability.
Consumer behavior shifts and their implications for players, list of end-users, and their consumption analysis.
Key drivers, restraints, opportunities, and emerging trends impacting the market growth.
Value chain analysis (list of manufacturers, distributors, end-users, and average profitability margins).
Strategic market analysis, recommendations, and future headways on crucial winning strategies.
| | |
| --- | --- |
| Research Scope | Details |
| Forecast period | 2022-2032 |
| Historical data available for | 2017-2021 |
| Market analysis | USD Million for Value and Tons for Volume, and CAGR from 2022 to 2032 |
| Key regions covered | North America, Latin America, Europe, Asia-Pacific, Middle East, and Africa |
| Key countries covered | US, Canada, Brazil, Mexico, Germany, Italy, France, UK, Spain, Netherlands, Norway, Russia, China, Japan, South Korea, India, Indonesia, Thailand, Vietnam, Australia & New Zealand, Saudi Arabia, Turkey, UAE, South Africa, Nigeria, Egypt |
| Key segments covered | By Derivative Type, End-Use, and Region |
| Customization scope | Available upon Request |
| Pricing and purchase options | Available upon Request |