Citrus Fiber Market Size Analysis
According to a research survey conducted by ChemView Consulting, in 2022, the Global Citrus Fiber Market was worth US$ 116.3 Mn and is expected to grow at a CAGR of 5.4% over the forecast period. The market is expected to hit US$ 177.1 Mn by 2030 end.
Citrus fiber is a blend of soluble and insoluble fiber obtained from citrus pulp, peel, or fruit. It is high in antioxidants and contains fiber. The presence of bioactive components, carotene, polyphenols, and important flavonoids in insoluble citrus fiber increases its demand in the processed food business.
It is one dietary fiber that offers numerous health benefits, including a reduced risk of obesity, coronary heart disease, stroke, different gastrointestinal (GI) illnesses, hypertension, and diabetes. Citrus fiber derived from orange peel contains a high concentration of insoluble dietary fiber. It has numerous health benefits, including decreasing glucose absorption and starch digestion.
Market Dynamic
What are the causes driving the rise in demand for Citrus Fiber?
Citrus fiber is gaining popularity among processed and packaged food manufacturers due to several functional benefits influencing the final product. Citrus fibers are flavor, taste, and fragrance neutral, and their incorporation improves the texture and aroma of the completed product. In some circumstances, adding citrus fiber to foods like meat and cheese is cost-effective since it can lower formulation costs by substituting citrus fibers for costlier ingredients. Furthermore, citrus fiber-added refined cuisine is easy to prepare.
Consumers' busy and stressful lifestyles are a primary element driving global demand for fiber supplements. People frequently do not have enough time to adequately care for their diet due to their demanding routines. It leads to decreased fiber consumption, which leads to various problems involving the bowel, blood sugar, obesity, and the heart.
Adequate fiber consumption not only minimizes these health problems but also aids in the development of robust immune. As a result, customers choose fiber supplements to meet their dietary fiber requirements. It is one of the primary factors driving global demand for fiber supplements, hence driving the growth of the citrus fibers market.
What are the opportunities in the Citrus Fiber Market?
Consumer concerns about contaminants in foods and meat have made the clean label a requirement for the citrus fibers business. Because synthetic additives harm the human body, processed food makers use natural alternatives, such as citrus fibers.
Rising health and wellness concerns encourage food and beverage makers to employ natural ingredients instead of synthetic ones. Cancer, diabetes, allergies, and cardiovascular illnesses encourage people to embrace a healthy lifestyle using wholesome, natural, and organic ingredients.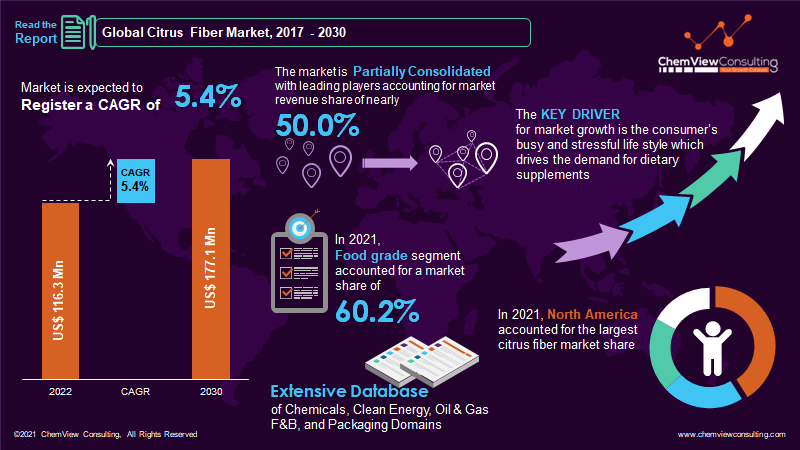 Segment-Wise Analysis
Why is the Bakery segment of Citrus Fiber expected to grow at the fastest CAGR?
The bakery category dominated the market and is expected to do so during the projection period for citrus fiber. Citrus fibers in the baking sector increase the freshness of bread products over time by binding available water, notably water released by starch gluten in wheat, to minimize staling.
Moisture preservation, oil or fat reduction, emulsification, and shelf-life freshness are advantages of this natural ingredient in baked goods. As a result, citrus fiber is expected to expand during the projection period.
Why is Food Grade Citrus Fiber expected to have a larger market share?
Due to rising demand from food and beverage makers, food-grade citrus fiber will continue to be the most desired grade, accounting for approximately 60.5% of the market in 2021. Demand is also boosted by expanding applications in animal feed and pet food formulations.
Why is the Orange Source category expected to maintain a strong market position during the forecast period?
The orange segment controlled the majority of the market. Oranges are a low-calorie, high-nutritional citrus fruit. It is popular due to its innate sweetness, variety of available types, and various uses. The vitamin C content of this well-known citrus fruit is especially notable.
Oranges contain a variety of plant compounds and antioxidants that may aid in the reduction of inflammation and the fight against the disease. Its nutrients provide various health benefits, including antioxidant vitamin C, which aids in preventing cancer-causing free radicals. Orange is also high in fiber and potassium, which are good for your heart.
Why is the Water Binder & Fat Replacer category expanding its worldwide footprint throughout the projection period?
Citrus fibers for water binding and fat replacement account for over half of global demand in 2021. Fibers with a high fat-binding capability are useful for emulsion stabilization.
Citrus fibers with high water binding capacity can assist in minimizing syneresis in hydrogels and change the viscosity and texture of food. Casein-based products with water-binding capabilities are frequently utilized in the baking sector.
Why is North America consolidating its global leadership in the Citrus Fiber Market?
North America had the largest citrus fiber market share in 2021. Increased demand for fortified foods and beverages in nations such as the United States, Canada, and Mexico is paving a new path for developing the North American citrus fibers market.
Changes in consumer dietary habits, combined with an increasingly urban population, fuel the expansion of the citrus fibers industry. The increased consumption of such fibers in North America is driving the growth of the citrus fiber market.
Why is Citrus Fiber so popular in the United States?
The market for citrus fibers in the United States is expected to account for over 90.0% of sales. Throughout the projected period, the market is expected to grow rapidly.
Growing food-related concerns are shifting the region's consumption of healthy and natural food products. Rising cancer rates and increased consumption of synthetically flavored food products drive demand for citrus fibers.
Personal care and cosmetics items are popular among American consumers. They are also concerned about the detrimental consequences of chemicals and synthetic compounds used in personal care and cosmetics.
Which country has promising opportunities in the Asia-Pacific Insole market?
Increased fiber intake in China via various food products will fuel market expansion. Citrus fiber is employed not only to meet fiber requirements but also for water retention and emulsification.
As a result, Chinese food and beverage makers utilize citrus fiber as a mouthfeel enhancer and clouding agent in ready-to-drink beverages, powdered drinks, nutrition bars, snacks, and bakery products. As a result, using fiber in food applications will boost growth in the Chinese market.
Competition Analysis
To raise profitability and improve their position in the citrus fiber market, players in the sector have used acquisition as their primary development strategy.
Many major corporations focus on product quality, from sourcing components to adhere to a consistent manufacturing method and hygienic packaging. Companies also cater to the market's ongoing tendency by providing gluten-free, vegan, and organic products.
Some of the key developments that have taken place in the Citrus Fiber Market include:
In November 2019, Fiberstar Inc. established a new website for citrus fiber Citi-Fi to better its digital experience, display its goods, and educate users worldwide.
In September 2017, CP Kelco announced intentions to increase its LMA pectin manufacturing capacity by 15% at its Lille Skensved, Denmark facility by adopting modern technologies to extract pectin from a new generation of raw material.
A list of some of the critical suppliers present in the market are:
Fiberstar, Inc.
CEAMSA
CP Kelco, Inc.
Herbafoods Ingredients GmbH
Florida Food Products, Inc.
Lemont
Golden Health
FUYAN PHARM (Henan), Inc.
Nans Products
Cifal Herbal Private Ltd.
Market Segments Covered in Report
By Nature:
Organic Citrus Fibers
Conventional Citrus Fibers
By Grade:
Food Grade
Pharmaceutical Grade
Cosmetic Grade
By Source:
Orange
Tangerine/Mandarins
Grapefruit
Lemons and Lime
By Application:
Bakery
Desserts and Ice-cream
Sauces & Seasonings
Meat & Egg Replacement
Beverages
Flavorings & Coatings
Snacks & Meals
Personal Care
Pharmaceutical
Other Application
By Function:
Water Binder & Fat Replacer
Thickening Gums
Gelling Gums
Others
By Distribution Channel:
Online Channels
Supermarkets and Hypermarkets
Convenience Stores
Department Stores
Pharmacies
Specialty Stores
By Region and Country:
North America (U.S., Canada)
Latin America (Brazil, Mexico, Rest of Latin America)
Europe (Germany, Italy, France, UK, Spain, Netherlands, Norway, Russia, Rest of Europe)
Asia-Pacific (China, Japan, South Korea, India, Indonesia, Thailand, Vietnam, Australia & New Zealand, Rest of Asia-Pacific)
Middle East (Saudi Arabia, Turkey, UAE, Rest of Middle East)
Africa (South Africa, Nigeria, Egypt, Rest of Africa)
Global Citrus Fiber Market 2022-2030: Report Coverage and Highlights
Assessment of the historical and current market size (2017-2021), market projections (2022-2030), and its contribution to the parent market
Key drivers, restraints, opportunities, and key emerging trends impacting market growth
Predictions on critical supply, demand, and technological trends and changes in consumer behavior
Value chain analysis (list of manufacturers, distributors, end-users, average profitability margins, etc.)
Segment-wise, country-wise, and region-wise market analysis
Competition mapping, market share analysis, key strategies adopted by top players, and competitive tactical intelligence
Key product innovations and regulatory framework
Covid-19 impact on the market and how to navigate
Strategic market analysis and recommendations on crucial winning strategies
| | |
| --- | --- |
| Research Scope | Details |
| Forecast period | 2022-2030 |
| Historical data available for | 2017-2021 |
| Market analysis | USD Million for Value and Tons for Volume, and CAGR from 2022 to 2030 |
| Key regions covered | North America, Latin America, Europe, Asia-Pacific, Middle East, and Africa |
| Key countries covered | US, Canada, Brazil, Mexico, Germany, Italy, France, UK, Spain, Netherlands, Norway, Russia, China, Japan, South Korea, India, Indonesia, Thailand, Vietnam, Australia & New Zealand, Saudi Arabia, Turkey, UAE, South Africa, Nigeria, Egypt |
| Key segments covered | By Grade, Nature, Source, Application, Function, Distribution Channel, and Region |
| Customization scope | Available upon Request |
| Pricing and purchase options | Available upon Request |