Clean Coal Technology Market Size Analysis
According to a research survey conducted by ChemView Consulting, in 2022, the Global Clean Coal Technology Market was worth US$  3,900.0 Mn and is expected to grow at a CAGR of 4.0% over the forecast period. The market is expected to hit US$ 5,800.0 Mn by 2032 end.
To increase the environmental acceptability and efficiency of coal mining, preparation, and use, clean coal technologies are the next generation of advanced coal utilization techniques. These technologies are being developed to diminish the damaging environmental effects of coal energy production and to slow down global warming by cutting greenhouse gas emissions.
Sales of clean coal technology are expected to increase on a worldwide scale due to rising demand for cutting-edge process technologies like combustion and gasification that help use coal with little negative environmental effect.
Market Dynamic
HYBRID POWER PROJECTS SPUR THE MARKET FOR CLEAN COAL TECHNOLOGY
The world's need for energy is significantly increasing due to rapid industrialization and the growing tendency for automated activities. Clean coal technologies, also known as environmental emission reduction technologies for coal power plants, are becoming increasingly well-liked throughout the green energy generating industry.
Governments are thus pursuing several steps to enhance the amount of coal-based electrical products. Numerous such projects are predicted to produce profitable market growth prospects.
Sales of clean coal technology are anticipated to increase due to rising environmental safety spending and expanding technical improvement in both existing and new coal-based power plants.
HIGH PRODUCTION AND INSTALLATION COSTS RESTRICT THE MARKET
Pulverized coal combustion, integrated coal gasification, and carbon sequestration technologies are costly procedures. To reduce pollution, they need pricey systems and equipment such as fluid beds, dewatering equipment, electrostatic precipitators, and others, hurting the sales of clean coal technology.
Governments all around the globe are putting more emphasis on adopting renewable energy sources like solar, water, and wind since they provide electricity without emitting any emissions and are less expensive to install than clean coal technology.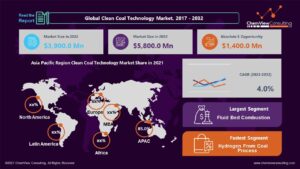 Market Segments Covered in Report
By Technology:
Combustion Technology

Pulverized Coal Combustion
Fluid Bed Combustion

Gasification Technology

Integrated Coal Gasification
Hydrogen From Coal Process
Multipurpose Coal Gasification

Enabling Technology
Carbon Capture and Storage Technology
Carbon Sequestration Technology
By Region and Country:
North America (U.S., Canada)
Latin America (Brazil, Mexico, Rest of Latin America)
Europe (Germany, Italy, France, UK, Spain, Netherlands, Norway, Russia, Rest of Europe)
Asia-Pacific (China, Japan, South Korea, India, Indonesia, Thailand, Vietnam, Australia & New Zealand, Rest of Asia-Pacific)
Middle East (Saudi Arabia, Turkey, UAE, Rest of Middle East)
Africa (South Africa, Nigeria, Egypt, Rest of Africa)
Region-Wise Analysis
The regions analyzed for the market include North America, Europe, Latin America, Asia Pacific, Middle East, and Africa.
Between 2022 and 2032, it is predicted that the Asia Pacific, excluding Japan, would hold the lion's share of the worldwide clean coal technology market. In 2021, 85.0% of the market growth contribution was the Asia Pacific.
Governments in numerous countries seek different forms of power generation other than renewable ones due to the rising demand for electricity and the fast electrification of society. They are rapidly building new coal-based power-producing facilities to fulfill the increasing energy demand.
Competition Analysis
Due to the large number of businesses that operate in the industry, the clean coal technology market is only somewhat fragmented. Key participants focus on innovation in clean coal technology and increasing their production capacity to obtain an advantage in the fiercely competitive sector.
Some of the key developments that have taken place in the Clean Coal Technology Market include:
In November 2021, To boost clean coal technologies, including enhanced pre-treatment of coal, and create a value chain for coalbed methane, the Chinese government declared its intention to establish a special re-lending facility worth around USD 31.4 billion.
In February 2022, The Northern Coalfields Limits (NCL) in Madhya Pradesh (MP) and the Indian Institute of Chemical Technology (IICT) launched a joint initiative to conduct research and development on clean coal technology and sustainable mining that would cost around INR 7.31 core (CCT).
A list of some of the key suppliers present in the market are:
Royal Dutch Shell PLC.
General Electric Company
Alstom Power Siemens AG
Clean Coal Technologies Inc.
KBR Inc,
 Global Clean Coal Technology Market 2022-2032: Report Coverage and Highlights
Assessment of the historical and current market size (2017-2021), market projections (2022-2032), and its contribution to the parent market
Key drivers, restraints, opportunities, and key emerging trends impacting market growth
Predictions on critical supply, demand, and technological trends and changes in consumer behavior
Value chain analysis (list of manufacturers, distributors, end-users, average profitability margins, etc.)
Segment-wise, country-wise, and region-wise market analysis
Competition mapping, market share analysis, key strategies adopted by top players, and competitive tactical intelligence
Key product innovations and regulatory framework
Covid-19 impact on the market and how to navigate
Strategic market analysis and recommendations on crucial winning strategies
| | |
| --- | --- |
| Research Scope | Details |
| Forecast period | 2022-2032 |
| Historical data available for | 2017-2021 |
| Market analysis | USD Million for Value and Tons for Volume, and CAGR from 2022 to 2032 |
| Key regions covered | North America, Latin America, Europe, Asia-Pacific, Middle East, and Africa |
| Key countries covered | US, Canada, Brazil, Mexico, Germany, Italy, France, UK, Spain, Netherlands, Norway, Russia, China, Japan, South Korea, India, Indonesia, Thailand, Vietnam, Australia & New Zealand, Saudi Arabia, Turkey, UAE, South Africa, Nigeria, Egypt |
| Key segments covered | By Technology and Region |
| Customization scope | Available upon Request |
| Pricing and purchase options | Available upon Request |