Cold Chain Packaging Market Size Analysis
According to a research survey conducted by ChemView Consulting, in 2022, the Global Cold Chain Packaging Market was worth US$ 22.9 Bn and is expected to grow at a CAGR of 14.7% over the forecast period. The market is expected to hit US$ 68.6 Bn by 2030 end.
The healthcare packaging industry has a huge demand for cold chain packaging. Applications for cold chain packaging include clinical trials, vaccinations, and the supply and logistics of biopharmaceuticals. The rise in sales of pharmaceutical items requiring cold chain logistics is to blame for the significant increase in the market for cold chain packaging.
Market Dynamic
THE INCREASING DEMAND FOR HEAT-SENSITIVE PHARMACEUTICAL INDUSTRY FUELS THE MARKET
Packaging for cold chains has become a need due to complex supply channels. The distribution of medicines, chemicals, and food products has increased the requirement for dependable cold chain packaging solutions. The requirement for cold chain packaging to maintain the integrity of the items is also driven by the need for regulatory compliance for food and pharmaceutical products.
For the pharmaceutical and biotech industries, cold chain packaging is quite helpful in maintaining the quality of the products. It has successfully minimized losses and ensured the best possible freshness for the food and beverage industries. Due to the increasing need for cold chain packaging solutions in the pharmaceutical business, particularly for the distribution of vaccines and the development of antibiotics, the market is expected to grow after the pandemic.
HIGH RAW MATERIAL COSTS HAMPER THE MARKET GROWTH
The infrastructure for creating cold chain packaging requires a significant initial investment. The market for cold chain packaging is primarily constrained by high material prices and the scalability of various packaging techniques.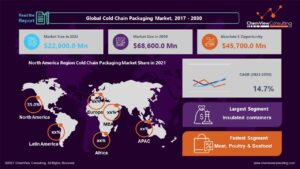 Segment-Wise Analysis
By Product Type :
Pallet Shippers
Insulated Containers
Foam Bricks
Gel Packs
Protective Packaging
Phase Change Cold Storage Products
By Material Type :
Polymer

Polyethylene
Polypropylene
PET
EPS
Polyurethane
Others

Metal
Paper
By Packaging Formats :
Reusable Packaging
Disposable Packaging
By End-use :
Food

Meat, Poultry & Seafood
Dairy Products
Fresh Produce
Bakery & Confectionary

Beverages

Alcoholic Beverages
Non-Alcoholic Beverages

Pharmaceutical
Cosmetics & Personal Care
Chemical
Others
By Region and Country:
North America (U.S., Canada)
Latin America (Brazil, Mexico, Rest of Latin America)
Europe (Germany, Italy, France, UK, Spain, Netherlands, Norway, Russia, Rest of Europe)
Asia-Pacific (China, Japan, South Korea, India, Indonesia, Thailand, Vietnam, Australia & New Zealand, Rest of Asia-Pacific)
Middle East (Saudi Arabia, Turkey, UAE, Rest of Middle East)
Africa (South Africa, Nigeria, Egypt, Rest of Africa)
Segment-Wise Analysis
Which product type Cold Chain Packaging, plays an important role in the market growth?
Insulated containers are crucial for controlling the temperature of food goods during transport and storage and extending their shelf lives. As a result, increased demand for insulated containers is being driven by expansion in the market for frozen foods and fruits.
Why is the meat, poultry & seafood segment expected to expand to dominate the market during the forecast period?
In 2021, the Meat, Poultry & Seafood application dominated the market and brought in more than 30.0% of total revenue. This high percentage can be attributed to increased beef and poultry shipped from the United States and Brazil. Meat products must be frozen throughout transit and storage because they are susceptible to natural, ongoing, and irreversible bio-physiochemical changes.
Which region is expected to expand the fastest during the forecast period?
It is predicted that North America will continue to lead the market and account for over 35.0% of global revenue throughout the forecast period. Because there are so many big industrial players in the region, there is tremendous market fragmentation, which accounts for the high market share of the area.
Additionally, more people consume fresh and organic foods, including fresh green vegetables, organic milk, and organic eggs. It necessitates crucial packaging and handling precautions at each storage stage and transportation to prevent rotting. In turn, this is accelerating the expansion of the local market.
Competition Analysis
Strategic partnerships with technology partners focus on cold chain packaging industry players. The market for cold chain packaging is anticipated to gain from significant investments in technology like cloud computing and IoT solutions in several ways. These enhancements offer control, visibility, and responsibility for cold chain packaging solutions.
Some of the key developments that have taken place in the Cold Chain Packaging Market include:
In January 2022, The first extended-duration curbside recyclable shipper for the cold chain business was introduced by Packaging Technology Group.
In January 2021, Asiana Airlines and Pelican BioThermal announced their most recent agreement, which will broaden the company's expanding global network.
A list of some of the key suppliers present in the market are:
Sonoco ThermoSafe
Pelican Products, Inc.
Sofrigam SAS
Cryopak Industries Inc.
CSafe Global, LLC
Softbox Systems Ltd.
TOWER Cold Chain Solutions
DGP Intelsius LLC
TemperPack Technologies, Inc.
Tempack Packaging Solutions SL
Global Cold Chain Packaging Market 2022-2030: Report Coverage and Highlights
Assessment of the historical and current market size (2017-2021), market projections (2022-2030), and its contribution to the parent market
Key drivers, restraints, opportunities, and key emerging trends impacting market growth
Predictions on critical supply, demand, and technological trends and changes in consumer behavior
Value chain analysis (list of manufacturers, distributors, end-users, average profitability margins, etc.)
Segment-wise, country-wise, and region-wise market analysis
Competition mapping, market share analysis, key strategies adopted by top players, and competitive tactical intelligence
Key product innovations and regulatory framework
Covid-19 impact on the market and how to navigate
Strategic market analysis and recommendations on crucial winning strategies
| | |
| --- | --- |
| Research Scope | Details |
| Forecast period | 2022-2030 |
| Historical data available for | 2017-2021 |
| Market analysis | USD Billion for Value and Tons for Volume, and CAGR from 2022 to 2030 |
| Key regions covered | North America, Latin America, Europe, Asia-Pacific, Middle East, and Africa |
| Key countries covered | US, Canada, Brazil, Mexico, Germany, Italy, France, UK, Spain, Netherlands, Norway, Russia, China, Japan, South Korea, India, Indonesia, Thailand, Vietnam, Australia & New Zealand, Saudi Arabia, Turkey, UAE, South Africa, Nigeria, Egypt |
| Key segments covered | By Product Type, Material Type, Packaging Format, End-Use, and Region |
| Customization scope | Available upon Request |
| Pricing and purchase options | Available upon Request |