Global Construction Polymer Market Size Analysis
According to a research survey conducted by ChemView Consulting, in 2022, the Global Construction Polymer Market was worth US$ 1,10,499.0 Mn and is expected to grow at a CAGR of 6.7% over the forecast period. While the historical CAGR is 5.3%, the market is expected to hit US$ 2,11,350.1 Mn by 2032 end.
Due to the rising demand for various types of construction projects around the world, the market for construction polymers is advancing. Manufacturers have been able to extend structures' life because of advancements in polymer technology. The building polymers market has discovered a new source of revenue in the form of deteriorating infrastructure in emerging nations.
Market Dynamic
EXTENSIVE APPLICATIONS ACROSS THE CONSTRUCTION DOMAIN TO SPUR EXPANSION
In terms of their use in the building sector, structural polymers and plastic composites have become important materials. The adoption of these construction polymers in the construction of walls and flooring with the greatest strength is a result of their design, technical, and structural advantages. The range of construction polymer applications has expanded due to developments in civil engineering and construction technologies.
Large chemical corporations gravitate toward the building polymer industry because of cost-effective production, manageable profit margins, and simple raw material procurement. Leaders in the chemicals and materials industry dominate the construction polymer market's competitive environment.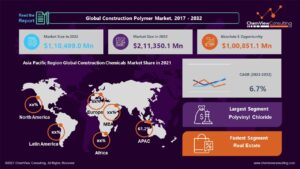 Market Segments Covered in Report
By Polymer Type:
Epoxy Resins
Polystyrene
Polycarbonate
Polyethylene
Polyisobutylene
Polymethylmethacrylate
Polypropylene
Polyurethane
Polyvinylchloride
Others
By Application:
Walls
Floorings
Piping
Windows
Roofs
Insulation and Sliding
Glazing
Cladding
Plastic Wraps
Others
By End-User:
Commercial Real Estate Construction
Housing Real Estate Construction
Industrial Construction
Facility Infrastructure
Transportation Infrastructure
Utility Infrastructure
Other Infrastructure
By Region and Country:
North America (U.S., Canada)
Latin America (Brazil, Mexico, Rest of Latin America)
Europe (Germany, Italy, France, UK, Spain, Netherlands, Norway, Russia, Rest of Europe)
Asia-Pacific (China, Japan, South Korea, India, Indonesia, Thailand, Vietnam, Australia & New Zealand, Rest of Asia-Pacific)
Middle East (Saudi Arabia, Turkey, UAE, Rest of Middle East)
Africa (South Africa, Nigeria, Egypt, Rest of Africa)
Segment-Wise Analysis
Which Polymer Types is projected to remain in great demand throughout the forecast period?
The market for construction polymers is likely to see the biggest revenue share from polyvinylchloride polymers. PVC polymers were sold on the international building polymer market for nearly US$ 28.0 Mn.
According to the analysis, PVC polymers' flexibility will continue to fuel demand soon for the global construction polymer market, along with its superior benefits in terms of flame resistance, frictional co-efficiency, safety, and design diversity.
Which End-User accounts for highest revenue share in the market?
Commercial and residential real estate will continue to have robust profit margins, making them viable markets for construction polymer producers. Throughout the projection period, these two industries will collectively account for more than 65.1% of global market revenues for construction polymer.
The survey also predicts that the utility and facility infrastructure sectors will employ construction polymer at the quickest rates worldwide. Rising public and private sector investments will influence this explosive revenue increase in facility and utility infrastructure throughout the projection period.
Region-Wise Analysis
The regions analyzed for the market include North America, Europe, Latin America, Asia Pacific, the Middle East, and Africa.
With 61.2% of market revenue expected to come from the Asia Pacific, the building polymer market is expected to prosper.
Due to their environmental friendliness, bio-based construction polymers are expected to increase in demand in North America.
Competition Analysis
Due to manufacturers' investments in developing novel valves in response to shifting industry standards across several industrial verticals, the global market for construction polymers is growing.
The key developments in the Global Construction PolymerMarket are:
In June 2021, To meet the expanding need for adhesive applications in the B2B woodworking market, H.B. Fuller announced that it had struck a distribution agreement with Jubilant Agri and Consumer Products Limited (JACPL), a 100% subsidiary of Jubilant Industries Limited.
In November 2021, As a result of its collaboration with The Vita Group, a preeminent supplier of value-added and distinctive flexible PU foam products, Evonik announced the scaling-up trials of its novel technology. The Vita Group has tested the hydrolysis-recycled polyols from Evonik in several of its flexible foam applications. Evonik's solution will help the flexible PU sector's worldwide sustainability goals of waste reduction and increased use of renewable raw resources in product manufacture.
A list of some of the key suppliers present in the market are:
Momentive Performance Materials Inc.
Solvay SA
Arkema S.A.
E.I Dupont De Nemours and Company
SCG Chemicals Co., Ltd.
Croda International Plc
Henkel AG & Co. KGaA
Sika AG
3M Company
Polyone Corporation
BASF SE
Formosa Plastics Corp
Global Construction Polymer Market 2022-2032: Report Coverage and Highlights
Assessment of the historical and current market size (2017-2021), market projections (2022-2032), and its contribution to the parent market
Key drivers, restraints, opportunities, and key emerging trends impacting market growth
Predictions on critical supply, demand, and technological trends and changes in consumer behavior
Value chain analysis (list of manufacturers, distributors, end-users, average profitability margins, etc.)
Segment-wise, country-wise, and region-wise market analysis
Competition mapping, market share analysis, key strategies adopted by top players, and competitive tactical intelligence
Key product innovations and regulatory framework
Covid-19 impact on the market and how to navigate
Strategic market analysis and recommendations on crucial winning strategies
| | |
| --- | --- |
| Research Scope | Details |
| Forecast period | 2022-2032 |
| Historical data available for | 2017-2021 |
| Market analysis | USD Million for Value and Tons for Volume, and CAGR from 2022 to 2030 |
| Key regions covered | North America, Latin America, Europe, Asia-Pacific, Middle East, and Africa |
| Key countries covered | US, Canada, Brazil, Mexico, Germany, Italy, France, UK, Spain, Netherlands, Norway, Russia, China, Japan, South Korea, India, Indonesia, Thailand, Vietnam, Australia & New Zealand, Saudi Arabia, Turkey, UAE, South Africa, Nigeria, Egypt |
| Key segments covered | By Polymer Type, Application, End-User, and Region |
| Customization scope | Available upon Request |
| Pricing and purchase options | Available upon Request |