Dairy Blends Market Size Analysis
According to a research survey conducted by ChemView Consulting, in 2022, the Global Dairy Blends Market was worth US$ 2,400 Mn and is expected to grow at a CAGR of 6.9% over the forecast period. The market is expected to hit US$ 4,100.0 Mn by 2030 end.
Dairy blends are combinations created from butter blends, vegetable oils, or processed butter fat that does not include saturated fat. When dairy blends are combined with another type of protein, they give customers nutritional advantages while improving the product's flavor.
Dairy blends are popular among fitness and health enthusiasts since they contain less fat than other butter and dairy products, increasing their demand in the global market.
Market Dynamic
THE HEALTH BENEFITS OF DAIRY BLENDS BOOST THE MARKET
Dairy blends are better for health than regular dairy products like whole milk. They are low in fat and include all of the key dairy nutrients. This advantage has improved the product's appeal among consumers suffering from diseases such as obesity and excessive cholesterol levels. It will likely boost product demand, pushing market growth during the forecast period.
The worldwide dairy blend market is expected to be driven by cost-effectiveness, lower fat content compared to butter and margarine, use in conjunction with other ingredients, and other factors. Dairy items are often imported at a high cost; however, dairy blends may be imported at a significantly lower price than dairy products. Dairy blends can be combined with other components such as butter, cocoa powder, sugar, dextrin, and vegetable fats, increasing demand for dairy blends.
STRINGENT GOVERNMENTAL REGULATIONS HAMPER THE MARKET GROWTH
The production of dairy blends necessitates that the finished product meets the Codex Alimentarius Commission's requirements. Codex is a regulatory agency formed by the United Nations Food and Agriculture Organization (FAO) and the World Health Organization (WHO). These criteria are quite strict and also apply to dairy product uses. It might pose a threat to the worldwide market during the forecast period.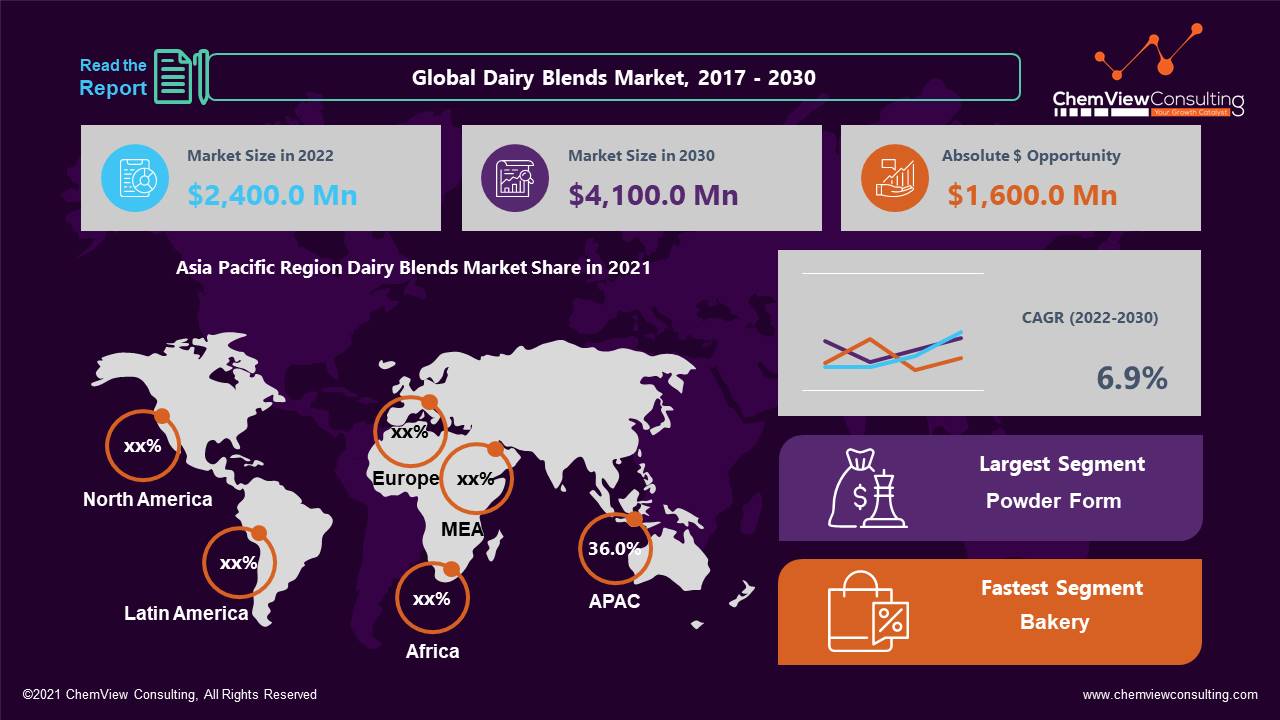 Segment-Wise Analysis
What factors propel the powder form type Dairy Blends market forward?
The most common type of dairy mix is a powdered dairy blend. The powder form is commonly used in baby food or infant formulation production. It is also used in ice cream and yogurt as a sweetener and stabilizer. It is also easier to store and has a longer shelf life due to its dry state. Because the powder is often created by spray-drying milk, it has all of the nutritional qualities of conventional cow's milk. These reasons are expected to propel the segment.
Why is there such a high demand for Dairy Blends in the Bakery segment?
Bakery items had the highest share of  35.0% in 2021. Powder and spreadable mixes are both utilized in bread and cakes. Many cake toppers are created by combining diverse flavors with these mixes. Because of substantial innovation in creating bakery items to meet the need of the health-conscious population, these blends serve as ideal alternatives for conventional milk and butter.
Region-Wise Analysis
The regions analyzed for the market include North America, Europe, Latin America, Asia Pacific, Middle East, and Africa.
With a market share of more than 0% in 2021, Asia Pacific led the geographical sector of the Dairy Blends Market. The rise is due to an increase in middle-class customers in the region who have more discretionary money.
The Asia Pacific area is the fastest-growing market for items like ice cream and butter, which is driving the expansion of the Dairy blends market in this region.
In 2021, North America had the second-largest market share. The market is being driven by rising dairy consumption in this area.
Competition Analysis
The dairy blends industry is extremely competitive, with several domestic and worldwide firms. Private-label brands have gained a competitive edge regarding product differentiation and cost-effective solutions.
The market is fragmented, and many firms are concentrating on new product development and expansion to retain their market positions. Companies are focusing on more unique sectors and growing the usage of dairy blend components.
Some of the key developments that have taken place in the Dairy Blends Market include:
In August 2022, Cargill invested $15 million in a new factory in India to manufacture bovine supplements that are supposed to increase milk output. The 35,000-ton annual capacity factory intends to address the country's rising milk production demands.
In November 2021, Ida was purchased by Fonterra Co-Operative Group Limited from Connecterra. Connecterra's Ida (Intelligent Dairy Assistant) platform combines data from proprietary collar-mounted sensors with internet-connected farm systems, farm equipment, and third-party sources to build an intelligent dairy assistant.
A list of some of the key suppliers present in the market are:
Abbott Nutrition
Hormel Specialty Products
Cargill
Fonterra Co-operative Group Ltd.
Doehler Group
Agropur ingredients
Royal FrieslandCampina N.V.
Kerry Group
Others
Market Segments Covered in Report
By Application:
Infant Formula
Ice Cream
Bakery
Confectionery
Butter & Cheese Blends
Beverages
Others
By Flavor:
By Form:
By Distribution Channel:
B2B
B2C

Modern Trade
Convenience Store
Forecourt Retail
Online Retail
By Region and Country:
North America (U.S., Canada)
Latin America (Brazil, Mexico, Rest of Latin America)
Europe (Germany, Italy, France, UK, Spain, Netherlands, Norway, Russia, Rest of Europe)
Asia-Pacific (China, Japan, South Korea, India, Indonesia, Thailand, Vietnam, Australia & New Zealand, Rest of Asia-Pacific)
Middle East (Saudi Arabia, Turkey, UAE, Rest of Middle East)
Africa (South Africa, Nigeria, Egypt, Rest of Africa)
Global Dairy Blends Market 2022-2030: Report Coverage and Highlights
Assessment of the historical and current market size (2017-2021), market projections (2022-2030), and its contribution to the parent market
Key drivers, restraints, opportunities, and key emerging trends impacting market growth
Predictions on critical supply, demand, and technological trends and changes in consumer behavior
Value chain analysis (list of manufacturers, distributors, end-users, average profitability margins, etc.)
Segment-wise, country-wise, and region-wise market analysis
Competition mapping, market share analysis, key strategies adopted by top players, and competitive tactical intelligence
Key product innovations and regulatory framework
Covid-19 impact on the market and how to navigate
Strategic market analysis and recommendations on crucial winning strategies
| | |
| --- | --- |
| Research Scope | Details |
| Forecast period | 2022-2030 |
| Historical data available for | 2017-2021 |
| Market analysis | USD Million for Value and Tons for Volume, and CAGR from 2022 to 2030 |
| Key regions covered | North America, Latin America, Europe, Asia-Pacific, Middle East, and Africa |
| Key countries covered | US, Canada, Brazil, Mexico, Germany, Italy, France, UK, Spain, Netherlands, Norway, Russia, China, Japan, South Korea, India, Indonesia, Thailand, Vietnam, Australia & New Zealand, Saudi Arabia, Turkey, UAE, South Africa, Nigeria, Egypt |
| Key segments covered | By Application, Flavor, Form, Distribution Channel, and Region |
| Customization scope | Available upon Request |
| Pricing and purchase options | Available upon Request |