Decorative Paints Market Size Analysis
According to a research survey conducted by ChemView Consulting, in 2022, the Global Decorative Paints Market was worth US$ 47,652.7 Mn and is expected to grow at a CAGR of 4.6% over the forecast period. The market is expected to hit US$ 74,714.4 Mn by 2032 end. From 2017–2021, when the market's CAGR was 3.4%, the market underwent significant growth.
Altering and repairing residential, non-residential, commercial, and infrastructural structures are among the many tasks involved in building. The per capita use of paint is also influenced by rising disposable income, a higher standard of living, and expanding interior design trends.
Market Dynamic
THE RAPID URBANIZATION WILL SPUR THE MARKET
The market for decorative paints is expanding at a rapid pace. Rapid urbanization, increasing quality of living, and consumer interest in enhancing the visual appeal of their houses and residential structures have significantly increased demand. Consumers have changed their preferences to favor paints with very robust qualities, emphasizing contemporary aesthetics. Consumers are willing to spend more freely on such products due to rising disposable income levels.
REGULATORY POLICIES PLAY A CRUCIAL ROLE IN THE MARKET GROWTH
There are currently several regulatory policies impacting the paints & coatings industry. These policies can create uncertainty throughout the value chain, which can significantly slow the adoption of new technology. Different time-consuming regulatory changes in other regions can affect the raw material producers, formulators, channel partners, and end-users.
With increasing governments implementing stringent regulatory policies, decorative coatings producers must constantly evolve their processes to comply with the new approaches and reduce VOC emissions by using alternative coatings materials or technologies.
EMERGING NATIONS CREATE AMPLE OF OPPORTUNITY
Emerging economies are investing heavily in large-scale infrastructure development projects. Emerging markets in these economies are witnessing higher growth than in North America and Europe. This is attributed to leading companies investing heavily in these regions as decorative coatings manufacturers have a tremendous opportunity.
The demand for decorative coatings in China and India will likely increase with rapid urbanization, a stable economy, and growing construction industry. There is also a rise in residential buildings and the construction of bridges, tunnels, and roads across the region.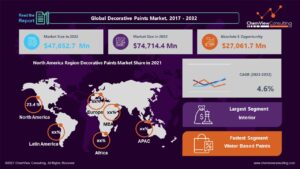 Market Segments Covered in Report
By Product Type:
Water-based paints
Solvent-based paints
By Formulation:
Emulsion-based paints
Distemper
By Application:
Interior Paints
Exterior Paints
By Sales Channel:
By Price
By Region and Country:
North America (U.S., Canada)
Latin America (Brazil, Mexico, Rest of Latin America)
Europe (Germany, Italy, France, UK, Spain, Netherlands, Norway, Russia, Rest of Europe)
Asia-Pacific (China, Japan, South Korea, India, Indonesia, Thailand, Vietnam, Australia & New Zealand, Rest of Asia-Pacific)
Middle East (Saudi Arabia, Turkey, UAE, Rest of Middle East)
Africa (South Africa, Nigeria, Egypt, Rest of Africa)
Segment-Wise Analysis
Why are Water Based Paints projected to dominate the market?
The market for decorative paints is predicted to be dominated by water-based paints. In 2021, it was expected that the water-based paints market would expand by 4.0% annually. The need for water-based paints is anticipated to increase in the upcoming years as residential and commercial building development picks up the pace throughout the world.
Why is the Interior Decorative Paints category segment expected to expand the fastest during the forecast period?
In 2021, it was predicted that revenue in the interior category would increase by 4.2% annually. Between 2020 and 2021, the demand for the outside type is projected to grow at a CAGR of 3.9%. Throughout the projected period in Europe, the interior paints category will continue to have a share of more than 75% of the applications indicated.
The need for interior decorative paints is rising as more homes, businesses, shopping malls, offices, hotels, and restaurants are being built. The demand for decorative paints in the interior market is also being boosted by the expanding trend of interior design and restoration worldwide.
Region-Wise Analysis
The regions analyzed for the market include North America, Europe, Latin America, Asia Pacific, Middle East, and Africa.
The Asia-Pacific coatings market is expected to be the fastest growing market over the forecast period, with a CAGR of 5.4%. The Asia Pacific was the largest decorative coating market in terms of value and volume and is projected to lead the region in terms of growth during the next five years.
India has tremendous development potential, given the country's housing needs and the rising number of individuals buying homes. During the projection period, it is anticipated that India's decorative paints market will grow at a CAGR of 5.3%. Developing high-rise structures in major cities and urbanization significantly increase the demand for decorative paints in India. An increase in disposable income is also pushing the rise of the industry.
In 2021, The Asia Pacific had a market share of 23.4%. The U.S. decorative paints market is expected to grow by 4.1% from 2020 due to increasing demand for construction projects. The increasing demand for residential and commercial buildings will be a major growth driver during 2021.
Competition Analysis
The market for decorative paints is slightly consolidated with some major players. Major players in the market are focusing on merger and acquisition tactics along with product development to increase their market position. Some of them strongly emphasize raising production capacity to increase their annual turnover.
Some of the key developments that have taken place in the Decorative Paints Market include:
In December 2021, Eastman Chemical intended to invest to considerably boost its facility's capacity to create tertiary Decorative Paints (DIMLA) in Ghent, Belgium.
In January 2020, Belle Chemical, a Cornerstone Chemical subsidiary, purchased the methyl decorative paints business from The Chemours Company.
A list of some of the key suppliers present in the market are:
Akzoko Nobel N.V.
Sherwin – Williams Company
PPG Industries, Inc.
Asian Paints Limited
NIPSEA GROUP (Nippon Paint)
Valspar Corporation
Jotun
BASF-SE
Berger Paints India Limited
RPM International Inc.
KANSAI Paints Co., Ltd.
Global Decorative Paints Market 2022-2032: Report Coverage and Highlights
Assessment of the historical and current market size (2017-2021), market projections (2022-2032), and its contribution to the parent market
Key drivers, restraints, opportunities, and key emerging trends impacting market growth
Predictions on critical supply, demand, and technological trends and changes in consumer behavior
Value chain analysis (list of manufacturers, distributors, end-users, average profitability margins, etc.)
Segment-wise, country-wise, and region-wise market analysis
Competition mapping, market share analysis, key strategies adopted by top players, and competitive tactical intelligence
Key product innovations and regulatory framework
Covid-19 impact on the market and how to navigate
Strategic market analysis and recommendations on crucial winning strategies
| | |
| --- | --- |
| Research Scope | Details |
| Forecast period | 2022-2032 |
| Historical data available for | 2017-2021 |
| Market analysis | USD Million for Value and Tons for Volume, and CAGR from 2022 to 2032 |
| Key regions covered | North America, Latin America, Europe, Asia-Pacific, Middle East, and Africa |
| Key countries covered | US, Canada, Brazil, Mexico, Germany, Italy, France, UK, Spain, Netherlands, Norway, Russia, China, Japan, South Korea, India, Indonesia, Thailand, Vietnam, Australia & New Zealand, Saudi Arabia, Turkey, UAE, South Africa, Nigeria, Egypt |
| Key segments covered | By Product Type, Formulation, Application, Sale Channel, Price, and Region |
| Customization scope | Available upon Request |
| Pricing and purchase options | Available upon Request |