Global Dimer Fatty Acid Market Size Analysis
According to a research survey conducted by ChemView Consulting, in 2022, the Global Dimer Fatty Acid Market was worth US$ 612.4  Mn and is expected to grow at a CAGR of 5.0% over the forecast period. While the historical CAGR is 4.2%, the market is expected to hit US$ 997.5 Mn by 2032 end.
Unsaturated fatty acids are dimerized to create dimer acids, also known as dimerized fatty acids, which are dicarboxylic. These unsaturated fatty acids are made from fatty acid feedstock, which includes oils like rapeseed, tall, and fat. A crude dimer is created from elevated oil fatty acid through heat treatment, either with or without the aid of an appropriate catalyst. Due to the reactivity of its di-carboxylic acid, they serve as the foundation for numerous end products.
Dimeric acids, also known as C36 dimer acids, typically contain stearic acids. This dimer acid chemistry can also produce trimeric acid, which is made up of three fatty acid molecules. Dimer acids are translucent, viscous liquids with a pale yellow hue with no hazardous properties.
Market Dynamic
THE RISING DEMAND FOR OILFIELD CHEMICALS WILL EXPAND THE GLOBAL MARKET
The growing number of drilling operations in various locations to meet the rising energy demand is expected to increase the global market for oilfield chemicals. Additionally, the global dimer fatty acid market is expanding significantly due to cosmetics use worldwide. The primary factor driving the global market is the growing number of applications for dimer fatty acids.
Consequently, the dimer fatty acid market is expanding its operations on the global market. Additionally, the worldwide industry is trying to penetrate all isolated regions.
THE GROWING USE OF UNSATURATED FATTY ACIDS COULD HINDER THE GLOBAL DIMER ACID MARKET
The growing usage of unsaturated fatty acids to manufacture biofuels and the scarcity of raw materials could hinder the global dimer acid market. A lack of consumer knowledge could also present difficulties for the worldwide market. As a result, the main international players have taken these restrictions seriously and changed their strategies. Additionally, it has attempted to foster the expansion of the world market.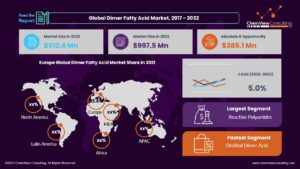 Market Segments Covered in Report
By Product Type:
Standard
Distilled
Distilled and Hydrogenated
By Application:
Oilfield chemical,
Cosmetics & personal care products,
Reactive polyamide,
Non-reactive polyamide,
Others
By End-User:
Oilfield,
Construction,
Cosmetics industry,
Others
By Region and Country:
North America (U.S., Canada)
Latin America (Brazil, Mexico, Rest of Latin America)
Europe (Germany, Italy, France, UK, Spain, Netherlands, Norway, Russia, Rest of Europe)
Asia-Pacific (China, Japan, South Korea, India, Indonesia, Thailand, Vietnam, Australia & New Zealand, Rest of Asia-Pacific)
Middle East (Saudi Arabia, Turkey, UAE, Rest of Middle East)
Africa (South Africa, Nigeria, Egypt, Rest of Africa)
Segment-Wise Analysis
Why is the greatest CAGR predicted for reactive polyamides?
The reactive polymers are anticipated to have the highest CAGR due to their growing use in marine coatings and construction, particularly in Asia.
Which Dimer Fatty Acid type is anticipated to drive profits for market players?
Distilled dimer fatty acid sales are anticipated to grow at a noteworthy 4.4% CAGR from 2022 to 2032.
High-quality materials for surface coatings, printing inks, adhesives, and oilfield chemicals are becoming more and more in demand. High-performance applications often use distilled dimer acid. For this precise reason, sales of purified dimer fatty acids are steadily increasing and growing in popularity.
Additionally, the chemical is utilized to create premium polyamide resins. These factors are expected to cause distiller dimer fatty acid sales to rise steadily over the forecast period.
Region-Wise Analysis
The regions analyzed for the market include North America, Europe, Latin America, Asia Pacific, the Middle East, and Africa.
By 2032, Germany is anticipated to hold a 25.5% market share in Europe for dimer fatty acids. To produce less waste, the nation is heavily spending on research and development for the production process of dimer fatty acids.
Due to the rising demand for surface coatings, sealants, paints, hot melt adhesives, and standard adhesives from the construction industry, the Asia Pacific region is now dominating the global market.
Competition Analysis
Leading producers of dimer fatty acids are focusing on expanding their global footprint by developing new production facilities and entering into strategic commercial collaborations. In addition, market participants are boosting their R&D expenditures to enhance dimer fatty acid synthesis and discover new ways to produce dimer fatty acids.
The key developments in the Global Dimer Fatty AcidMarket are:
In April 2020, a sophisticated recycling zeolite catalysis method was created, and it makes use of fatty acids from soybean oil, a plant. This method can produce a more effective yield with a less polluting production process by controlling the structure and synthesis of dimer fatty acids.
A list of some of the key suppliers present in the market are:
Kraton Corporation
Croda International Plc.
Oleon NV
Jiangsu Yonglin Oleochemical Co., Ltd.
Jiangxi Longwell Industrial Co., Ltd
Aturex Group
Shandong Huijin Chemical Co. Ltd
Emery Oleochemicals
Florachem Corporation
Jiangsu Jinma Oil Technology Development Co., Ltd.
Jarchem Industries Inc.
Liancheng Baixin Science and Technology Co., Ltd.
Jinan Tongfa Resin Co., Ltd.
Global Dimer Fatty Acid Market 2022-2032: Report Coverage and Highlights
Assessment of the historical and current market size (2017-2021), market projections (2022-2032), and its contribution to the parent market
Key drivers, restraints, opportunities, and key emerging trends impacting market growth
Predictions on critical supply, demand, and technological trends and changes in consumer behavior
Value chain analysis (list of manufacturers, distributors, end-users, average profitability margins, etc.)
Segment-wise, country-wise, and region-wise market analysis
Competition mapping, market share analysis, key strategies adopted by top players, and competitive tactical intelligence
Key product innovations and regulatory framework
Covid-19 impact on the market and how to navigate
Strategic market analysis and recommendations on crucial winning strategies
| | |
| --- | --- |
| Research Scope | Details |
| Forecast period | 2022-2032 |
| Historical data available for | 2017-2021 |
| Market analysis | USD Million for Value and Tons for Volume, and CAGR from 2022 to 2030 |
| Key regions covered | North America, Latin America, Europe, Asia-Pacific, Middle East, and Africa |
| Key countries covered | US, Canada, Brazil, Mexico, Germany, Italy, France, UK, Spain, Netherlands, Norway, Russia, China, Japan, South Korea, India, Indonesia, Thailand, Vietnam, Australia & New Zealand, Saudi Arabia, Turkey, UAE, South Africa, Nigeria, Egypt |
| Key segments covered | By Product Type, Application, End-User, and Region |
| Customization scope | Available upon Request |
| Pricing and purchase options | Available upon Request |