Electric Vehicle Adhesives Market Size Analysis
According to a research survey conducted by ChemView Consulting, in 2022, the worldwide Electric Vehicle Adhesives Market was worth US$ 531.6 Mn and is expected to grow at a CAGR of 32.5% over the forecast period. The market is expected to hit US$ 5,050.1 Mn by 2030 end.
Electric vehicle adhesives are liquid adhesives applied between two substrates to form a solid material that bonds those substrates together through a chemical or physical change. These liquid adhesives are used in various applications in electric vehicles, including interiors, exteriors, and electric batteries.
Market Dynamic
What factors are driving the increase in demand for Electric Vehicle Adhesives?
The global Electric Vehicle Adhesives market is being driven by rising consumer preference for electric vehicles, which is supported by government incentives and the need for lightweight, crashworthiness, and safety, increasing the use of adhesives. Furthermore, the potential for growth of autonomous electric vehicles will open up new avenues for the global electric vehicle adhesives industry.
According to IEA, the Global Electric Vehicle stock is expected to grow by approximately 230 million vehicles by 2030 (excluding two/three-wheelers), accounting for 12% of the global vehicle fleet.
What are the opportunities in the Electric Vehicle Adhesives business?
The global market is expected to expand rapidly as end-user demand for technological advancements increases. Furthermore, increased investments in R&D activities, launches, partnerships, and other strategic initiatives will benefit the market. Moreover, the government's increasing emphasis on urbanization and industrialization is expected to drive market growth.
Self-parking, driverless, or robotic electric vehicles are autonomous electric vehicles. The development and commercialization of self-driving electric vehicles will soon increase the demand for Electric Vehicles adhesives. These will open doors for Electric Vehicle adhesive manufacturers.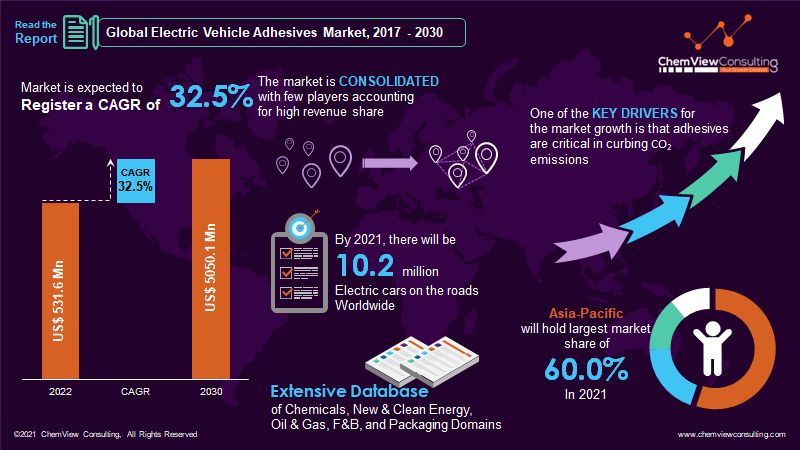 COVID-19 Impact
How has the demand for Electric Vehicle Adhesive been affected by COVID-19?
Vehicle production had been hampered in major countries in early 2020 due to supply shortages, lockdowns, and production suspensions. Due to lockdowns and restrictions imposed to prevent the virus, demand for new vehicles was low in pandemic-affected countries.
The market for electric vehicle adhesives is rapidly approaching pre-COVID levels, and a healthy growth rate is expected over the forecast period, fueled by economic recovery in most developing countries.
Segment-Wise Analysis
Why is the Polyurethane resin type accounted to have the largest market share?
Adhesives made from various resins have different properties and are chosen based on the application.
Urethane polymers are used to make polyurethane adhesives. They have exceptional elasticity and elongation up to 500.0% before fracture. Polyurethane electric vehicle adhesives have good adhesion to smooth and porous surfaces.
Urethane systems have other notable properties such as high flexibility, abrasion resistance, superior physical strength, and gap-filling capabilities. These adhesives are also inexpensive. Because of their elastic bonding, they are preferred in applications such as automotive and construction.
Polyurethane adhesives are classified into three types: two-component polyurethane, one-component rigid polyurethane adhesives, and two-component elastic polyurethane adhesives. Polyurethane adhesive bonds form in two stages: first, the adhesive cools back down to achieve the holding strength, and then the adhesive uses the moisture to continue curing for hours to days to complete the final structural strength.
Which vehicle type will create opportunities for a rise in demand for Electric Vehicle Adhesives?
During the forecast period, the growth of electric cars and buses is expected to drive the growth of Electric Vehicle adhesives.
Critical policy changes implemented by leading countries in electric mobility are driving the growth of Electric Vehicles. These countries have implemented stricter emission standards and incentives for electric cars. They are encouraging investments in the Electric Vehicle industry value chain to achieve price parity between Electric Vehicles and ICE (Internal Combustion Engine) vehicles. Adhesive technology, used in various applications in an Electric Vehicle, is critical in making Electric Vehicles lightweight.
The Electric Vehicle market has experienced rapid growth, as evidenced by brisk sales in recent years. Due to a decade of rapid growth, over 10.2 million electric cars will be worldwide by the end of 2021.
Which region is consolidating its Electric Vehicle Adhesives Market dominance in the world?
Over the forecast period 2021-2030, Asia Pacific will account for the largest market revenue share with 60.0% in 2021 in the global electric vehicle adhesives market. Factors such as rapid industrialization in developing countries, increased demand for such adhesives in the automotive industry, growth in the automotive sector, increasing sales and production of electric vehicles, and so on all contribute to the region holding the largest market share in the forecast years.
China holds a significant share of the Asia pacific electric vehicle adhesives market. The country's market is expected to expand at a rapid pace soon. Demand for electric vehicle adhesives has increased in India and China as infrastructure and construction sectors in these countries have grown significantly. India is expected to invest significantly in infrastructure development shortly.
Competition Analysis
Companies in the Electric Vehicle Adhesives industry are strategizing to increase their market share by emphasizing their USP statements, diversifying product portfolios, and adding appealing features, to name a few key winning strategies.
Because of government regulations and purchase incentives, automakers are increasingly investing in Electric Vehicles. Major market players actively engage in expansions, mergers and acquisitions, and joint ventures to maintain their global electric vehicle adhesive share.
Some of the key developments that have taken place in the Electric Vehicle Adhesives Market include:
In January 2018, Henkel AG & Co. KGaA opened an innovation center in Bintaro Jaya, Indonesia, under its adhesive technologies segment. It is Asia Pacific's first adhesive innovation center. The center's mission is to provide innovations and high-impact solutions to Indonesia and Southeast Asia's adhesives, sealants, and functional coatings industries. As a result, the center is expected to collaborate with customers to develop new products and improve the productivity and reliability of their manufacturing facilities.
In May 2019, DuPont (US) announced new HEV/EV battery assembly solutions. In addition, the company is working on large-scale assembly and smaller orders.
A list of some of the critical suppliers present in the market are:
Henkel
Sika AG
B. Fuller
3M
Ashland
Lord Corporation
Bostik
Jowat SE
Parker Hannifin Corp
PPG Industries
Permabond
Wacker Chemie AG
L&L Products
KGaA
DuPont de Nemours, Inc.
Arkema S.A
Avery Dennison Corporation
Evonik Industries AG
Illinois Tool Works Inc.
Dymax Corporation
Market Segments Covered in Report
By Resin:
Epoxy
Silicone
Acrylic
Polyurethane
Cyanoacrylate
Others
By Form:
Liquid
Tapes & Films
Others
By Applications:
Powertrain
Exterior
Interior
By Vehicle type:
Electric Car
Electric Bus
Electric Bike
Electric Truck
By Region and Country:
North America (U.S., Canada)
Latin America (Brazil, Mexico, Rest of Latin America)
Europe (Germany, Italy, France, UK, Spain, Netherlands, Norway, Russia, Rest of Europe)
Asia-Pacific (China, Japan, South Korea, India, Indonesia, Thailand, Vietnam, Australia & New Zealand, Rest of Asia-Pacific)
Middle East (Saudi Arabia, Turkey, UAE, Rest of Middle East)
Africa (South Africa, Nigeria, Egypt, Rest of Africa)
Global Electric Vehicle Adhesives Market 2022-2030: Report Coverage and Highlights
Assessment of the historical and current market size (2017-2021), market projections (2022-2030), and its contribution to the parent market
Key drivers, restraints, opportunities, and key emerging trends impacting market growth
Predictions on critical supply, demand, and technological trends and changes in consumer behavior
Value chain analysis (list of manufacturers, distributors, end-users, average profitability margins, etc.)
Segment-wise, country-wise, and region-wise market analysis
Competition mapping, market share analysis, key strategies adopted by top players, and competitive tactical intelligence
Key product innovations and regulatory framework
Covid-19 impact on the market and how to navigate
Strategic market analysis and recommendations on crucial winning strategies
| | |
| --- | --- |
| Research Scope | Details |
| Forecast period | 2022-2030 |
| Historical data available for | 2017-2021 |
| Market analysis | USD Million for Value and Tons for Volume, and CAGR from 2022 to 2030 |
| Key regions covered | North America, Latin America, Europe, Asia-Pacific, Middle East, and Africa |
| Key countries covered | US, Canada, Brazil, Mexico, Germany, Italy, France, UK, Spain, Netherlands, Norway, Russia, China, Japan, South Korea, India, Indonesia, Thailand, Vietnam, Australia & New Zealand, Saudi Arabia, Turkey, UAE, South Africa, Nigeria, Egypt |
| Key segments covered | By Resin, Application, Form, Vehicle Type, and Region |
| Customization scope | Available upon Request |
| Pricing and purchase options | Available upon Request |