Emollient Esters Market Size Analysis
According to a research survey conducted by ChemView Consulting, in 2022, the worldwide Emollient Esters Market was worth US$ 228.4 Bn and is expected to grow at a CAGR of 5.5% over the forecast period. The market is expected to hit US$ 350.5 Bn by 2030 end.
Emollient Ester is a chemical component commonly utilized in cosmetic product manufacturing. It prevents natural moisture loss from the skin, preventing water evaporation from the epidermis's outer layer. This composition aids in the smoothness of the skin. Emollient Esters are created by reacting fatty alcohol with carboxylic acids.
Among the many benefits of Emollient Esters, some of the most important are that they give the skin a radiant appearance, condition the hair, increase skin suppleness, and prevent skin moisture loss.
Market Dynamic
What factors are fueling the growth of the Emollient Esters Market?
Emollient Esters are widely utilized in cosmetics and personal care products. The growing demand for natural skin care products has opened up new research avenues for green emollients.
Increasing use of Emollient Esters in personal care products and rising sales of powder Emollient Esters are two main drivers predicted to propel the market at a 5.5% CAGR from 2022 to 2030.
Pollutants in the environment, including road fumes, industrial pollution, cigarette smoke, and stubble burning, damaged hair and skin. The abovementioned factors increase demand for anti-pollution skincare and personal care products, which presents healthy growth potential for Emollient Esters manufacturers.
What are the opportunities in the Emollient Esters Market business?
New product advancements, increased investments in green Emollient research and development works, and rising demand for liquid Emollient Esters are projected to expand the market in the upcoming years.
Rising disposable income and personal grooming awareness will contribute significantly to plant-based Emollient Ester makers' growth potential in the future.
What factors are impeding the Emollient Esters Market's growth?
Some issues the market may face include stringent labeling laws for cosmetic ingredients and the emergence of cheaper and greener emollient replacements. Because chemical ingredient manufacturers/suppliers must offer precise data and documentation from where chemicals are sourced, tight rules and compliances across regions and countries limit the Emollient Esters Market to some extent.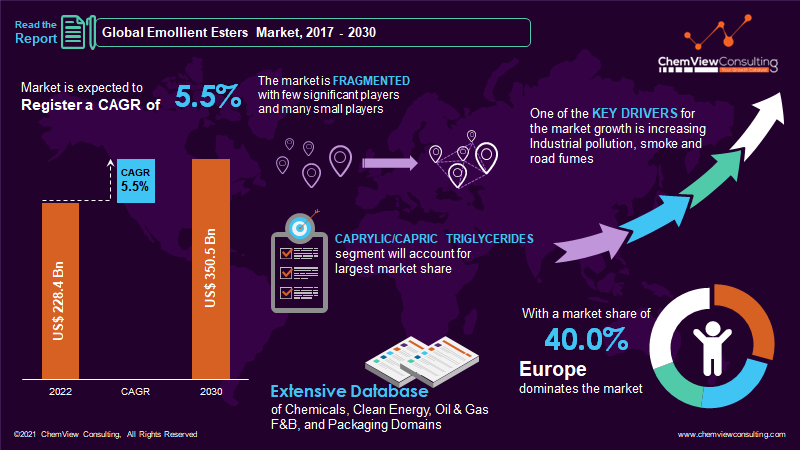 Segment-Wise Analysis
Which segment is the major End-User of Emollient Esters Market?
Emollient Esters are widely used in personal care because they improve sensory sensation while applying cosmetic products.
Over one-third of the End-User market comprises Emollient Esters consumed by skin care products. This expansion is mostly due to increased demand for Emollient Esters in moisturizers, anti-aging skin care products, and sun care products.
Which Product-type will lead to an increase in demand for Emollient Esters Market?
Caprylic/capric triglycerides are an oily fluid derived from coconut oil and glycerin. Capric triglyceride is a common name for this combination. It helps to smooth the skin and acts as an antioxidant.
These substances are derived from naturally occurring fatty acids. Because of their high-fat content at the surface and autoxidizing properties, they are perfect for chemical and cosmetic products.
Why is the Europe region consolidating its Emollient Esters Market dominance worldwide?
Europe dominates the global market for Emollient Esters, accounting for 40.0% of the total market share. The expansion of the Emollient Esters sector in Europe is due to the huge presence of personal care and cosmetic item producers in European countries.
The use of augmented reality in advertising cosmetic items and skin care products has positively benefited the growth of the personal care and cosmetic goods business. These will create profitable growth opportunities for the European market over the anticipated timeframe. Customers' growing beauty consciousness will significantly contribute to regional market growth.
What effect has COVID-19 had on the Emollient Esters Market?
Cosmetics sales were sluggish throughout much of 2020 due to the recent coronavirus outbreak. Due to significant disruptions experienced by Emollient Ester manufacturers, manufacturers of Emollient Esters for skin care products, and disturbances in supply-chain operations caused by various precautionary lockdowns and other restrictions imposed by governing authorities around the world.
Competition Analysis
Organic and inorganic market strategies have seen businesses invest billions of dollars in manufacturing capacity expansions, acquisitions, collaborations, and product development in capitalizing on the market's enormous potential.
The Emollient Esters Market is fragmented, with a few significant competitors and many smaller players. In terms of product offerings, developments, and distribution networks, organized players in the emollient esters market have an advantage over smaller businesses.
Some of the key developments that have taken place in the Emollient Esters Market include:
In 2019, BASF SE inked a deal with the French business Biomillenia. Using Biomillenia's unique microbiome-on-a-chip technology, the collaboration will enable BASF to supply novel skin care components.
In 2019, Clariant AG teamed with Elevance, a leader in natural metathesis. The alliance intends to provide green emollient components for the personal care market.
A list of some of the critical suppliers present in the market are:
BASF SE
Rita Corporation
Ashland Inc.
Phoenix Chemical, Inc.
Croda International Plc
Lipo Chemicals, Inc.
Solvay SA
Abitec Corporation
Phoenix Chemical, Inc.
Vantage Specialty Chemicals
Yasho Industries Pvt., Ltd.
Lonza Group Ltd.
Lubrizol Corporation
Innospec Inc.
Stepan Company
Evonik Industries AG
Market Segments Covered in Report
By Product Type:
Isopropyl Myristate
C12-C15 Alkyl Benzoate
Caprylic/Capric Triglyceride
Cetyl Palmitate
Myristyl Myristate
By Application:
Hair Care
Skin Care
Sun Care
Oral Care
By End-Use:
Personal Care
Cosmetics
Others
By Region and Country:
North America (U.S., Canada)
Latin America (Brazil, Mexico, Rest of Latin America)
Europe (Germany, Italy, France, UK, Spain, Netherlands, Norway, Russia, Rest of Europe)
Asia-Pacific (China, Japan, South Korea, India, Indonesia, Thailand, Vietnam, Australia & New Zealand, Rest of Asia-Pacific)
Middle East (Saudi Arabia, Turkey, UAE, Rest of Middle East)
Africa (South Africa, Nigeria, Egypt, Rest of Africa)
Global Emollient Esters Market 2022-2030: Report Coverage and Highlights
Assessment of the historical and current market size (2017-2021), market projections (2022-2030), and its contribution to the parent market
Key drivers, restraints, opportunities, and key emerging trends impacting market growth
Predictions on critical supply, demand, and technological trends and changes in consumer behavior
Value chain analysis (list of manufacturers, distributors, end-users, average profitability margins, etc.)
Segment-wise, country-wise, and region-wise market analysis
Competition mapping, market share analysis, key strategies adopted by top players, and competitive tactical intelligence
Key product innovations and regulatory framework
Covid-19 impact on the market and how to navigate
Strategic market analysis and recommendations on crucial winning strategies
| | |
| --- | --- |
| Research Scope | Details |
| Forecast period | 2022-2030 |
| Historical data available for | 2017-2021 |
| Market analysis | USD Billion for Value and Tons for Volume, and CAGR from 2022 to 2030 |
| Key regions covered | North America, Latin America, Europe, Asia-Pacific, Middle East, and Africa |
| Key countries covered | US, Canada, Brazil, Mexico, Germany, Italy, France, UK, Spain, Netherlands, Norway, Russia, China, Japan, South Korea, India, Indonesia, Thailand, Vietnam, Australia & New Zealand, Saudi Arabia, Turkey, UAE, South Africa, Nigeria, Egypt |
| Key segments covered | By Product Type, Application, End-Use, and Region |
| Customization scope | Available upon Request |
| Pricing and purchase options | Available upon Request |