Ethanol Market Size Analysis
According to a research survey conducted by ChemView Consulting, in 2022, the worldwide Ethanol Market was worth US$ 103.0 Bn and is expected to grow at a CAGR of 4.9% over the forecast period. The market is expected to hit US$ 151.0 Bn by 2030 end.
Ethanol is commonly utilized in the pharmaceutical and antidote industries. It is an active central nervous system depressant agent and is frequently referred to as a recreational drug.
Market Dynamic
What factors are driving the increase in demand for Ethanol Market?
The demand for Ethanol blends with gasoline and other expensive fossil fuels is constantly increasing. The availability of raw materials such as sugarcane, wheat, and corn, which are abundantly produced worldwide, makes the ethanol manufacturing process cost-competitive.
What are the opportunities in the Ethanol Market business?
Government efforts worldwide to promote self-sustaining fuel production and new business formation boost assistance to the ethanol market.
The discussion over climate change is increasing interest in renewable fuels. Governments worldwide are looking for measures to reduce household, industry, and transportation emissions.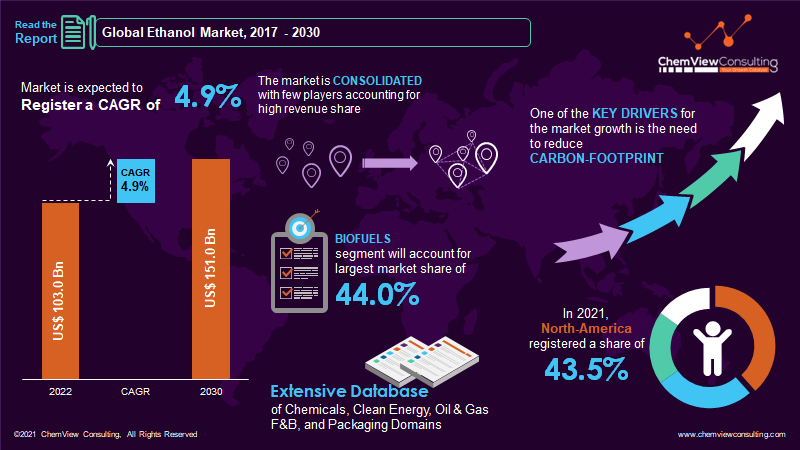 Segment-Wise Analysis
Why is the Bioethanol Product type accounted to have the largest market share?
Bioethanol is a less expensive and environmentally friendly alternative to gasoline or petroleum-fueled vehicles. A little amount of bioethanol is blended with pure gasoline to create bioethanol blends, which burn more effectively and emit no carbon dioxide.
Bioethanol fuel blends are required in many nations throughout the world. These will boost bioethanol use in the transportation industry.
Which region has the highest Ethanol Market demand?
Because of the region's large-scale production and demand for ethanol, North America is expected to be the largest ethanol market from 2020 to 2030. North America registered a market share of 43.5% in 2019. The region is one of the world's major consumers of automobile fuel and employs various ethanol fuel blends.
Countries such as the United States and Canada have made greater ethanol blends in automobiles mandatory. The United States is also the world's leading producer of ethanol.
Which application is the primary driver of the Ethanol Market?
One of the primary market drivers is ethanol as a biofuel, with a market share of 44.0% in 2019. The automotive industry has expanded quickly in recent years, posing numerous challenges regarding air pollution control. To combat the problem of air pollution caused by automobiles, ethanol is combined with gasoline at quantities of 9.0% and 17.0%. The inclusion of ethanol brings significant benefits in terms of better fuel economy and thermal efficiency.
Why is the Asia-Pacific region consolidating its Ethanol Market dominance worldwide?
India and China use ethanol extensively in the Asia Pacific area in the pharmaceutical business. It is a new renewable energy strategy that is greener and capable of decreasing developing countries' large imports of crude oil and petrochemicals.
Competition Analysis
The market is intensely competitive, with important competitors focusing more on gaining a competitive advantage. The leading players in the Renewable Chemicals Market are concentrating on R&D to develop breakthrough technology solutions. New entrants are seizing this once-in-a-lifetime opportunity with a clear strategy to maximize returns.
Some of the key developments that have taken place in the Ethanol Market include:
In April 2021, Du Pont said that they would focus more on sustainability and strive to minimize their carbon footprint and improve processes, resulting in less waste and improved energy efficiency.
In 2019, OMC (Oil Marketing Companies) purchased 2.5 billion ethanol to attain the highest market penetration in India.
POET LLC has a joint venture with DSM in Iowa, US, to create cellulosic ethanol. The company purchases about 6% of the corn bushels produced annually in the United States.
In June 2018, Archer Daniels Midland Company (ADM) and DuPont inked a deal to develop, produce, and commercialize cellulose enzymes for grain-based ethanol plant owners.
In August 2019, The Maharashtra state administration petitioned the Indian Central Government for approval to allow sugar plants in Maharashtra to convert sugar stock to ethanol.
A list of some of the critical suppliers present in the market are:
Archer Daniels Midland Company
Aventine Renewable Energy
United Breweries
Krin, The Andersons Inc.
British Petroleu
Advanced Bioenergy LLC
Stake Technology
VeraSun Renewable Energy
Alternative Energy Sources
Diago
Cargill Corporation
Pure Energy Inc Heinken
AB Miller
Pernod Richard
POET, LLC
Market Segments Covered in Report
By Product Type:
Synthetic Ethanol
Bioethanol
By Feedstock:
Sugarcane
Corn
Wheat
Barley
Sugarcane
Corn
Wheat
Barley
By Application:
Automobiles and transportation (Biofuel)
Medicines
Food and Beverages
Fuel cells
Cosmetics
Fertilizers
Pesticides
By Region and Country:
North America (U.S., Canada)
Latin America (Brazil, Mexico, Rest of Latin America)
Europe (Germany, Italy, France, UK, Spain, Netherlands, Norway, Russia, Rest of Europe)
Asia-Pacific (China, Japan, South Korea, India, Indonesia, Thailand, Vietnam, Australia & New Zealand, Rest of Asia-Pacific)
Middle East (Saudi Arabia, Turkey, UAE, Rest of Middle East)
Africa (South Africa, Nigeria, Egypt, Rest of Africa)
Global Ethanol Market2022-2030: Report Coverage and Highlights
Assessment of the historical and current market size (2017-2021), market projections (2022-2030), and its contribution to the parent market
Key drivers, restraints, opportunities, and key emerging trends impacting market growth
Predictions on critical supply, demand, and technological trends and changes in consumer behavior
Value chain analysis (list of manufacturers, distributors, end-users, average profitability margins, etc.)
Segment-wise, country-wise, and region-wise market analysis
Competition mapping, market share analysis, key strategies adopted by top players, and competitive tactical intelligence
Key product innovations and regulatory framework
Covid-19 impact on the market and how to navigate
Strategic market analysis and recommendations on crucial winning strategies
| | |
| --- | --- |
| Research Scope | Details |
| Forecast period | 2022-2030 |
| Historical data available for | 2017-2021 |
| Market analysis | USD Billion for Value and Million liters for Volume, and CAGR from 2022 to 2030 |
| Key regions covered | North America, Latin America, Europe, Asia-Pacific, Middle East, and Africa |
| Key countries covered | US, Canada, Brazil, Mexico, Germany, Italy, France, UK, Spain, Netherlands, Norway, Russia, China, Japan, South Korea, India, Indonesia, Thailand, Vietnam, Australia & New Zealand, Saudi Arabia, Turkey, UAE, South Africa, Nigeria, Egypt |
| Key segments covered | By Product Type, Feedstock, Application, and Region |
| Customization scope | Available upon Request |
| Pricing and purchase options | Available upon Request |