Global Fatty Acid Methyl Ester Market Size Analysis
According to a research survey conducted by ChemView Consulting, in 2022, the Global Fatty Acid Methyl Ester Market was worth US$ 16,422.3  Mn and is expected to grow at a CAGR of 5.3% over the forecast period. While the historical CAGR is 4.5%, the market is expected to hit US$ 27,524.4 Mn by 2032 end.
Transesterifying lipids with methanol produces FAME (fatty acid methyl ester), a type of fatty acid. FAME is the main component of biodiesel and is produced by transesterifying vegetable oils. FAME, used in the production of biodiesel and detergents, is produced by an alkali-catalyzed reaction between methanol and lipids when base chemicals like sodium methoxide, potassium hydroxide, or sodium hydroxide are present.
Market Dynamic
GROWING DEMAND FOR FATTY ACID METHYL ESTER FUELS THE MARKET
One of the key elements anticipated to propel the expansion of the worldwide fatty acid ester business is the low toxicity of fatty acid esters and the shift in end customers' preferences toward biodiesel over conventional diesel. Because fatty acids are inexpensive and biodegradable, the gradual transition of the automotive industry to green mobility is anticipated to accelerate this expansion.
THE HIGH COST OF FATTY ACID ESTER RESTRAINS THE MARKET
The high price of raw materials and fatty acid esters, however, are anticipated to limit the growth of this industry shortly. The market for fatty acid esters may be hampered by the high processing costs of fatty acid esters and the fact that emerging nations like those in the Asia Pacific and the Middle East and Africa are not yet completely ready to use the high-cost technologies.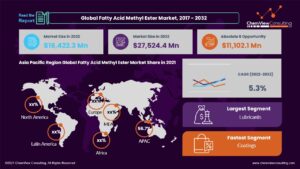 Market Segments Covered in Report
By Type:
Rapeseed methyl ester
Soy methyl ester
Palm oil methyl ester
Others
By Application:
Fuels
Lubricants
Coatings
Metal Working Fluids
Food & Agriculture
Others
By Source:
Animal Fats
Vegetable Oil
Sunflower Oil
Palm Oil
Soybean Oil
Coconut Oil
Others
By Region and Country:
North America (U.S., Canada)
Latin America (Brazil, Mexico, Rest of Latin America)
Europe (Germany, Italy, France, UK, Spain, Netherlands, Norway, Russia, Rest of Europe)
Asia-Pacific (China, Japan, South Korea, India, Indonesia, Thailand, Vietnam, Australia & New Zealand, Rest of Asia-Pacific)
Middle East (Saudi Arabia, Turkey, UAE, Rest of Middle East)
Africa (South Africa, Nigeria, Egypt, Rest of Africa)
Segment-Wise Analysis
Why does the rapeseed methyl ester segment hold the largest share?
The rapeseed methyl ester segment dominated the market for fatty acid methyl ester. Rapeseed is increasingly employed as the main raw material for the production of oil methyl ester because it has a higher oil content (30–37%) than other types of raw materials.
Rapeseed oil biodiesel has a high cetane number, which allows for complete combustion and reduces emissions. Weather and low profitability are anticipated to impact rapeseed planting and oil methyl ester production. Most injection pump diesel engines can be utilized in pure form or combined with petroleum diesel at any concentration.
Why Fatty acid methyl ester is the most preferred alternative to conventional mineral-based products?
The most favored substitute for traditional mineral-based products in lubricants and coatings is fatty acid methyl ester. Its exceptional qualities include high lubricity, great inorganic solvent solubility, high boiling temperatures, non-toxicity, and biodegradability.
Region-Wise Analysis
The regions analyzed for the market include North America, Europe, Latin America, Asia Pacific, the Middle East, and Africa.
With a market share of 56.7%, the Asia-Pacific fatty acid methyl ester market is anticipated to experience rapid growth throughout the forecast period due to growing environmental awareness regarding the need to reduce greenhouse gas emissions and rising government support through the provision of tax breaks and rebates to promote the use of biodiesel in the region. Despite being in its infancy, the market in the area has enormous growth potential, particularly in China, Japan, India, and South Korea.
Over the projection period, North America is anticipated to increase significantly, primarily due to the strong demand for the U.S. end-use industries. Purchasing personal care items is expected to boost regional fatty acid methyl ester market expansion.
Competition Analysis
Presence of several companies with no major market share, the fatty acid methyl ester market is fragmented.
The key developments in the Global Fatty Acid Methyl EsterMarket are:
In March 2020, the performance chemicals factory of the specialty chemicals firm Matangi Industries LLP, which also produces fatty acid esters, will be expanding. After growth, the company's production capacity increased to 14,400 tonnes annually.
A list of some of the key suppliers present in the market are:
Acme Synthetic Chemicals
ADM (Archer Daniels Midland Company)
Berg + Schmidt GmbH & Co. KG
Cargill, Incorporated
Chemrez Technologies, Inc.
CREMER OLEO GmbH & Co. KG
Elevance Renewable Sciences, Inc.
Emery Oleochemicals
Godrej Industries Limited
JNJ Oil Industries, Inc.
KLK OLEO
Krishi Oil Limited
Mohini Organics Pvt. Ltd.
P&G Chemicals
Renewable Energy Group, Inc.
Stepan Company
Univar Solutions Inc.
Vertec BioSolvents Inc.
Victorian Chemical Company Pty Ltd.
Wilmar International Ltd.
Global Fatty Acid Methyl Ester Market 2022-2032: Report Coverage and Highlights
Assessment of the historical and current market size (2017-2021), market projections (2022-2032), and its contribution to the parent market
Key drivers, restraints, opportunities, and key emerging trends impacting market growth
Predictions on critical supply, demand, and technological trends and changes in consumer behavior
Value chain analysis (list of manufacturers, distributors, end-users, average profitability margins, etc.)
Segment-wise, country-wise, and region-wise market analysis
Competition mapping, market share analysis, key strategies adopted by top players, and competitive tactical intelligence
Key product innovations and regulatory framework
Covid-19 impact on the market and how to navigate
Strategic market analysis and recommendations on crucial winning strategies
| | |
| --- | --- |
| Research Scope | Details |
| Forecast period | 2022-2032 |
| Historical data available for | 2017-2021 |
| Market analysis | USD Million for Value and Tons for Volume, and CAGR from 2022 to 2030 |
| Key regions covered | North America, Latin America, Europe, Asia-Pacific, Middle East, and Africa |
| Key countries covered | US, Canada, Brazil, Mexico, Germany, Italy, France, UK, Spain, Netherlands, Norway, Russia, China, Japan, South Korea, India, Indonesia, Thailand, Vietnam, Australia & New Zealand, Saudi Arabia, Turkey, UAE, South Africa, Nigeria, Egypt |
| Key segments covered | By Type, Application, Source, and Region |
| Customization scope | Available upon Request |
| Pricing and purchase options | Available upon Request |