Fatty Amines Market Size Analysis
According to a research survey conducted by ChemView Consulting, in 2022, the Global Fatty Amines Market was worth US$ 2,972.1 Mn and is expected to grow at a CAGR of 5.1% over the forecast period. The market is expected to hit US$ 4,887.5 Mn by 2032 end. From 2017–2021, when the market's CAGR was 4.2%, the market underwent significant growth.
Demand for fatty amine derivatives is anticipated to climb throughout the projected period due to increased manufacturing of cleaning, emulsifying, scouring, and wetting agents for lubricants, personal care, and home care products.
Market Dynamic
THE INCREASING DEMAND FOR COSMETICS WILL BOOST MARKET
The demand for fatty amines is expected to grow due to cosmetic and personal care products, which use these compounds in their manufacturing process. Primary amines such as lauryl amine are used most commonly in these products. These products show similarities with organic oils and esters, further increasing the market's potential.
Government-led initiatives for economic diversification will also spur growth in this sector; they encourage manufacturers to use renewable sources such as vegetable oils, esters, plant-derived esters, and compounded fragrance oils. It can improve the use of bio-based products, driving demand for organo-cosmetic products, which will benefit the entire market.
HIGH RAW MATERIAL PRICE AFFECTS THE MARKET GROWTH
The chemical commodities market has seen an upswing in ammonia prices. The price of ammonia has been volatile in recent years, which is indicative of the importance of this raw material for producing fatty amines. It has had a major impact on the overall production costs of fatty amines and their derivatives. Worldwide large amounts of ammonia are used for the production of fatty amines, and an increment in the pricing of this commodity will increase the prices of products made from fatty amines.
THE GROWING DEMAND FOR WATER TREATMENT CREATES OPPORTUNITIES
Over the forecast period, growing demand for fatty amines as corrosion inhibitors, biocides, and disinfectants in water treatment products is expected to create opportunities for manufacturers of these products. Some of these applications include their use in construction materials such as asphalt pavers and road surfacing materials; in other industries such as agrochemicals, paints and coatings, oilfield chemicals, cosmetics, personal care products, and others.
Over the past few years, hazardous chemicals have become an increasing concern in water treatment due to their widespread usage in diverse industries such as agriculture, food, textile, etc. These chemicals have resulted in an increased amount of water pollution. Water treatment chemicals are being produced using fatty amines to address this issue.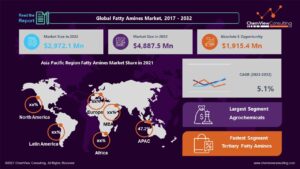 Market Segments Covered in Report
By Product Type:
Primary Amines
Secondary Amines
Tertiary Amines
By Basis of function:
Emulsifiers
Floatation Agents
Anticaking Agents
Dispersants
Corrosion Inhibitors
Chemical Intermediates
Others
Epoxy Curing Agents
Fabric Softeners
Pigment Wetting Agents
Germicides
Antiseptic Agents
By End-Use:
Agrochemicals
Water Treatment
Construction
Oil field Chemicals
Personal Care
Textile Industry
Others
By Region and Country:
North America (U.S., Canada)
Latin America (Brazil, Mexico, Rest of Latin America)
Europe (Germany, Italy, France, UK, Spain, Netherlands, Norway, Russia, Rest of Europe)
Asia-Pacific (China, Japan, South Korea, India, Indonesia, Thailand, Vietnam, Australia & New Zealand, Rest of Asia-Pacific)
Middle East (Saudi Arabia, Turkey, UAE, Rest of Middle East)
Africa (South Africa, Nigeria, Egypt, Rest of Africa)
Segment-Wise Analysis
Why are Tertiary Fatty Amines projected to have the highest growth over the projected period?
The tertiary fatty amines market has risen significantly in demand from developed and developing economies owing to the product's wide-ranging abilities. Furthermore, the U.S. market is anticipated to witness steady growth due to the high demand for tertiary fatty amines utilized in various end-use products. These products are used in multiple applications in the fatty amine industry, including flotation agents, anticaking agents, and corrosion inhibitors.
They are also used for cationic surfactants (purchased by consumer goods companies), anti-static agents (used in electronics and aerospace applications), asphalt emulsifiers (used in road building), corrosion inhibitors (used in steel manufacturing), releasing agents (used for deodorization and disinfection), personal care products such as tallow amines and moisturizers.
Why is the Agrochemicals segment expected to grow the most rapidly forecast period?
Agrochemicals are plant-protection chemicals produced through chemical or biochemical processes that include the active component in a certain concentration. Fatty amines are largely used as anticaking agents owing to their water-repellent characteristics. In recent years, the need for agrochemicals in agriculture and food has increased due to reduced arable land. The demand for agrochemicals is rising to increase crop yield and get maximum production from limited land.
Region-Wise Analysis
The regions analyzed for the market include North America, Europe, Latin America, Asia Pacific, Middle East, and Africa.
Throughout the forecast period, the Asia Pacific is anticipated to have a 47.2 % market share between 2022 and 2032, owing to rising demand from the agriculture and water treatment sectors. China, India, and Japan are the leading contributors to the growing demand for fatty amines globally and globally. The market demand is driven by increased water treatment operations, notably power generation and oil and gas activities. Furthermore, agriculture is the lifeblood of many Asian-Pacific countries, and the need for treated water is always rising.
North America is anticipated to increase at a 4.8% annual rate. Many detergent and surfactant producers contribute considerably to the growth. Leading companies will likely continue to include novel goods to capitalize on undiscovered potentials—projected growth will make them more competitive against overseas competitors.
Competition Analysis
Major manufacturers are buying up other small-scale market participants to increase their yearly turnover and fortify their market position internationally. Market participants are concentrating on merger and expansion operations to meet the expanding demand and remain competitive.
Some of the key developments that have taken place in the Fatty Amines Market include:
On February 28, 2022, Kao Corporation announced that it would establish a new tertiary amines plant in Texas to strengthen its chemical business.
On June 27, 2022, Evonik Industries collaborated with Ag Tech, an agribusiness innovation hub in Brazil, to enhance its regional agribusiness network.
In September 2018, Indo Amines Ltd. announced that their "Main Organics" and "Core Chemicals" businesses have decided to collaborate with their firm. Indo Amines' sales production and total profit margin capabilities would be significantly improved due to this combination. With the joint venture, the enhancement capabilities will also increase product offers.
A list of some of the key suppliers present in the market are:
Clariant AG
Albemarle Corporation
Akzo Nobel N.V.
Evonik Industries AG
Kao Corporation
Arkema S.A.
Eastman Chemical Company
Solvay S.A.
E.I. du Pont de Nemours & Co.
Procter & Gamble Company
Lonza Group Ltd
Indo Amines Ltd
Sterling Auxiliaries Pvt. Ltd.
Wuxi Zhufeng Fine Chemical Co., Ltd.
NOF CORPORATION
Nouryon
Global Fatty Amines Market 2022-2032: Report Coverage and Highlights
Assessment of the historical and current market size (2017-2021), market projections (2022-2032), and its contribution to the parent market
Key drivers, restraints, opportunities, and key emerging trends impacting market growth
Predictions on critical supply, demand, and technological trends and changes in consumer behavior
Value chain analysis (list of manufacturers, distributors, end-users, average profitability margins, etc.)
Segment-wise, country-wise, and region-wise market analysis
Competition mapping, market share analysis, key strategies adopted by top players, and competitive tactical intelligence
Key product innovations and regulatory framework
Covid-19 impact on the market and how to navigate
Strategic market analysis and recommendations on crucial winning strategies
| | |
| --- | --- |
| Research Scope | Details |
| Forecast period | 2022-2032 |
| Historical data available for | 2017-2021 |
| Market analysis | USD Million for Value and Tons for Volume, and CAGR from 2022 to 2032 |
| Key regions covered | North America, Latin America, Europe, Asia-Pacific, Middle East, and Africa |
| Key countries covered | US, Canada, Brazil, Mexico, Germany, Italy, France, UK, Spain, Netherlands, Norway, Russia, China, Japan, South Korea, India, Indonesia, Thailand, Vietnam, Australia & New Zealand, Saudi Arabia, Turkey, UAE, South Africa, Nigeria, Egypt |
| Key segments covered | By Product Type, Basis of function, End-Use, and Region |
| Customization scope | Available upon Request |
| Pricing and purchase options | Available upon Request |