Flexible Packaging Market Size Analysis
According to a research survey conducted by ChemView Consulting, in 2022, the Global Flexible Packaging Market was worth US$ 103.2 Bn and is expected to grow at a CAGR of 5.2% over the forecast period. The market is expected to hit US$ 154.8 Bn by 2030 end.
The increased demand for packaged food, along with the ease of use and cost-effectiveness of flexible packaging, is driving market expansion. Flexible packaging combines the advantages of plastic, paper, and aluminum foil without losing printability, durability, barrier protection, freshness, or ease of use. Furthermore, because of its considerable energy and environmental benefits, flexible packaging is becoming increasingly popular.
Manufacturers' development of new packaging types such as biodegradable films, collapsible pouches, bag-in-box, and others will expand the flexible plastic packaging market.
Market Dynamic
AN INCREASE IN ONLINE RETAIL SALES IS DRIVING THE MARKET
The growing customer preference for on-the-go and online food delivery drives global demand for flexible plastic packaging. Flexible plastic packaging is widely used in e-commerce shopping because it is waterproof, robust, lightweight, and easily recyclable.
The need for domestic staples and medical supplies is likely to rise dramatically, as will online retail sales of these items. It will increase the demand for flexible plastic packaging solutions to ensure that these items are delivered safely and on time to their end customers.
OVER PACKING HAMPERS THE MARKET
Overpacking in e-commerce is becoming a serious problem since it generates more waste, consumes a lot of energy to recycle, and pollutes the environment.
The major reasons for over-packing are a lack of optimization in e-commerce packaging and the fragmentation of a single box into many distinct ones from the distribution center until delivery. It will have a detrimental impact on the growth of the flexible plastic packaging industry.
SUSTAINABLE PACKAGING WILL CREATE OPPORTUNITIES FOR THE MARKET
Manufacturers have been driven to produce new packaging alternatives due to dynamic industry developments such as implementing new regulatory measures. Growing environmental concerns about using biodegradable polymers in flexible packaging have pushed manufacturers to develop safe and secure sustainable packaging choices.
Manufacturers are researching sustainable packaging alternatives that need fewer resources and energy to make a package, minimize transportation charges, and give a longer shelf-life to the product to alleviate cost pressure and retain the integrity of product packages.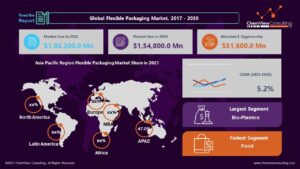 Segment-Wise Analysis
By Material:
Oil Base Polymers
Bio-Plastics
By Product:
Pouches
Bags & Sacks
Tubes
Sleeve Labels
Films & Wraps
By Packaging:
MAP (modified atmospheric packaging)
General Barrier
By End-Use:
Food
Beverages
Personal Care
Homecare
Pharmaceuticals
Industrial Packaging
Others
By Region and Country:
North America (U.S., Canada)
Latin America (Brazil, Mexico, Rest of Latin America)
Europe (Germany, Italy, France, UK, Spain, Netherlands, Norway, Russia, Rest of Europe)
Asia-Pacific (China, Japan, South Korea, India, Indonesia, Thailand, Vietnam, Australia & New Zealand, Rest of Asia-Pacific)
Middle East (Saudi Arabia, Turkey, UAE, Rest of Middle East)
Africa (South Africa, Nigeria, Egypt, Rest of Africa)
What factors drive the sale of Bio-plastics?
Bans on non-biodegradable and single-use plastics in many countries, as well as government programs encouraging the use of bio-plastics, are generating chances for market expansion. The continued emphasis on eco-friendly packaging options and recycling requirements will drive sales of bio-plastics.
Why are Flexible films expected to have a large market share?
Flexible plastic films and wraps are lightweight, robust, and offer great protection to many objects, particularly when traveling. The rising trend of on-the-go meals will continue to drive flexible plastic film packaging sales.
Which End-Use segment is expected to be the largest user of flexible packaging during the forecast period?
The rise in demand for packaged food and the establishment of restaurants are likely to produce the greatest need over the projection period. Expansion of the food service industry will also continue to be a key development driver. The continued emphasis on lightweight yet durable packaging solutions will drive demand for flexible packaging in the food industry.
Which region is expected to have the greatest market share during the forecast period?
In 2021, the Asia Pacific region held the greatest market share. Factors such as a better global economy, increased labor, and increased domestic demand for ready-to-eat and convenience food items are projected to drive the flexible plastic packaging industry.
The functional properties offered by flexible plastic packaging, such as safety, cost-effectiveness, durability, strength, lightweight, environmental friendliness, and handling convenience, the market for flexible plastic packaging in the Asia Pacific is growing in the food, beverage, pharmaceutical, and personal care & cosmetics industries.
Competition Analysis
The flexible plastic packaging industry is very competitive with big multinational corporations and medium and small local market competitors. The number of partnerships, strategic mergers, and acquisitions has strengthened their market position and supported the plastic circular economy. Market participants also attempt to recycle flexible plastic packaging to lessen their carbon footprint.
Some of the key developments that have taken place in the Flexible Packaging Market include:
In June 2021, Soteria Flexibles purchased Redi-Bag, a major polyethylene flexible plastic packaging maker. Soteria will be able to join the seafood and product packaging markets more easily due to the purchase.
In 2021, Berry Inc created an eco-friendly packaging solution with its VerdantTM range. The business introduced the first extruded tube with 25% PCR, pushing the boundaries for PCR content in personal care packaging.
A list of some of the key suppliers present in the market are:
Amcor Ltd.
Constantia Flexibles Group GmbH
Berry Global Group, Inc.
Huhtamäki Oyj
Sonoco Products Company
Bemis Company, Inc.
Sealed Air Corporation
AR Packaging Group AB
Mondi Group
DS Smith Plc
CCL Industries Inc.
Uflex Ltd.
Winpak Ltd.
Rengo Co. Ltd.
Transcontinental Inc.
Epac LLC
Emerald Packaging Inc.
Glenroy, Inc.
Schur Flexibles Group
ProAmpac LLC
Goglio Group
Global Flexible Packaging Market 2022-2030: Report Coverage and Highlights
Assessment of the historical and current market size (2017-2021), market projections (2022-2030), and its contribution to the parent market
Key drivers, restraints, opportunities, and key emerging trends impacting market growth
Predictions on critical supply, demand, and technological trends and changes in consumer behavior
Value chain analysis (list of manufacturers, distributors, end-users, average profitability margins, etc.)
Segment-wise, country-wise, and region-wise market analysis
Competition mapping, market share analysis, key strategies adopted by top players, and competitive tactical intelligence
Key product innovations and regulatory framework
Covid-19 impact on the market and how to navigate
Strategic market analysis and recommendations on crucial winning strategies
| | |
| --- | --- |
| Research Scope | Details |
| Forecast period | 2022-2030 |
| Historical data available for | 2017-2021 |
| Market analysis | USD Billion for Value and Tons for Volume, and CAGR from 2022 to 2030 |
| Key regions covered | North America, Latin America, Europe, Asia-Pacific, Middle East, and Africa |
| Key countries covered | US, Canada, Brazil, Mexico, Germany, Italy, France, UK, Spain, Netherlands, Norway, Russia, China, Japan, South Korea, India, Indonesia, Thailand, Vietnam, Australia & New Zealand, Saudi Arabia, Turkey, UAE, South Africa, Nigeria, Egypt |
| Key segments covered | By Material, Product, Packaging, End-Use, and Region |
| Customization scope | Available upon Request |
| Pricing and purchase options | Available upon Request |