Flexible Paper Packaging Market Size Analysis
According to a research survey conducted by ChemView Consulting, in 2022, the Global Flexible Paper Packaging Market was worth US$ 49.6 Bn and is expected to grow at a CAGR of 4.2% over the forecast period. The market is expected to hit US$ 68.9 Bn by 2030 end.
The flexible paper packaging market is predicted to increase significantly in the future because flexible paper packaging is lighter in weight, more cost-effective, and requires less material than other types of packaging.
The flexible paper packaging industry is expanding due to its high efficiency and cost-effectiveness. Flexible packaging benefits include food and beverage, personal care, home care, and healthcare businesses.
Market Dynamic
VARIOUS INDUSTRIAL USES DRIVE THE MARKET
Flexible packaging paper is increasingly being utilized for packaging in various end-use sectors. The increasing use of flexible and lightweight packaging paper in food, medicines, agriculture, personal care & cosmetics, and consumer products creates value-added possibilities for market participants.
Flexible packaging paper solutions are in high demand due to rising disposable income, changing lifestyles, and increasing demand for convenience food items, as these lightweight packaging solutions are used for packaging food items such as dairy products, food grains, fruits and vegetables, bakery and confectionaries, and other ready-to-eat products. The rising popularity of these food products in developing and undeveloped nations fuels market expansion.
Because of their low weight, flexible packaging paper solutions use less material than plastic. Flexible packaging paper solutions give superior strength, stiffness, and sealing capabilities while aiding in food goods sanitation.
Flexible packaging paper products take up less shelf space than rigid packaging products. Furthermore, loose packaging paper offers a variety of presentation options that assist product makers in increasing the visual appeal of the product as well as improving product branding.
MULTI-LAER FORMATION MAKES IT DIFFICULT TO RECYCLE
Paper is significantly more biodegradable than plastic and is readily recycled. However, it frequently winds up in landfills, where its rate of deterioration slows, and it takes up more space than the equivalent weight of plastic.
Paper-based flexible packaging is frequently laminated with non-recyclable materials such as plastic/aluminum or resin. Material separation is difficult in multi-layer packaging with a mix of layers such as paper-plastic-metal.
COVID-19 Impact
The rapidly spreading coronavirus had a devastating impact on all enterprises and manufacturing industries worldwide. Long-term lockdowns and interrupted supply chains have also had a significant influence on the flexible packaging paper sector. The decline in adjustable packaging paper output during the COVID-19 epidemic has caused difficult scenarios for producers. In the flexible paper packaging industry, key market players are looking for ways to address these issues.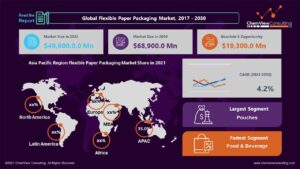 Segment-Wise Analysis
By Material:
Coated Unbleached Kraft Paperboard
Solid Bleached Sulfate
Coated Recycled Paper
Waxed Paper
By Packaging Type:
Wraps
Cartons
Bags & Sacks
Envelops
Lids
Pouch
Sachet
Others
By Distribution Channel:
By End-Use:
Food & Beverages
Personal care & cosmetics
Pharmaceutical
Consumer goods
Agriculture
Electrical & Electronics
Others
By Region and Country:
North America (U.S., Canada)
Latin America (Brazil, Mexico, Rest of Latin America)
Europe (Germany, Italy, France, UK, Spain, Netherlands, Norway, Russia, Rest of Europe)
Asia-Pacific (China, Japan, South Korea, India, Indonesia, Thailand, Vietnam, Australia & New Zealand, Rest of Asia-Pacific)
Middle East (Saudi Arabia, Turkey, UAE, Rest of Middle East)
Africa (South Africa, Nigeria, Egypt, Rest of Africa)
Which packaging type of Flexible Paper Packaging projected to dominate the market during the forecast period?
Pouches are expected to dominate the market for flexible paper packaging in terms of value by 2030. Because pouches are becoming more popular, they must be multifunctional, lightweight, and easy to travel. Pouches are in high demand in the food packaging and e-commerce businesses.
Which end-use segment is expected to be the largest segment during the forecast period?
The food & beverage category is expected to be the largest end-use segment in the flexible paper packaging market. The rising need for flexible paper packaging, as well as changing lifestyles and hectic schedules of the working population, are driving the expansion of this category.
Flexible paper packaging also decreases leakage and increases product shelf life. Because of their simplicity and mobility, food goods are the most frequent users of flexible plastic packaging. Food and beverage packaging's key functions are to reduce food waste and extend the shelf life of food goods.
During the forecast period, which region holds the greatest market share?
In 2021, the Asia Pacific region held the greatest market share. Flexible paper packaging demand in Asia is mostly driven by China, and India, which are seeing significant expansion in their building sectors. These industries are rising due to increased governmental and private sector investments, a burgeoning population, a growing economy, and high disposable income.
Competition Analysis
The worldwide flexible packaging paper market is extremely competitive, owing to the increasing number of regional manufacturers and major manufacturers' efforts to increase their geographical reach and product range to grab the greatest market share.
Some of the key developments that have taken place in the Flexible Paper Packaging Market include:
In September 2019, Mondi Group Plc invented Natural brown flexible packaging paper for food applications.
In 2018, Sappi Limited created a new line of coated and uncoated flexible packaging paper for various end-use applications.
A list of some of the key suppliers present in the market are:
Smurfit Kappa Group plc
International Paper Company
DS Smith Packaging Limited
WestRock Company
Nippon Paper Industries Co., Ltd.
Oji Holdings Corporation
Stora Enso Oyj
Georgia-Pacific LLC
BillerudKorsnäs AB
Packaging Corporation of America
Pratt Industries, Inc.
KapStone Paper and Packaging Corp
Others
Global Flexible Paper Packaging Market 2022-2030: Report Coverage and Highlights
Assessment of the historical and current market size (2017-2021), market projections (2022-2030), and its contribution to the parent market
Key drivers, restraints, opportunities, and key emerging trends impacting market growth
Predictions on critical supply, demand, and technological trends and changes in consumer behavior
Value chain analysis (list of manufacturers, distributors, end-users, average profitability margins, etc.)
Segment-wise, country-wise, and region-wise market analysis
Competition mapping, market share analysis, key strategies adopted by top players, and competitive tactical intelligence
Key product innovations and regulatory framework
Covid-19 impact on the market and how to navigate
Strategic market analysis and recommendations on crucial winning strategies
| | |
| --- | --- |
| Research Scope | Details |
| Forecast period | 2022-2030 |
| Historical data available for | 2017-2021 |
| Market analysis | USD Billion for Value and Tons for Volume, and CAGR from 2022 to 2030 |
| Key regions covered | North America, Latin America, Europe, Asia-Pacific, Middle East, and Africa |
| Key countries covered | US, Canada, Brazil, Mexico, Germany, Italy, France, UK, Spain, Netherlands, Norway, Russia, China, Japan, South Korea, India, Indonesia, Thailand, Vietnam, Australia & New Zealand, Saudi Arabia, Turkey, UAE, South Africa, Nigeria, Egypt |
| Key segments covered | By Material, Packaging Type, Distribution Channel, End-Use, and Region |
| Customization scope | Available upon Request |
| Pricing and purchase options | Available upon Request |