Fluorinated Solvents Market Outlook
According to a research analysis conducted by ChemView Consulting, the global fluorinated solvents market has been anticipated to generate a revenue of US$ 1,092.7 Mn in 2022 and is projected to grow with a growth rate of 7.9% during the period of 2022 and 2030.
The market is expanding owing to the growing demand from various application segments such as, growing demand for cleaning chemicals, electronic industries, chemical industries and many others. Moreover, increase in the demand for less hazardous solvents and cleaning chemicals across the globe is also boosting the consumption rate. Increase in government regulations regarding VOCs, hazardous solvents are also bolstering the demand for fluorosolvents as this solvent is considered as a green chemical.
Considering all these factors, ChemView Consulting has forecasted that the global market to reach a value of US$ 2,007.6 Mn by the end of 2030.
Key Market Insights
By product type, blends segment is anticipated to account for about 41% of the global sales of fluorosolvents. The segment is further expected to witness a growth rate of about 1% over the coming decade creating an incremental dollar opportunity of about US$ 489.5 Mn during the same period.
Fluorosolvents are significantly used in electronic industry and as cleaning chemicals in various end use industries. Both the applications are estimated to remain significant for this solvent in the coming years accounting for more than three fourth of the incremental business opportunities to be created in between the period of 2022 and 2030.
Asia Pacific region is estimated to hold about 7% of the global market. The region is further expected to witness a substantial growth rate in the market of fluorinated solvents owing to significant development in the chemical industries, pharmaceutical industries and strong growth in the electronics sector. Growing demand for environment friendly solvents in the region is also a key growth factor for the market.
Several key players are focusing on investing a significant amount of their annual revenue in R&D to develop efficient eco-friendly products, solutions and technology. They are also focusing on launching environment friendly fluorinated solvents with no flash point, no ozone depletion properties and which are associated with less hazard. This is anticipated to benefit the company's growth in the industry of fluorinated solvents and will help in sustainable development as well. They are also focusing on introducing automation to their manufacturing industry to minimize human error.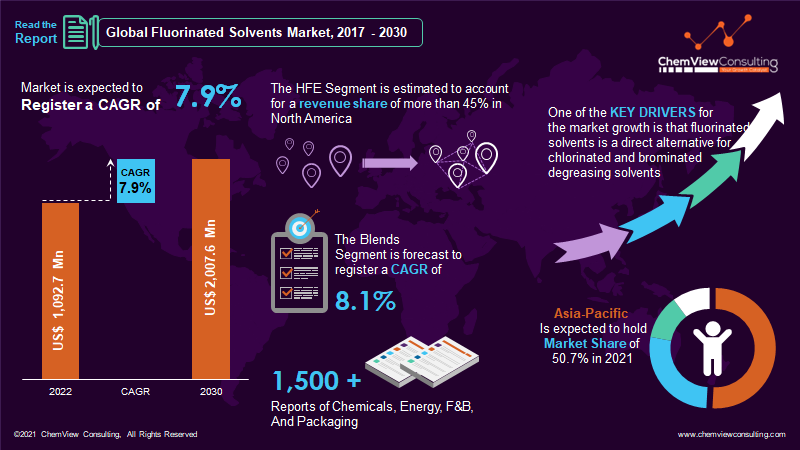 Market Dynamics
Growth Driver: Fluorinated solvents are known for having properties with significance, including being a non-explosive cleaning solvent with high solvency strength, quick evaporation, and lower surface tension. Fluorinated solvents also have a low boiling point, low surface tension, don't require acid acceptance tests, and don't require stabilizer additions.
Fluorinated solvents also leave a small amount of non-volatile residue. These types of solvents also have a high level of compatibility with a wide range of substrate materials and can be utilized in existing cleaning equipment. Fluorinated solvents are high-quality solvents in terms of performance as well as excellent drop-in replacements for compounds that have been determined to deplete the ozone layer, such as CFCs, HFCs, and PFCs.
End-use businesses that have been focusing on protecting the health and safety of their personnel without hurting performance or profitability are increasingly seeing fluorinated solvents as a highly favored solution.
Market Opportunity: Fluorinated solvents provide a variety of benefits over alternatives, including a reduced Ozone Depletion Potential (ODP), less government control, low toxicity, cheap cost (compared to other fluorinated solvent choices), and high sustainability. Chemically and thermally stable, these non-flammable fluorinated cleaning solutions do not necessitate the use of explosion-proof equipment.
Furthermore, because of their low latent heat of vaporisation, they are energy efficient and may be regenerated by distillation. They are suitable for a wide range of applications because to their compatibility with metals, plastics, elastomers, and fragile substrates.
Market Trend: Key players are significantly focusing on launching of series of fluorosolvents to cater the growing demand from the end use industry and to adhere to stringent regulations. When compared to chlorinated, brominated, light petroleum distillates, glycol & glycol ether, and designed hydrocarbon solvents, the price of fluorinated solvents is quite high.
Blends of fluorinated solvents are commonly used in the Western European fluorinated solvents industry and their use is now increasing in Eastern Europe, which can be ascribed to their lower cost when compared to pure HFE, HFO/HCFO, and HFC.
Fluorinated blends are available from several vendors. For instance, Envirotech offers the 'ProSolv' fluorinated mix, which contains fluorinated solvents and the addition trans 1,2-dichloroethylene. Alternatives to chlorinated and brominated vapour degreasing solvents are provided by the company's NEXT 3000 and EnSolv NEXT solvents.
These new formulations replace compounds like HCFC-225 (AK-225) and TCE with n-propyl bromide (nPB), which has reduced ozone depletion potential, a higher KB value, and is less hazardous.
Market Segments Analysis
Blends segment is expected to remain a prominent product type for fluorinated cleaning chemicals as blending of solvents enhances the properties of the substance providing higher applicability. Cleaning of electronics, plastic components, industrial equipment and other substrate are expected to remain one of the key applications. Distribution segment is expected to witness a significant growth in the coming years as manufacturers prefers distributors to sell their products in the overseas market.
Chemical industries face significant regulations and standards from the government and authorities of the European countries. Thus, market participants have to maintain their standards of their production and transportation and disposables. Manufacturers should have certifications of key authorities for the production of chemicals. All these provides significant growth opportunities for the sales of fluorosolvents in the region owing to its environment friendly nature as compare to other solvents.
Competition Assessment
To remain competitive in the global business, key market participants are investing significantly in research and development for product development, technology development and in innovation. Key players are further investing to expand their market footprint by mergers and acquisitions, as well as by expansions strategies. List of some of the key players present in the global fluorinated solvents market are:
3M
AGC Chemicals
Honeywell International Inc.
Arkema S.A.
Solvay S.A.
H K Wentworth Ltd.
The Chemours Company
The Dow Chemical Company
Vantage Specialty Chemicals Ltd.
MG Chemicals
Inventec Performance Chemicals
Daikin
Asahi Glass Co., Ltd.
Key Developments in Fluorinated solvents Industry
| | |
| --- | --- |
| AGC Chemicals Americas on 24 Aug 2022 introduces AMOLEA™ AS-300 and AS-300AT fluorinated cleaning solvents, these are nonflammable precision cleaning solvents. | In 2020, AGC Chemicals introduces AMOLEA™ AT2 and AsahiKlin™ AE-3000 fluorinated solvents to help manufacturers to meet environmental regulations for precision cleaning. |
Segments Covered in Report
By Product Type:
By Application:
Electronics
Heat Transfer
Cleaning Chemicals
Vapor Degreasing
Others
By Sales Channel:
Direct Sales
Distributors
Others
By Region and Country:
North America (U.S., Canada)
Latin America (Brazil, Mexico, Rest of Latin America)
Europe (Germany, Italy, France, UK, Spain, Netherlands, Norway, Russia, Rest of Europe)
Asia-Pacific (China, Japan, South Korea, India, Indonesia, Thailand, Vietnam, Australia & New Zealand, Rest of Asia-Pacific)
Middle East (Saudi Arabia, Turkey, UAE, Rest of Middle East)
Africa (South Africa, Nigeria, Egypt, Rest of Africa)
Global Fluorinated solvents Market 2022-2030: Report Coverage and Highlights
Assessment of the historical and current Fluorinated solvents market size (2017-2021), market projections (2022-2030), and its contribution to the parent market
Key drivers and restraints impacting market growth
Predictions on Critical Supply, Demand, and Technological trends and changes in consumer behaviour
Market Opportunity Analysis
Value Chain Analysis (List of Manufacturers, Distributors, Average Margins, etc.)
Segment-wise, Country-wise, and Region-wise Analysis
Competition Mapping, Benchmarking, and Advantage Analysis
Market Share Analysis and Key Strategies Adopted by Top Players
Key Product Innovations and Regulatory Climate
Primary insights to understand what will shape the market growth over the next decade
COVID-19 Impact on Fluorinated solvents Market and How to Navigate
Strategic Success Factors and Recommendation on Key Winning Strategies
| | |
| --- | --- |
| Research Scope | Details |
| Forecast Period | 2022-2030 |
| Historical Data Available for | 2017-2021 |
| Market Analysis | USD Million for Value and Tons for Volume, and CAGR from 2022 to 2030 |
| Key Regions Covered | North America, Latin America, Europe, Asia-Pacific, Middle East, and Africa |
| Key Countries Covered | US, Canada, Brazil, Mexico, Germany, Italy, France, UK, Spain, Netherlands, Norway, Russia, China, Japan, South Korea, India, Indonesia, Thailand, Vietnam, Australia & New Zealand, Saudi Arabia, Turkey, UAE, South Africa, Nigeria, Egypt |
| Key Segments Covered | Product Type, Application, Sales Channel and Region |
| Customization scope | Available upon Request |
| Pricing and purchase options | Available upon Request |
About ChemView Consulting
ChemView Consulting is a leading information, market intelligence, and consulting company serving chemicals & materials, oil & gas, and alternate energy clients worldwide. ChemView Consulting serves clients in approximately 100 countries, with its office in the US and delivery centers in India.
What sets ChemView Consulting apart?
Full-time research experts and subject matter experts
In-house primary research team
The in-house data visualization team
Industry-wide network of research partners
Database subscriptions
The exclusively tailored research process