Folding Cartons Market Size Analysis
According to a research survey conducted by ChemView Consulting, in 2022, the Global Folding Cartons Market was worth US$ 147.7 Bn and is expected to grow at a CAGR of 5.5% over the forecast period. The market is expected to hit US$ 226.6 Bn by 2030 end.
Folding cartons are made of paperboard. Its wide availability and sustainability at a cheaper cost make it a popular packaging choice among end-use industries. Compared to bulkier packaging solutions, folding cartons may be created in various sizes based on end-use application, further attracting end-user industries to Packaging.
Market Dynamic
What are the causes driving the rise in demand for Folding Cartons?
Folding cartons provide numerous advantages, including outstanding printability, rigidity, and flexibility; end-use industries rely heavily on packaging small and medium-sized food and beverage products and consumer goods.
An expanding restriction on single-use plastic packaging by regulatory authorities worldwide, combined with rising consumer sustainability awareness, has compelled end-use sectors to choose eco-friendly and non-plastic Packaging. This trend is projected to increase demand for folding cartons even further in the future years.
What are the opportunities in the Folding Cartons Market?
Renewable and recyclable packaging solutions are increasingly essential in the folding cartons sector. Manufacturers are creating boxes made from fibers from sustainably managed forests and trees. These fibers are developing as a viable replacement for fossil plastic and other non-renewable materials.
Governments worldwide have banned single-use plastic packaging, and increased consumer awareness of sustainability has led to companies adopting eco-friendly and non-plastic Packaging. It will create abundant opportunities for market growth.
COVID-19 Impact
Increasing product pricing and lockdown scenarios have negatively impacted global demand for folding cartons. However, the food and beverage and healthcare businesses have contributed to keeping the product growing steadily.
However, 2021 saw a slight increase over 2020 due to fewer COVID instances and increased global transit.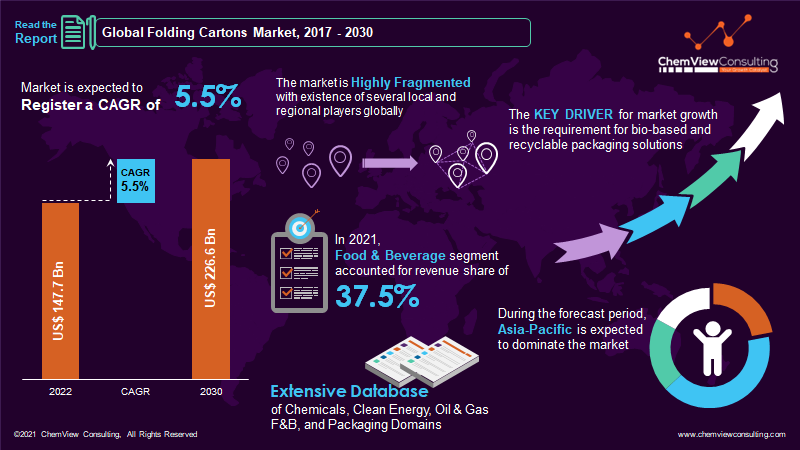 Segment-Wise Analysis
Why is the Food & Beverage segment expected to expand the fastest during the forecast period?
Food and beverage emerged as the largest end-use segment in 2021, accounting for approximately 37.5% of market revenues, and this dominance is likely to continue during the forecast period. The packaged food market's sustained expansion contributed to the segment's highest share in 2021.
Globally changing consumer lives and rising disposable income have resulted in greater consumption of convenient food products such as packaged meals. A busy lifestyle and an increase in the number of working women have led to the rise in the consumption of ready-to-eat food products, which is likely to further expand the size of the food & beverage industry in the future.
Why is the Asia-Pacific market for Folding Cartons so promising?
In 2021, Asia Pacific dominated the worldwide folding carton packaging market. China, India, and Indonesia are among the Asia Pacific's growing economies. Changing consumer lifestyles, higher disposable incomes, and expanding demand for packaged foods like ready-to-eat meals will likely boost folding carton demand over the forecast period.
The increasing presence of organized retail chains in Asia has fueled demand for packaged food goods, benefiting the industry.
Competition Analysis
The existence of a huge number of companies all over the world has resulted in a highly fragmented market. Key firms are progressively acquiring small and medium-sized businesses to broaden their geographic reach and reinforce their existing portfolio.
Packaging businesses are expanding their efforts to become better environmental stewards. They are expanding production capacity to increase the availability of environmentally friendly solutions for the Packaging, protection, and preservation of fresh food from farm to store.
Some of the key developments that have taken place in the Folding Cartons Market include:
In April 2022, WestRock Company collaborated with Recipe Unlimited to develop a recycling paper board that intends to divert 31 million plastic containers from Canadian landfills yearly. The bundle debuted in Swiss Chalet restaurants in October 2021 and is now available in all of the company's locations.
In May 2022, Smurfit Kappa announced more than EUR 35 million investment to construct a new parking lot in Morocco, the country's first tin center. The 25,000-square-meter facility in Rabat will allow Smurfit Kappa to swiftly and efficiently supply new and continuous packaging solutions to its local customers.
In March 2022, Stora Enso Oyj revealed the CarrEco Brown bag, composed entirely of innovative fibers. The material is strong and tear-resistant, and it is safe to come into contact with direct food.
A list of some of the critical suppliers present in the market are:
Amcor plc
Sonoco Products Company
Westrock Company
DS Smith
Rengo Co. Ltd.
Graphic Packaging International, LLC
Huhtamaki Oyj
Schur Pack Germany GmbH
Canpac
Winston Packaging
Smurfit Kappa
Mondi
Glossop Cartons
Webpac
All Packaging Company
Georgia-Pacific
Evergreen Packaging LLC
Parksons Packaging Ltd.
Gulf Carton Factory Co.
Bell Incorporated
Keystone Paper & Box Company, Inc.
LGR Packaging
International Paper
Market Segments Covered in Report
By Type:
Single-walled corrugated Packaging
Double walled corrugated Packaging
Triple walled corrugated Packaging
Others
By End-Use:
Food & Beverages
Household
Personal Care & Cosmetics
Healthcare
Tobacco
Electrical & Electronics
Others
By Region and Country:
North America (U.S., Canada)
Latin America (Brazil, Mexico, Rest of Latin America)
Europe (Germany, Italy, France, UK, Spain, Netherlands, Norway, Russia, Rest of Europe)
Asia-Pacific (China, Japan, South Korea, India, Indonesia, Thailand, Vietnam, Australia & New Zealand, Rest of Asia-Pacific)
Middle East (Saudi Arabia, Turkey, UAE, Rest of Middle East)
Africa (South Africa, Nigeria, Egypt, Rest of Africa)
Global Folding Cartons Market 2022-2030: Report Coverage and Highlights
Assessment of the historical and current market size (2017-2021), market projections (2022-2030), and its contribution to the parent market
Key drivers, restraints, opportunities, and key emerging trends impacting market growth
Predictions on critical supply, demand, and technological trends and changes in consumer behavior
Value chain analysis (list of manufacturers, distributors, end-users, average profitability margins, etc.)
Segment-wise, country-wise, and region-wise market analysis
Competition mapping, market share analysis, key strategies adopted by top players, and competitive tactical intelligence
Key product innovations and regulatory framework
Covid-19 impact on the market and how to navigate
Strategic market analysis and recommendations on crucial winning strategies
| | |
| --- | --- |
| Research Scope | Details |
| Forecast period | 2022-2030 |
| Historical data available for | 2017-2021 |
| Market analysis | USD Billion for Value and Tons for Volume, and CAGR from 2022 to 2030 |
| Key regions covered | North America, Latin America, Europe, Asia-Pacific, Middle East, and Africa |
| Key countries covered | US, Canada, Brazil, Mexico, Germany, Italy, France, UK, Spain, Netherlands, Norway, Russia, China, Japan, South Korea, India, Indonesia, Thailand, Vietnam, Australia & New Zealand, Saudi Arabia, Turkey, UAE, South Africa, Nigeria, Egypt |
| Key segments covered | By Type, End-Use, and Region |
| Customization scope | Available upon Request |
| Pricing and purchase options | Available upon Request |