Gas Separation Membrane Units Market Size Analysis
According to a research survey conducted by ChemView Consulting, in 2022, the Global Gas Separation Membrane Units Market was worth US$ 1,236.7 Mn and is expected to grow at a CAGR of 6.9% over the forecast period. The market is expected to hit US$ 2,410.1 Mn by 2032 end. From 2017–2021, when the market's CAGR was 5.8%, the market underwent significant growth.
The increased consumption of gas separation membranes is expected to drive the market. In addition, the usefulness of this product is likely to improve because it is used during process control in most industries such as petrochemical, oil & gas, and chemicals.
Market Dynamic
RECOVERY OF HYDROGEN WILL LEAD THE MARKET
With the expanding demand for clean energy, the need for hydrogen is growing globally. From oil and gas to chemical products and electronics production, generating hydrogen creates residual gas streams or byproducts that maintain a significant amount of valuable pressurized hydrogen. Therefore, gas separation membrane modules are employed to recover hydrogen from such gas streams with minimal losses economically. These membrane modules achieve separations that result in 90-99.9% of hydrogen purities, making them an attractive solution."
UPSCALING AND COMMERCIALIZING IS DIFFICULT COMPARED TO OTHER
The gas separation membranes developed by researchers are tested only in laboratories. Upscaling of new membrane technology will ensure durability and reliability. Upscaling also provides the safe designing and operation of the membrane in real operating conditions through stress analysis in the field. However, testing the new membranes in the pilot plant and analyzing their performance is highly time-consuming and involves high installation costs. Therefore, most of the membranes developed in recent years are yet to be tested under real-time conditions, thus delaying their commercialization.
INCREASING DEMAND FOR BIOGAS CREATE OPPURTUNITIES FOR THE MARKET
Though the production of biogas has been a practice since ancient times, exploring the sources and production of biogas is still a rather recent phenomenon. In modern times, we've begun to see a rise in demand for biogas. This fuel's production provides numerous benefits that can be utilized in multiple applications.
Biogas is the gas that can be produced from biomass, including biomass waste. The byproduct of this process is called biogas and can be used for a wide range of applications. This gas can replace fossil fuels and also serves as an excellent energy source for green energy production. Due to its advantages, the demand for biogas is expected to rise in the upcoming years, encouraging gas separation membrane technology to separate different gases from biogas.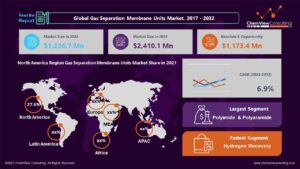 Market Segments Covered in Report
By Material Type :
Polymeric Membrane
Inorganic Membrane
Metallic Membrane
By Construction Type :
Hollow Fiber Module
Spiral Wound Module
Plate & Frame Module
By Application :
Nitrogen Separation
Oxygen Separation
Acid gas Separation
Hydrogen Separation
Methane Separation
Carbon Dioxide Separation
Olefin – Paraffin Separation
By End Use Industry :
Chemical
Petrochemical and Oil & Gas
Food and Beverages
Power Generation
Pharmaceutical
Pollution Control
Others
By Region and Country:
North America (U.S., Canada)
Latin America (Brazil, Mexico, Rest of Latin America)
Europe (Germany, Italy, France, UK, Spain, Netherlands, Norway, Russia, Rest of Europe)
Asia-Pacific (China, Japan, South Korea, India, Indonesia, Thailand, Vietnam, Australia & New Zealand, Rest of Asia-Pacific)
Middle East (Saudi Arabia, Turkey, UAE, Rest of Middle East)
Africa (South Africa, Nigeria, Egypt, Rest of Africa)
Segment-Wise Analysis
Why are Polyimide & polyamide Type Gas Separation Membranes projected to have the largest share amongst other materials?
The polyimide & polyaramide segment is leading and is projected to continue this trend. Polyimide & polyaramide gas separation membranes are used to separate one or more gases from a gaseous mixture as they exhibit good permeation rates and selectivity. Polyimide membranes have increased the necessity for gas separation owing to their stability and superior permeability. Polyimide & polyaramide membranes have escalating demand in carbon dioxide removal applications.
Why are the petrochemical and oil & gas segment expected to expand the fastest during the forecast period?
The petrochemical industry provides an extensive range of products from crude oil, such as aromatics and light olefins. In the past, there was a very high demand for these products in markets such as automobile, aviation, and other industries. These products cannot be produced efficiently without stringent environmental standards. This led to developing and implementing polymeric membranes in refinery/petrochemical processing to limit emissions.
Region-Wise Analysis
The regions analyzed for the market include North America, Europe, Latin America, Asia Pacific, Middle East, and Africa.
North America is expected to hold a significant market share of 27.6% in 2021. The major driving factor of the gas separation membranes market in North America and particularly in the US is their engineering advantages. The membranes offer cost savings while maintaining high performance, especially at elevated temperatures. In addition to cost savings, the membranes resist temperature fluctuations affecting downstream processes.
The Asia Pacific is expected to grow at a superior value of 7.5% CAGR from 2022 to 20232. APAC is the speediest-growing market for gas separation membranes. This growth is mainly attributed to the demand for natural gas, biogas, and other environmentally sustainable energy solutions in developing economies such as China, India, Indonesia, and more.
Moreover, the growth of industrialization, cumulative demand due to changing demographics, and government initiatives to attract business investments in industries such as gas packaging, metal processing power, and oil & fabrication electronics are also driving the market for gas separation membranes in the region.
Competition Analysis
Participants' businesses have grown due to technological advancements in their products. To increase their awareness internationally, they are also concentrating on introducing new products and engaging in strategic partnerships. These businesses may increase their presence in developing nations throughout the ensuing years.
Some of the key developments that have taken place in the Gas Separation Membrane Units Market include:
In 2020, A new large-scale gas separation facility to be used for the manufacturing of liquid oxygen, argon, and nitrogen was announced by Air Products and Chemicals. This newThist, built in Minnesota, will start working correctly.
In July 2021, Canada's biggest helium purifying facility was delivered by Air Liquide. It is anThe facility is anticipated north America Helium's Canadian facility in southwest Saskatchewan. It is Canada's biggest facility for producing helium.
In July 2020, Honeywell UOP announced the deployment of its modular natural gas processing technology in the standard cubic feet per day (mmscfd) offshore gas purification facility. In the Kasawari gas field, operaPETRONAS Carigali Sdn operatesPCSB), a subsidiary of PETRONAS.
A list of some of the key suppliers present in the market are:
Air Products and Chemicals Inc.
Air Liquide Advanced Separations LLC
UBE Industries Ltd.
Schlumberger Ltd
Fujifilm Manufacturing Europe B.V.
Parker-Hannifin Corporation
Membrane Technology and Research Inc
DIC Corporation
Honeywell International (Honeywell UOP)
Evonik Industries
Mahler AGS
Atlas Copco AB
GENERON LLC
GRASYS JSC
GMT Membrantechnik GmbH
Global Gas Separation Membrane Units Market 2022-2032: Report Coverage and Highlights
Assessment of the historical and current market size (2017-2021), market projections (2022-2032), and its contribution to the parent market
Key drivers, restraints, opportunities, and key emerging trends impacting market growth
Predictions on critical supply, demand, and technological trends and changes in consumer behavior
Value chain analysis (list of manufacturers, distributors, end-users, average profitability margins, etc.)
Segment-wise, country-wise, and region-wise market analysis
Competition mapping, market share analysis, key strategies adopted by top players, and competitive tactical intelligence
Key product innovations and regulatory framework
Covid-19 impact on the market and how to navigate
Strategic market analysis and recommendations on crucial winning strategies
| | |
| --- | --- |
| Research Scope | Details |
| Forecast period | 2022-2032 |
| Historical data available for | 2017-2021 |
| Market analysis | USD Million for Value and Tons for Volume, and CAGR from 2022 to 2032 |
| Key regions covered | North America, Latin America, Europe, Asia-Pacific, Middle East, and Africa |
| Key countries covered | US, Canada, Brazil, Mexico, Germany, Italy, France, UK, Spain, Netherlands, Norway, Russia, China, Japan, South Korea, India, Indonesia, Thailand, Vietnam, Australia & New Zealand, Saudi Arabia, Turkey, UAE, South Africa, Nigeria, Egypt |
| Key segments covered | By Material Type, Construction Type, Application, End Use Industry, and Region. |
| Customization scope | Available upon Request |
| Pricing and purchase options | Available upon Request |