Global Glycol Ethers Market Size Analysis
According to a research survey conducted by ChemView Consulting, in 2022, the Global Glycol Ethers Market was worth US$ 6,247.0 Mn and is expected to grow at a CAGR of 5.7% over the forecast period. While the historical CAGR is 4.9%, the market is expected to hit US$ 10,874.8 Mn by 2032 end.
The market is anticipated to develop due to the high demand for water-soluble active ingredients across end-use sectors, including the printing and personal care industries. The main driver of expansion in the printing and personal care industries has been the rising use of water-based coatings that use glycol ether as a coalescing agent.
Market Dynamic
VARIED INDUSTRIAL APPLICATIONS DRIVE THE MARKET GROWTH
The widespread use of glycol ethers in the paint and coatings sector is one of the main causes of the rising demand for them on the market. Glycol ether use has increased due to market demand for paints and coatings driven by rising urbanization and the number of construction projects. Additionally, various personal care items, including sunscreens and cosmetics, are made using glycol ethers. Additionally, there is a greater need for personal care goods due to rising disposable income and consumer purchasing power worldwide. The chemical serves as a binding reagent in producing various goods due to its high boiling point and advantageous solvent characteristics.
Due to its high boiling point and advantageous solvent characteristics, the chemical is a crucial reagent for the production of various products in the personal care industry. Therefore, there is a sizable need for glycol ether as a raw ingredient due to the growing utilization of personal care products. Due to its rapid drying time and excellent printing quality, glycol ether is also used in the printing sector.
HARMFUL EFFECTS ON THE ENVIRONMENT HAMPER THE MARKET
Although glycol ethers have many uses, they also emit several harmful and dangerous gases into the atmosphere. Under the Toxic Substances Control Act, the Environmental Protection Agency (EPA) has developed severe usage restrictions for ethylene glycol ethers (TSCA). The FDA claims that the E-series glycol ethers are likewise dangerous and could harm the environment and human health.
According to the EPA, all types of ethylene glycol dimethyl ethers are dangerous, including monoethylene glycol dimethyl ether, diethylene glycol dimethyl ether, ethylene glycol glycol glycol diethyl ether, diethylene glycol diethyl ether, triethylene glycol dimethyl ether, and ethylene glycol dibutyl ether. Glycol ethers can cause narcosis, pulmonary edema, and severe liver and kidney damage, among other negative effects.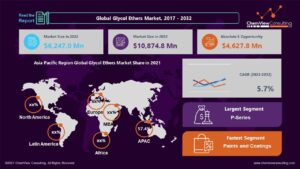 Market Segments Covered in Report
By Type:
E-series
P-series
Propylene Glycol Methyl Ether
Propylene Glycol Propyl Ether
Propylene Glycol Methyl Ether Acetate
Propylene Glycol Phenyl Ether
Others
By Application:
Solvent
Anti-icing
Hydraulic & Brake Fluid
Chemical Intermediates
By End-User:
Paints and Coatings
Printing
Pharmaceuticals
Cosmetics & Personal Care
Others
By Region and Country:
North America (U.S., Canada)
Latin America (Brazil, Mexico, Rest of Latin America)
Europe (Germany, Italy, France, UK, Spain, Netherlands, Norway, Russia, Rest of Europe)
Asia-Pacific (China, Japan, South Korea, India, Indonesia, Thailand, Vietnam, Australia & New Zealand, Rest of Asia-Pacific)
Middle East (Saudi Arabia, Turkey, UAE, Rest of Middle East)
Africa (South Africa, Nigeria, Egypt, Rest of Africa)
Segment-Wise Analysis
Which Glycol Ethers Product Type segment is leading the market worldwide?
Due to their lower level of toxicity, P-series are in higher demand than their competitors. In addition to creating water treatment solutions and laboratory goods, it is generally used to treat metal and non-metal surfaces. They are used with cleansers due to their fast evaporation, decreased surface tension, and low toxicity attributes because they give physical and performance properties for cleaning formulations.
Which is the Glycol Ethers Market's dominating End User Segment?
The glycol ethers market's paint & coatings segment is anticipated to drive growth in the sector. To improve the flow and leveling capabilities of paints and to lengthen the wet edge, which enables smoother lapping while erasing brush strokes, glycol ethers and acetates are utilized.
The recent increase in construction activities worldwide and a favorable infrastructure investment environment increased demand for glycol ethers in paints. This will add to the momentum for the expanding usage of glycol ethers throughout the forecast period.
Region-Wise Analysis
The regions analyzed for the market include North America, Europe, Latin America, Asia Pacific, the Middle East, and Africa.
China is perhaps a very attractive market with a value share of 57.4% in the Asia Pacific region. The increased need for paints, coatings, adhesives, cleaners, printing inks, electronics, and semiconductors is expected to increase the demand for glycol ethers in the area.
The demand for high-quality, non-toxic, and biodegradable cosmetics has increased, and North America now holds a significant share of the global glycol ethers market.
The growth of the glycol ethers market in Europe is driven by the increased usage of glycol ether coatings for decorative and protective applications in the automobile sector.
Competition Analysis
The existence of several manufacturers fuels fierce competition amongst businesses. Multinational corporations dominate the market, but regional companies compete to lead the pack in product innovation and adopt cutting-edge technologies throughout the operational sphere.
These businesses have established their dominant positions in the market thanks to the availability of a wide range of products that serve a variety of end-use sectors. In addition to product innovation, one of the crucial areas handled by big multinational corporations is the excellent market positioning of their products to attract a larger pool of potential customers.
Some of the key developments that have taken place in the Protective Coatings Market include:
In 2022, With Wells Fargo, NA, and Mizuho Markets Americas LLC, Eastman Chemical Company announced the signing of an accelerated share buyback (ASR) deal for USD500 million. After completing the ASR, Eastman made great progress toward its target of repurchasing more than USD 1 billion
In September 2021, KPX Chemical, a prominent producer of polyols for polyurethanes in Korea, and Huntsman Corporation (NYSE: HUN), a global leader in MDI-based polyurethanes with a focus on chemical manufacturing, announced the creation of a joint venture known as KPX HUNTSMAN POLYURETHANES AUTOMOTIVE Co Ltd. The joint venture's primary objective is to develop and supply innovative polyurethane system solutions to Korean automakers.
In August 2020, Kemipex joined the European Lubricants Industry Directory to increase its global influence (ELID). They are leaders in the chemical industry, and the goods they have designed with care meet the demands of every sector, adding value to the needs of their customers.
A list of some of the key suppliers present in the market are:
Eastman Chemical Company
FBC Chemical Corporation
Hannong Chemicals Inc.
Huntsman Corporation
India Glycols Limited
KH Neochem
Royal Dutch Shell
DowDuPont
LyondellBasell
BASF SE
Global Glycol Ethers Market 2022-2032: Report Coverage and Highlights
Assessment of the historical and current market size (2017-2021), market projections (2022-2032), and its contribution to the parent market
Key drivers, restraints, opportunities, and key emerging trends impacting market growth
Predictions on critical supply, demand, and technological trends and changes in consumer behavior
Value chain analysis (list of manufacturers, distributors, end-users, average profitability margins, etc.)
Segment-wise, country-wise, and region-wise market analysis
Competition mapping, market share analysis, key strategies adopted by top players, and competitive tactical intelligence
Key product innovations and regulatory framework
Covid-19 impact on the market and how to navigate
Strategic market analysis and recommendations on crucial winning strategies
| | |
| --- | --- |
| Research Scope | Details |
| Forecast period | 2022-2032 |
| Historical data available for | 2017-2021 |
| Market analysis | USD Million for Value and Tons for Volume, and CAGR from 2022 to 2030 |
| Key regions covered | North America, Latin America, Europe, Asia-Pacific, Middle East, and Africa |
| Key countries covered | US, Canada, Brazil, Mexico, Germany, Italy, France, UK, Spain, Netherlands, Norway, Russia, China, Japan, South Korea, India, Indonesia, Thailand, Vietnam, Australia & New Zealand, Saudi Arabia, Turkey, UAE, South Africa, Nigeria, Egypt |
| Key segments covered | By Type, Application, End-User, and Region |
| Customization scope | Available upon Request |
| Pricing and purchase options | Available upon Request |