Green Packaging Market Size Analysis
According to a research survey conducted by ChemView Consulting, in 2022, the Global Green Packaging Market was worth US$ 2,87,200.0 Mn and is expected to grow at a CAGR of 5.5% over the forecast period. The market is expected to hit US$ 4,40,700.0 Mn by 2032 end.
The use of packaging materials and manufacturing processes that have a minimal impact on energy use and the environment are referred to as "green packaging." Green packaging, often energy-efficient or sustainable, uses recyclable and biodegradable materials.
Solid bleach sulfate, bio-based polymers, biodegradable plastics, and recycled papers are some of the main components utilized in the production of green packaging items.
Market Dynamic
INCREASING AWARENESS ABOUT THE ENVIRONMENT DRIVES THE MARKET
The sector is anticipated to increase due to severe limited single-use plastics and growing consumer awareness of sustainable packaging. The business is expected to expand steadily because of the expanding food and beverage sector, which is using packaging made of recyclable and biodegradable materials more and more.
The market has grown due to a rise in consumer awareness of eco-friendly packaging strategies that employ bioplastics as a raw material across several industries, including FMCG, personal care, and pharmaceuticals.
HIGH PRODUCTION COSTS AND LITTLE SUPPORT FROM THE GOVERNMENT HAMPER THE MARKET GROWTH
Due to high production and setup costs, businesses have been hesitant to use green packaging. Additionally, a lack of government activities, particularly in developing nations through recycling subsidies, and a shortage of storage space for recovered materials restrain market expansion.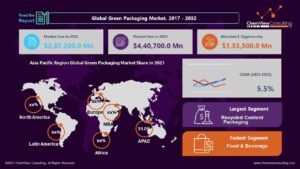 Segments Covered in Report
By Packaging Type:
Recycled Content Packaging

Paper
Plastic
Metal
Glass
Others

Reusable Packaging

Drum
Plastic Container
Others

Degradable Packaging
By Application:
Food & Beverages
Personal Care
Healthcare
Others
By Region and Country:
North America (U.S., Canada)
Latin America (Brazil, Mexico, Rest of Latin America)
Europe (Germany, Italy, France, UK, Spain, Netherlands, Norway, Russia, Rest of Europe)
Asia-Pacific (China, Japan, South Korea, India, Indonesia, Thailand, Vietnam, Australia & New Zealand, Rest of Asia-Pacific)
Middle East (Saudi Arabia, Turkey, UAE, Rest of Middle East)
Africa (South Africa, Nigeria, Egypt, Rest of Africa)
Segment-Wise Analysis
Why is the Food & Beverage application of Green Packaging projected to have a larger market share?
With 61.0% of the total revenue earned by applications in the green packaging market, food & beverage packaging was the industry's top revenue producer. Packaging for FMCG products, dairy products, drinks, and other items is included in this sector.
The use of molded pulp packaging and biodegradable packaging by many restaurants, fast food chains, packaged food businesses, and casual dining establishments is a result of the growing popularity of green packaging. This adoption is expected to fuel the food and beverage market.
Which packaging type is expected to expand the fastest during the forecast period?
The market's largest green packaging market share was held by packaging made from recycled content packaging materials. Packaging made from recycled materials makes greater use of green technologies and resources. It comprises various materials, including glass, paper, plastic, and metal.
Region-Wise Analysis
The regions analyzed for the market include North America, Europe, Latin America, Asia Pacific, the Middle East, and Africa.
The Asia Pacific would dominate the green packaging market throughout the projected period, with a market share of 33.0%. The market would develop more rapidly due to factors including rapid population growth and rising disposable incomes in emerging economies like China and India and many manufacturers working in this area's food and beverage sector.
The regulatory authorities' initiatives concerning landfill and waste management are what fuel market expansion in North America. Additionally, the Environmental Protection Agency (EPA) has established strict recycling goals that are being implemented in the U.S., assisting the development of the green packaging industry in this country.
Competition Analysis
Players in the industry are concentrating their R&D efforts on developing new plant-based polymers that mirror the characteristics of plastics already in use. Companies are revamping packaging to use less material, which reduces costs and trash production. Companies in the market are spending more money on creative packaging ideas and novel materials with limitless recycling potential.
A list of some of the key suppliers present in the market are:
Amcor
Be Green Packaging
DS Smith
DuPont
Evergreen Packaging
Mondi
Nampak
Ball Corp.
Sealed Air
Tetra Laval
Global Green Packaging Market 2022-2032: Report Coverage and Highlights
Assessment of the historical and current market size (2017-2021), market projections (2022-2032), and its contribution to the parent market
Key drivers, restraints, opportunities, and key emerging trends impacting market growth
Predictions on critical supply, demand, and technological trends and changes in consumer behavior
Value chain analysis (list of manufacturers, distributors, end-users, average profitability margins, etc.)
Segment-wise, country-wise, and region-wise market analysis
Competition mapping, market share analysis, key strategies adopted by top players, and competitive tactical intelligence
Key product innovations and regulatory framework
Covid-19 impact on the market and how to navigate
Strategic market analysis and recommendations on crucial winning strategies
| | |
| --- | --- |
| Research Scope | Details |
| Forecast period | 2022-2032 |
| Historical data available for | 2017-2021 |
| Market analysis | USD Million for Value and Tons for Volume, and CAGR from 2022 to 2032 |
| Key regions covered | North America, Latin America, Europe, Asia-Pacific, Middle East, and Africa |
| Key countries covered | US, Canada, Brazil, Mexico, Germany, Italy, France, UK, Spain, Netherlands, Norway, Russia, China, Japan, South Korea, India, Indonesia, Thailand, Vietnam, Australia & New Zealand, Saudi Arabia, Turkey, UAE, South Africa, Nigeria, Egypt |
| Key segments covered | By Packaging Type, Application, and Region |
| Customization scope | Available upon Request |
| Pricing and purchase options | Available upon Request |