Global Industrial Enzymes for Feed Industry Market Size Analysis
According to a research survey conducted by ChemView Consulting, in 2022, the Global Industrial Enzymes for Feed Industry Market was worth US$ 1.7 Bn and is expected to grow at a CAGR of 8.0% over the forecast period. The market is expected to hit US$ 3.1 Bn by 2030 end.
Enzymes are naturally occurring proteins that are produced during digestion. However, livestock digestive systems are inefficient. Adding enzymes to the feed is required to improve its quality. Feed enzymes ease digestion and boost nutrient content, resulting in greater energy and nutrient utilization.
Market Dynamic
What causes the demand increase for Industrial Enzymes for Feed Industry?
A key reason driving the growth of the feed enzymes market is the increasing popularity of enzymes as suitable feed additives for encouraging animal growth, improving digestion, and strengthening immunity. Feed enzymes also help minimize environmental pollution by reducing waste and feed management costs by improving the digestive health of the animals.
What are the opportunities in the Industrial Enzymes for Feed Industry Market?
Rising meat product demand and a growing emphasis on improving animal health will likely offer sales opportunities for animal feed enzymes during the assessment period, eventually expanding the worldwide feed enzymes market.
The rising trend of employing enzymes as feed additives instead of antibiotics will thus continue to function as a fuel for the growth of the feed enzymes market.
What are the biggest challenges that the Feed Additive Market is facing?
Excessive quantities of feed enzymes may influence the levels of endogenous enzymes in the gastrointestinal tract, resulting in negative health implications. Feed enzymes may cause a variety of adverse effects. If this enzyme is provided to animals in large amounts together with feed, it may act as a blood thinner.
COVID-19 Impact
The COVID-19 pandemic is likely to have a moderate impact on the feed enzyme sector. Due to a scarcity of enzymes, the entire supply chain is disturbed. Though feed demand has been generally steady, the COVID-19 epidemic has substantially influenced supplies. Movement restrictions and sickness are causing labor shortages and reduced raw material availability. The disruption in supply channels has also resulted in feed supply delays.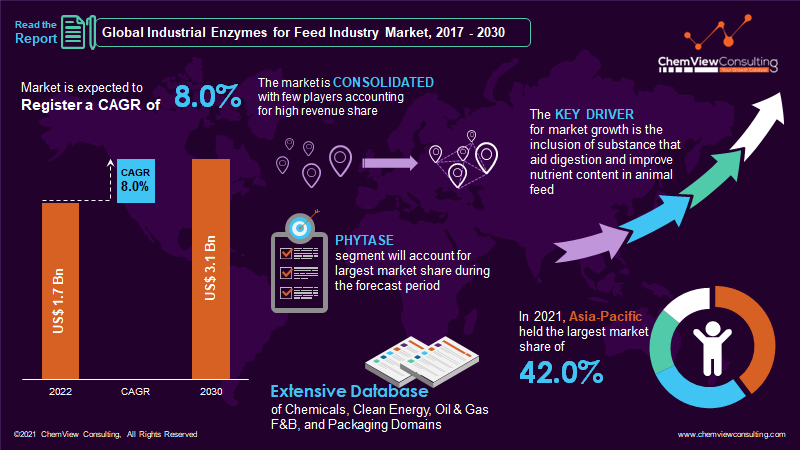 Segment-Wise Analysis
Why is the Phytase segment expected to grow at the fastest CAGR?
Phytase is used by most animal feed manufacturers and livestock producers; it is likely to hold the bulk of the segment's market during the forecast period.
Phytase enzymes have grown in popularity in animal feeds due to their numerous benefits, such as increased bone health, body weight, and improved digestive efficiency by breaking down indigestible phytic acid, which aids in the release of digestible phosphorus, calcium, and other nutrients that assist animal growth.
Which Feed Additive livestock is predicted to expand the most?
The poultry industry is expected to develop quickly, with a CAGR of 8.7% between 2022 and 2030. This increase is due to a rise in meat consumption and eggs, as people become more health-conscious. According to USDA predictions, demand for poultry will increase by approximately 16.5% between 2021 and 2030.
Why is the dry form of Feed Additive so popular?
Dry forms are more popular among animal farmers since they are easy to mix with feed and store. Its availability in pellet and mash forms provides consumers with additional mixing options, which should boost the expansion of this industry.
The capacity to maintain the temperature in fodder processing, improved thermal stability and ease of handling are ascribed to the growth. The simplicity with which these products are available in powder and pellet form increases their consumption rates.
Which Feed Additive source segment is likely to grow the most rapidly throughout the forecast period?
Microorganisms are all around us and are excellent hosts for developing stable and industrially relevant enzymes. Enzymes originating from microorganisms serve a vital role in the synthesis of animal feed.
Molecular approaches such as metagenomics and genomics are utilized to find microbial enzymes, which are then employed to improve feed quality in the feed industry.
Why is the Asia-Pacific region cementing its global dominance in the Industrial Enzymes for Feed Industry Market?
The Asia Pacific market is expected to develop fastest during the projected period. Factors such as the growth of a livestock population, as well as an increase in the number of feed mills, are projected to drive market growth in the next years.
Competition Analysis
Large investors are developing feed enzymes to increase ruminant efficiency and milk output, which benefits dairy producers by cutting feed costs. Such feed enzymes are predicted to gain popularity among dairy industry stakeholders.
Key players in the feed enzymes market focus on specific animal categories, such as poultry, cattle, canines, and equines, and feed enzymes that produce the best results.
Some of the key developments that have taken place in the Industrial Enzymes for Feed Industry Market include:
In August 2021, Elanco, a US-based animal health company, announced the successful acquisition of "Kindred Biosciences," a California-based veterinary biopharmaceutical enterprise.
In December 2019, Nutrex BE chose to merge with Agrimex, a European supplier of high-quality additives, premixes, and raw materials to the animal feed industry, and to continue all of their animal feed activities under the name Nutrex.
In 2018, Archer Daniels Midland Co. and Qingdao Vland Biotech Group struck an agreement to research and develop enzymes for use in animal feed.
A list of some of the critical suppliers present in the market are:
BASF SE
I. du Pont de Nemours and Company
Associated British Foods plc
Archer Daniels Midland Co.
Nutrex BE
Elanco
Koninklijke DSM N.V.
Behn Meyer Holding AG
Adisseo France SAS
Qingdao Vland Biotech
Azelis Holding S.A.
Novus International Inc.
Rossari Biotech Ltd.
Alltech Inc.
Market Segments Covered in Report
By Product:
Phytase
Carbohydrase
Protease
By Livestock:
Poultry
Ruminants
Swine
Aquatic animals
Other livestock (equine and pet food)
By Form:
By Source:
Plant
Animal
Microorganisms
By Region and Country:
North America (U.S., Canada)
Latin America (Brazil, Mexico, Rest of Latin America)
Europe (Germany, Italy, France, UK, Spain, Netherlands, Norway, Russia, Rest of Europe)
Asia-Pacific (China, Japan, South Korea, India, Indonesia, Thailand, Vietnam, Australia & New Zealand, Rest of Asia-Pacific)
Middle East (Saudi Arabia, Turkey, UAE, Rest of Middle East)
Africa (South Africa, Nigeria, Egypt, Rest of Africa)
Global Industrial Enzymes for Feed Industry Market 2022-2030: Report Coverage and Highlights
Assessment of the historical and current market size (2017-2021), market projections (2022-2030), and its contribution to the parent market
Key drivers, restraints, opportunities, and key emerging trends impacting market growth
Predictions on critical supply, demand, and technological trends and changes in consumer behavior
Value chain analysis (list of manufacturers, distributors, end-users, average profitability margins, etc.)
Segment-wise, country-wise, and region-wise market analysis
Competition mapping, market share analysis, key strategies adopted by top players, and competitive tactical intelligence
Key product innovations and regulatory framework
Covid-19 impact on the market and how to navigate
Strategic market analysis and recommendations on crucial winning strategies
| | |
| --- | --- |
| Research Scope | Details |
| Forecast period | 2022-2030 |
| Historical data available for | 2017-2021 |
| Market analysis | USD Billion for Value and Tons for Volume, and CAGR from 2022 to 2030 |
| Key regions covered | North America, Latin America, Europe, Asia-Pacific, Middle East, and Africa |
| Key countries covered | US, Canada, Brazil, Mexico, Germany, Italy, France, UK, Spain, Netherlands, Norway, Russia, China, Japan, South Korea, India, Indonesia, Thailand, Vietnam, Australia & New Zealand, Saudi Arabia, Turkey, UAE, South Africa, Nigeria, Egypt |
| Key segments covered | By Product, Livestock, Form, Source, and Region |
| Customization scope | Available upon Request |
| Pricing and purchase options | Available upon Request |