Industrial Institutional Cleaning Chemicals Market Size Analysis
According to a recent survey conducted by ChemView Consulting, the Global Industrial Institutional Cleaning Chemicals Market grew at a CAGR of 5.1% between 2017-2021 and is estimated to be US$ 54,763.1Mn in 2022. Currently, the market is anticipated to grow at a CAGR of 4.9% and is expected to reach a valuation of US$ 88,357.4Mn by 2032 end.
To obtain cleaning supplies, disinfectants, and sanitizers, many businesses, industries, healthcare institutions, and organizations in charge of maintaining common spaces all contribute to the global need for industrial and institutional cleaning chemicals. The drive toward cleanliness and the widespread concern about institutional hygiene is directly responsible for the current exponential rise of the market for industrial & institutional cleaning chemicals.
Governing bodies urge synthetic cleaners to uphold hygienic standards in the production facilities of many enterprises, which undoubtedly boosted the major trends and opportunities in the industrial & institutional cleaning chemicals market. Industrial and institutional cleaning chemical sales have been expanding recently in several new economic sectors, particularly the food and healthcare industries.
Market Dynamic
RISING DEMAND FROM COMMERCIAL AND HOSPITALITY ESTABLISHMENTS TO DRIVE THE MARKET
The industrial and institutional cleaning chemicals market is anticipated to be driven by the escalating demand from businesses and lodging facilities. The high value of hygiene in hospitality settings will boost the use of cleaning agents. The need for cleaning chemicals will increase as restaurants and hotels strive to offer their customers dining services of worldwide standards.
Additionally, rising disposable income and rising expenditures on tourism-related activities are predicted to boost market expansion. Further, the demand for cleaning chemicals will increase due to growing sanitation requirements in industrialized nations and rising numbers of cleanliness programs at the workplace in developing countries.
REGULATIONS BY THE GOVERNMENT ON THE USE OF CLEANING CHEMICALS TO RESTRAIN GROWTH
Industrial and institutional cleaning chemicals are employed to keep offices, factories, and institutions like hospitals and schools clean and hygienic. When exposed to the cleaning materials' potentially toxic and explosive compounds, health issues may result. Many cleaning materials and solutions can cause headaches, throat and eye irritation, and even the formation of malignant cells.
The solvents in the cleaning agents have a high VOC concentration. When cleaning chemicals are used, VOCs are released into the air, which can lead to asthma attacks and allergic reactions. Due to the reasons above, agencies like the National Library of Medicine (NLM) and the Centers for Disease Control & Prevention (CDC) have controlled cleaning agents. Therefore, the government's rules will serve as a limit.
RISING DEMAND FOR BIO-BASED PRODUCTS TO CREATE LUCRATIVE GROWTH OPPORTUNITIES
Globally, the desire for sustainable products has been sparked by worries about the negative impacts of petroleum-based solvents. Companies are now using bio-based solvents to create their products due to the growing consumer preference for goods made from renewable resources. Chemicals used for institutional and industrial cleaning from biological sources are less hazardous and don't include volatile organic compounds.
The likelihood of bacterial resistance to antibiotics is decreased by the green products' adherence to environmental regulations, which also improves air quality. Diversey Inc. is one of the businesses on the market that has released new green cleaning products that adhere to EPA, Green Seal, and USDA criteria.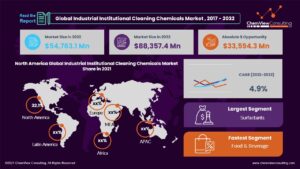 Market Segments Covered in Report
By Raw Material:
Chlor-alkali
Caustic Soda
Soda Ash
Chlorine
Surfactant
Nonionic
Anionic
Cationic
Amphoteric
Solvents
Alcohols
Hydrocarbons
Chlorinated
Ethers
Others
Phosphates
Biocides
Others
By Product Outlook:
General Purpose Cleaners
Disinfectants and Sanitizers
Laundry Care Products
Vehicle Wash Products
Others
By End-Use:
Commercial
Food Services
Retail
Healthcare
Laundry Care
Institutional Buildings
Others
Manufacturing
Food & Beverage Processing
Metal Manufacturing & Fabrication
Electronic Components
Others
By Region and Country:
North America (U.S., Canada)
Latin America (Brazil, Mexico, Rest of Latin America)
Europe (Germany, Italy, France, UK, Spain, Netherlands, Norway, Russia, Rest of Europe)
Asia-Pacific (China, Japan, South Korea, India, Indonesia, Thailand, Vietnam, Australia & New Zealand, Rest of Asia-Pacific)
Middle East (Saudi Arabia, Turkey, UAE, Rest of Middle East)
Africa (South Africa, Nigeria, Egypt, Rest of Africa)
Segment-Wise Analysis
Which raw material is most preferred in the global industrial & institutional cleaning chemicals market?
According to global market analysis on industrial and institutional cleaning chemicals, the surfactants industry led the market with a sales volume of more than 30%. Products like fabric conditioners, agricultural chemicals, lubricating oils, anti-fogging solutions, dyes, household creams and lotions, emulsifying agents, sealants & glue, among others, are made using a lot of surfactants, which are the reason why the industrial and institutional cleaning chemicals market share is so high.
Why is the general-purpose cleaners segment increasing its demand in the anticipated period?
The general-purpose cleaner product segment dominated the market, with a revenue share of over 31%. Their widespread use in cleaning stubborn soil stains, oily stains, hard-floor surfaces, and more accounts for their significant market share. During the projection period, a moderate growth rate is anticipated for the segment.
The general-purpose cleansers market offers various products tailored to different consumer needs. The materials are used for cleaning multiple settings, including homes, businesses, public areas, and institutions. The widespread use of all-purpose cleaners is to blame for the product's high demand on a global scale.
Region-Wise Analysis
The regions analyzed for the market include North America, Europe, Latin America, Asia Pacific, Middle East, and Africa.
With a revenue share above 1%, North America dominated the market. This is explained by the rising demand from various companies for their manufacturing facilities and the increasing consumption brought on by the current epidemic. Because North America is a developed market and a major hub for production across a wide range of sectors, the demand for industrial and institutional cleaning chemicals is strong.
In the Asia Pacific area, second in terms of market revenue share. Due to the region's expansion of pandemics and manufacturing sectors, the market for industrial and institutional cleaning chemicals in Asia is increasing quickly. Manufacturers of industrial and institutional cleaning products will likely see significant growth prospects due to the fast-expanding new business arrangements throughout the region.
Competition Analysis
There is fierce competition in this market since industrial and institutional cleaning chemical market competitors heavily invest in R&D to enhance their product offerings, build brand recognition, and gain an advantage over rivals by patenting market inventions. Manufacturing firms for industrial and institutional cleaning chemicals are also frequently engaged in alliances and cooperation with regional players to increase their consumer base worldwide and gain access to new markets.
The key developments in the Global Industrial Institutional Cleaning Chemicals Market:
In January 2019, Reckitt Benckiser and Diversey Inc. joined forces in the industrial and institutional cleaning sector in North America. The strengthened relationship capitalizes on Diversey's extensive institutional cleaning know-how in hospitals, schools, and office buildings across the nation and Reckitt Benckiser's strengths in practical, ready-to-use solutions through brands including Lysol, Airwick, Easy-Off, and Resolve.
A list of some of the key suppliers present in the market are:
Procter & Gamble
BASF SE
Clariant
The Clorox Company, Inc.
Henkel AG & Co. KGaA
3M
Kimberly-Clark Corporation
Reckitt Benckiser Group plc
Croda International PLC
Albemarle Corporation
Eastman Chemical Corporation
Huntsman International LLC
STEPAN Company
Westlake Chemicals Corporation
SOLVAY
Dow
Sasol
Report Coverage and Highlights
Our comprehensive, data-backed, and facts-oriented report provides niche and cross-sectional analysis at global and country levels.
Assessment of the historical (actual data) and current market size (2017-2021), market projections (2022-2032), and CAGR.
The market assessment across North America, Europe, East Asia, South Asia & Pacific, Latin America, Middle East, and Africa.
Competitive tactical intelligence, key strategies adopted by top players, production capacity and company shares analysis, product brand surveys, and export-import analysis
Pricing analysis to set and benchmark your current or future offerings across each product type helps you understand whether your pricing strategy is aligned with market expectations and can be compared to market disruptions.
Predictions on critical supply and demand trends and technological expertise needed to address operations scalability.
Consumer behavior shifts and their implications for players, list of end-users, and their consumption analysis.
Key drivers, restraints, opportunities, and emerging trends impacting the market growth.
Value chain analysis (list of manufacturers, distributors, end-users, and average profitability margins).
Strategic market analysis, recommendations, and future headways on crucial winning strategies.
| | |
| --- | --- |
| Research Scope | Details |
| Forecast period | 2022-2032 |
| Historical data available for | 2017-2021 |
| Market analysis | USD Million for Value and Tons for Volume, and CAGR from 2022 to 2032 |
| Key regions covered | North America, Latin America, Europe, Asia-Pacific, Middle East, and Africa |
| Key countries covered | US, Canada, Brazil, Mexico, Germany, Italy, France, UK, Spain, Netherlands, Norway, Russia, China, Japan, South Korea, India, Indonesia, Thailand, Vietnam, Australia & New Zealand, Saudi Arabia, Turkey, UAE, South Africa, Nigeria, Egypt |
| Key segments covered | By Raw Material, Product Outlook, End-Use, and Region |
| Customization scope | Available upon Request |
| Pricing and purchase options | Available upon Request |