Lactase Market Size Analysis
According to a research survey conducted by ChemView Consulting, in 2022, the Global Lactase Market was worth US$ 731.9 Mn and is expected to grow at a CAGR of 3.8% over the forecast period. The market is expected to hit US$ 986.4 Mn by 2030 end.
Lactase is an enzyme found in the digestive tracts of humans and other mammals that aids in breaking lactose into glucose and galactose. Lactose is prevalent in dairy products, and Lactase aids in their digestion. Lactase supplements are used to treat diseases, or Lactase is added to dairy products before intake to break down lactose.
Lactase enzyme is commonly used in lactose-free milk, cheese production, yoghurt, ice creams, whey syrups, prebiotics and probiotics, enzyme supplements, tablets, pills, extra sweetness, extra sweetness, and ice cream crystallization reduction.
Market Dynamic
What are the causes driving the rise in demand for Lactase?
Increased demand for lactose-free dairy products and product development and innovation in various application areas will drive market expansion. Lactase is mostly employed in the food and beverage industry, primarily as the dairy enzyme, because it renders dairy products lactose-free by lowering and eliminating the lactose content. One of the primary elements driving product demand is the increasing prevalence of lactose intolerance worldwide.
The rise in food allergies and intolerances drives the demand for lactose-free dairy food items. Lactase insufficiency affects roughly 70.0% of the world's population, according to the National Center for Biotechnology Information (NCBI). As a result, the manufacture of lactose-free dairy products has increased, allowing the lactose-intolerant population to avoid gastrointestinal difficulties.
Consumers' increased health awareness and wellness concerns are expected to fuel the growth and demand for lactose-free dairy products.
What are the opportunities in the Lactase Market?
Demand for lactose-free milk or dairy food items are increasing due to primary lactose intolerance, secondary lactose intolerance, and congenital or developmental lactose intolerance population. Lactose-free dairy products have fewer calories since they do not include sugar. Due to increasing demand, increased lactase sales to lactose-free dairy product firms will boost market expansion.
Lactase enzyme supplements are available in various formats, including lactase enzyme drops, lactase enzyme pills, lactase enzyme powder, and lactase enzyme syrup, depending on the customer's needs.
What are the major challenges confronting the Lactase Market?
Due to limited money and resources, small and medium-sized businesses have nominal cost management. Due to a lack of knowledge and resources, many quality and productivity improvement approaches are not being implemented in SMEs (small and medium-sized firms).
The high expenses of adapting to new technologies, manufacturing, and extraction techniques have limited SMEs' ability to improve their operations. Furthermore, the method of lactase extraction necessitates technical competence and extensive knowledge, which are typically lacking in SMEs. Thus, one of the biggest problems for the lactase enzyme market is the extraction of enzymes with completely equipped expertise and competence.
COVID-19 Impact
Due to the early shutdown of manufacturing plants and a lack of labor, the COVID-19 pandemic has impacted the commercial production of lactase enzymes. The export and import bans imposed by various nations have damaged the lactase market's worldwide supply chain.
The domestic shipping constraints caused by the COVID-19 pandemic and lockdown scenario first created uncertainty in the lactase industry.
Because of the increased customer preference for immunity-boosting dairy products, the lactase market is expected to be profitable post-COVID. Dairy associations in China have developed guidelines for dairy consumption to improve immunity, which include lactose-free milk drinking for lactose-intolerant people.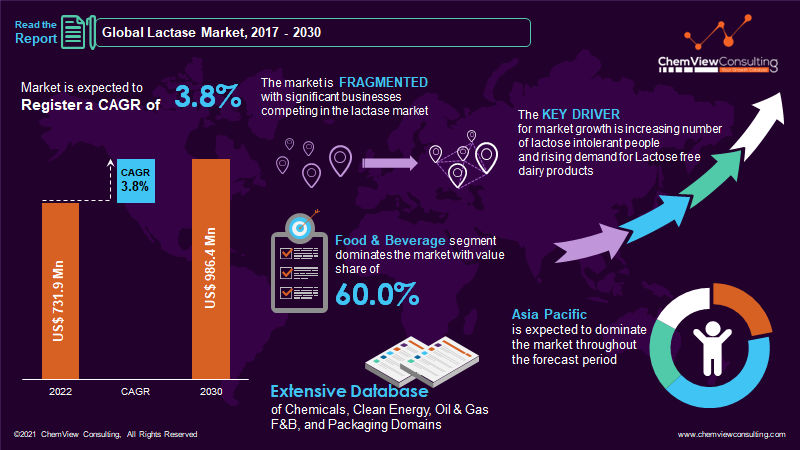 Segment-Wise Analysis
Why is Fungal Lactase expected to grow at the fastest CAGR?
In the product type segment, the fungal type accounts for approximately 77.5% of the market share. Fungal lactase compositions effectively treat digestive problems by lowering flatulence and bloating in patients with low lactase enzyme levels in the gastrointestinal system.
Why is the Food & Beverage application segment likely to grow the most rapidly throughout the forecast period?
In 2021, the food and beverage application category led the market, accounting for more than 60% of worldwide sales. Increased health awareness and rising occurrences of lactase non-persistence are expected to drive market expansion in the upcoming years. Increased consumption of high-quality meals with natural flavor and taste aided category expansion.
Dairy producers benefit from the increased retail value of lactose-free dairy products compared to ordinary dairy products in the food and beverage sector. These factors are prompting most dairy manufacturers worldwide to incorporate lactase enzymes into their dairy production processes, resulting in increased demand for lactase enzymes.
Which Lactase form will dominate the Lactase market during the projected period?
Because of rising knowledge about the positive qualities of liquid lactase enzymes, the market for liquid lactase enzymes is expected to grow at a lucrative CAGR of 3.5% over the forecast period.
Lactase enzyme formulation in liquid form is suitable for both adults and children. High-strength formula hydrolyzes lactose when added to dairy products such as milk, newborn formula, and breast milk. Vegan or vegetarian customers consume a steady and biologically active source of enzymes.
Which region has promising opportunities in the Lactase Market?
Because of the rising economic relevance of the lactase enzyme over the previous decade, Asia Pacific is expected to be the fastest-growing regional market from 2022 to 2030. The development of the food and beverage sector and growing industrialization in the region, particularly in China, India, and Vietnam, have created new prospects for the Asia Pacific market.
Why is the Lactase market in the United States booming?
With a market share of 89.0% in 2021, the United States dominates the North American space. The market in the United States is expected to grow rapidly due to rising consumer demand for dairy-free goods, driven by the rising prevalence of food intolerance and allergies.
Prominent firms such as DuPont and Amano Enzyme USA Co., Ltd. are expected to invest significantly in developing novel lactase enzymes to produce cream spreads, milk-based ice creams, and other lactose-free goods.
Competition Analysis
The global lactase market is rather fragmented. Because of the large number of active businesses, the competitive landscape of the lactase market is quite fierce. Thus, to stay competitive, the vendors in this market are undertaking various strategic initiatives. They are engaging in partnerships, collaborations, mergers, and acquisitions to achieve this goal. The increased number of these activities predicts that the worldwide lactase market will rise moderately between 2020 and 2030.
Lactase enzyme manufacturers are increasing lactase enzyme production to capitalize on the rising demand for lactose-free dairy products. Leading lactase enzyme suppliers are developing products with a wide range of claims.
Some of the key developments that have taken place in the Lactase Market include:
In July 2020, Danisco Bonlacta, a new lactase enzyme solution, was developed by DuPont Nutrition & Biosciences (N&B) to provide a nutritional profile in terms of fiber and sugar content for lactose-free dairy products.
A list of some of the critical suppliers present in the market are:
Hansen Holding A/S
Kerry Inc.
Koninklijke DSM N.V.
Novozymes
Merck KGaA (Sigma-Aldrich)
DuPont
Senson
Amano Enzyme Inc.
Advanced Enzyme Technologies
Enmex (Mexico)
Antozyme Biotech Pvt. Ltd.
Nature BioScience Pvt. L.T.D.
Aumgene Biosciences
Creative Enzymes
Biolaxi Corporation
Novact Corporation
Enzyme Bioscience
Infinita Biotech Private Limited
Rajvi Enterprise
Mitushi BioPharma
Market Segments Covered in Report
By Source:
By Type:
By Form:
By Application:
Food & beverage
Milk
Cheese
Yogurt
Ice-cream
Others
Pharmaceutical products & dietary supplements
By Region and Country:
North America (U.S., Canada)
Latin America (Brazil, Mexico, Rest of Latin America)
Europe (Germany, Italy, France, UK, Spain, Netherlands, Norway, Russia, Rest of Europe)
Asia-Pacific (China, Japan, South Korea, India, Indonesia, Thailand, Vietnam, Australia & New Zealand, Rest of Asia-Pacific)
Middle East (Saudi Arabia, Turkey, UAE, Rest of Middle East)
Africa (South Africa, Nigeria, Egypt, Rest of Africa)
Global Lactase Market 2022-2030: Report Coverage and Highlights
Assessment of the historical and current market size (2017-2021), market projections (2022-2030), and its contribution to the parent market
Key drivers, restraints, opportunities, and key emerging trends impacting market growth
Predictions on critical supply, demand, and technological trends and changes in consumer behavior
Value chain analysis (list of manufacturers, distributors, end-users, average profitability margins, etc.)
Segment-wise, country-wise, and region-wise market analysis
Competition mapping, market share analysis, key strategies adopted by top players, and competitive tactical intelligence
Key product innovations and regulatory framework
Covid-19 impact on the market and how to navigate
Strategic market analysis and recommendations on crucial winning strategies
| | |
| --- | --- |
| Research Scope | Details |
| Forecast period | 2022-2030 |
| Historical data available for | 2017-2021 |
| Market analysis | USD Million for Value and Tons for Volume, and CAGR from 2022 to 2030 |
| Key regions covered | North America, Latin America, Europe, Asia-Pacific, Middle East, and Africa |
| Key countries covered | US, Canada, Brazil, Mexico, Germany, Italy, France, UK, Spain, Netherlands, Norway, Russia, China, Japan, South Korea, India, Indonesia, Thailand, Vietnam, Australia & New Zealand, Saudi Arabia, Turkey, UAE, South Africa, Nigeria, Egypt |
| Key segments covered | By Source, Type, Form, Application, and Region |
| Customization scope | Available upon Request |
| Pricing and purchase options | Available upon Request |