Li-Ion Pouch Batteries Market Size Analysis
According to a research survey conducted by ChemView Consulting, in 2022, the Global Li-Ion Pouch Batteries Market was worth US$ 44,500.0 Mn and is expected to grow at a CAGR of 13.1% over the forecast period. The market is expected to hit US$ 1,52,400.0 Mn by 2032 end.
The lithium-ion batteries market is expanding due to the increased use of these batteries in plug-in automobiles in the field of renewable energy. In addition, improvements in lithium-ion batteries have raised the emphasis on R & D. Rising acceptance of lithium-ion batteries in various new applications due to price declines is also anticipated to fuel market expansion shortly.
Market Dynamic
INCREASING DEMAND FOR CLEAN FUEL IS PUSHING THE MARKET FOR LI-ION POUCH BATTERIES
Lithium-ion batteries power electric cars. Lithium-ion batteries have increased due to the growing use of electric and plug-in hybrid vehicles, which is predicted to continue. The market for these energy-efficient, pollution-reducing automobiles has grown due to customers' increasing acceptance of electric cars. Additionally, more automakers are working on developing new, better electric vehicles.
SAFETY ISSUES RESTRICT THE MARKET EXPANSION
Li-ion batteries are increasingly being used in EVs and consumer gadgets. However, they are susceptible to degradation in hot environments, which can lower their performance. Heat-related operational issues are projected to continue as major obstacles for manufacturers, which might partially restrain market expansion.
In addition to being more expensive and dangerous to travel with than other batteries, lithium-ion batteries also require extra safety measures to prevent an explosion.
R&D ACTIVITIES CREATE OPPORTUNITIES FOR THE MARKET
Several firms do R&D to make lithium-ion batteries that are dependable and secure. To develop various battery chemistries, battery makers have significantly increased their R&D efforts as the globe transitions to sustainable energy.
COVID-19 Impact
The global economy has been impacted by COVID-19, which has led to a sharp fall in demand for goods and raw materials worldwide. China is the main producer and supplier of li-ion batteries and cells in the Asia Pacific. Major suppliers and manufacturers lowered their manufacturing capabilities due to government limitations. In 2020, the automobile industry's demand also decreased.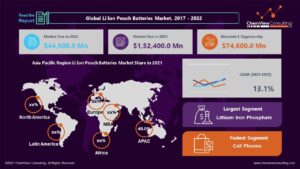 Market Segments Covered in Report
By Chemistry:
Lithium Cobalt Oxide
Lithium Manganese Oxide
Lithium Nickel Manganese Cobalt Oxide
Lithium Iron Phosphate
Lithium Titanate
By Capacity:
1 – 3Ah
5 – 10Ah
10 – 15Ah
16 – 30Ah
40 – 50Ah
50 – 100Ah
By Thickness:
By Rated Voltage:
By End-User:
 Electric Vehicles
Cell Phones
Battery Powered Off-Road Vehicles
Robotics
Energy Storage Systems
Portable Electronic Devices
Utility Meters
Medical Measurements
Portable Devices
By Region and Country:
North America (U.S., Canada)
Latin America (Brazil, Mexico, Rest of Latin America)
Europe (Germany, Italy, France, UK, Spain, Netherlands, Norway, Russia, Rest of Europe)
Asia-Pacific (China, Japan, South Korea, India, Indonesia, Thailand, Vietnam, Australia & New Zealand, Rest of Asia-Pacific)
Middle East (Saudi Arabia, Turkey, UAE, Rest of Middle East)
Africa (South Africa, Nigeria, Egypt, Rest of Africa)
Segment-Wise Analysis
Why are lithium iron phosphate Type Li-Ion Pouch Batteries projected to have a wider market?
Due to its excellent safety record, lithium iron phosphate (LiFePO4) currently accounts for more than 1/3 of the market. LiFePO4 batteries are more thermally stable than li-ion batteries created with other cathode materials and have exceptionally tough chemical properties, making them safer than those made with other cathode materials.
LiFePO4 batteries, which weigh less than half as much as conventional lead acid batteries, are used in most battery-powered off-road vehicles. They are very effective and allow for full battery utilization without affecting the battery's capacity or longevity.
Which end-user segment is expected to create a profitable market for Li-Ion Pouch Batteries?
The most profitable end use is cell phones, which will account for approximately 23.0% of the demand for lithium-ion pouch batteries in 2020. The mobile phone industry and other accessories/end-use applications, such as portable electronic gadgets, drive the demand for these batteries.
The use of cell phones is growing daily as a result of urbanization and technological advancement. Nearly 55% to 60% of people worldwide use mobile phones and other portable electronics like iPods and MP3 players.
Region-Wise Analysis
The regions analyzed for the market include North America, Europe, Latin America, Asia Pacific, the Middle East, and Africa.
The most attractive market for producers of lithium-ion pouch batteries is anticipated to be the Asia Pacific. With a market revenue share of more than 40.0% in 2021, the Asia Pacific region held the top spot. China now dominates the Asia Pacific market and is anticipated to have much faster growth between 2022 and 2032. Most major companies with larger market shares are based in the Asia Pacific.
Due to the rising usage of lithium-ion batteries in energy storage systems, electric cars, and consumer electronics, the market in Germany is anticipated to increase moderately throughout the projected period. Developing renewable energies and energy storage technologies are prominent industries in Germany.
Competition Analysis
The market is competitive, and major players are always developing new products. Several businesses are developing new products to increase their market share globally. For instance, BYD and Panasonic are in a great position because of their expanded production capabilities and extensive distribution networks.
Some of the key developments that have taken place in the Li-Ion Pouch Batteries Market include:
In February 2021, FDK Corporation revealed plans to 25% boost manufacturing capacity by extending its assembly line for high-power cylindrical-type primary lithium-ion batteries.
In April 2021, The M24 lithium-ion battery pack from Flux Power Holding, which can be used in warehouses and distribution centers and provides 244 V, 420 Amp, and a 3,500 cycle lifespan, was recently introduced.
A list of some of the key suppliers present in the market are:
Panasonic Industrial Corporation
Toshiba Corporation
Gee Power
FDK Corporation
SK Innovation Co. Ltd.
Bestgo B Vertical Partners West LLC
EPEC LLC
Enertech International Inc
A123 Systems LLC
FluxPower Battery Co. Ltd.
SOLAR EDGE e-MOBILITY SpA
CUSTOM CELLS ITZEHOE GMBH
Freudenberg Group
Leclanché SA
Echion Technologies
YOK Energy
Servovision Co. Ltd.
DNK Power Company Limited
Amperex Technology Limited
Shenzhen Ace Battery Co. Ltd.
Energy Innovation Group Ltd.
EVE Energy Co. Ltd.
 Global Li-Ion Pouch Batteries Market 2022-2032: Report Coverage and Highlights
Assessment of the historical and current market size (2017-2021), market projections (2022-2032), and its contribution to the parent market
Key drivers, restraints, opportunities, and key emerging trends impacting market growth
Predictions on critical supply, demand, and technological trends and changes in consumer behavior
Value chain analysis (list of manufacturers, distributors, end-users, average profitability margins, etc.)
Segment-wise, country-wise, and region-wise market analysis
Competition mapping, market share analysis, key strategies adopted by top players, and competitive tactical intelligence
Key product innovations and regulatory framework
Covid-19 impact on the market and how to navigate
Strategic market analysis and recommendations on crucial winning strategies
| | |
| --- | --- |
| Research Scope | Details |
| Forecast period | 2022-2032 |
| Historical data available for | 2017-2021 |
| Market analysis | USD Million for Value and Tons for Volume, and CAGR from 2022 to 2032 |
| Key regions covered | North America, Latin America, Europe, Asia-Pacific, Middle East, and Africa |
| Key countries covered | US, Canada, Brazil, Mexico, Germany, Italy, France, UK, Spain, Netherlands, Norway, Russia, China, Japan, South Korea, India, Indonesia, Thailand, Vietnam, Australia & New Zealand, Saudi Arabia, Turkey, UAE, South Africa, Nigeria, Egypt |
| Key segments covered | By Chemistry, Capacity, Thickness, Rated Voltage, End-User, and Region |
| Customization scope | Available upon Request |
| Pricing and purchase options | Available upon Request |