Global Lipid Market Size Analysis
According to a research survey conducted by ChemView Consulting, in 2022, the Global Lipid Market was worth US$ 10,892.1 Mn and is expected to grow at a CAGR of 6.4% over the forecast period. While the historical CAGR is 5.9%, the market is expected to hit US$ 20,254.8 Mn by 2032 end.
Lipids store energy in fat cells and as a source of energy. They play important structural roles in cellular membranes. The movement of water, ions, and other molecules into and out of cells is controlled by this membrane. Lipid-soluble vitamins A, D, E, and K support the regulation of numerous biological functions, including the transport and adsorption of vitamins.
Additionally, lipids serve as shock absorbers to safeguard critical organs and insulate the body from temperature changes. Food and beverage items using active lipid components are in high demand. Demand in the market is anticipated to increase due to consumer preference for chemically durable goods that contain unsaturated fatty acids.
Market Dynamics
GROWING AWARENESS ABOUT THE SUPERIOR FUNCTIONAL PROPERTIES ASSOCIATED WITH LIPIDS
Due to growing urbanization, sedentary lifestyles, and increased fast food consumption, obesity and other health-related problems are on the rise. As a result, people are becoming more health concerned, and there is a rising demand for dietary lipids worldwide.
To preserve the flavor and aroma of their products, many food manufacturing companies are also substituting lipids for synthetic flavoring carriers. Their higher functional qualities, such as density, hydrogenation, and emulsification, are to blame for this.
ALLERGIES RELATED TO LIPID IMPEDES THE GROWTH OF THE LIPID MARKET
Growth of the lipid market is anticipated to be hampered by elements like unsuitability for patients with certain medical conditions, fierce competition among raw material suppliers, problems with the sustainability of fisheries, and decreasing catch quotas. During the forecast period, the lipid market is anticipated to face challenges from rising raw material and technology costs.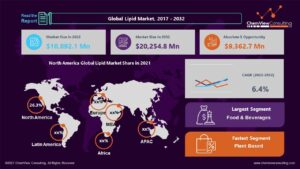 Market Segments Covered in Report
By Source:
By Application:
Food & Beverage
Nutrition & Supplements
Pharmaceuticals
Cosmetics
By Product Type:
Omega 3 & Omega 6
Medium-Chain Triglycerides (MCTs)
Others
By Region and Country:
North America (U.S., Canada)
Latin America (Brazil, Mexico, Rest of Latin America)
Europe (Germany, Italy, France, UK, Spain, Netherlands, Norway, Russia, Rest of Europe)
Asia-Pacific (China, Japan, South Korea, India, Indonesia, Thailand, Vietnam, Australia & New Zealand, Rest of Asia-Pacific)
Middle East (Saudi Arabia, Turkey, UAE, Rest of Middle East)
Africa (South Africa, Nigeria, Egypt, Rest of Africa)
Segment-Wise Analysis
Which source is anticipated to grow throughout the forecast period?
Market dominance and a bigger proportion were both attributed to the plant-based segment. Inhibiting artery hardening, reducing muscle pain, and improving the physical conditions of the brain, hearts, and other body parts that became inflamed, bloated, hot, and painful due to response or infection are all benefits of plant-based lipids. As a result, the market contribution from the plant-based category is anticipated to be substantial.
Which Application is expected to contribute to the maximum sales in Lipids Market?
The food and beverage sector dominated the global lipid market, which held a 55.5% application-based market share. Lipid-based nutrient supplements (LNS) are a line of lipid-based, genetically enhanced products that resemble ready-to-eat therapeutic foods.
Severe acute malnutrition (SAM) in children has been successfully treated using lipid-based supplements, particularly in developing nations like India and China. In emergencies, smaller doses of LNS have become more popular for preventing malnutrition and providing pregnant and breastfeeding women with a nutritious diet.
With the support of these factors, the demand for lipids is anticipated to increase due to their use in creating functional beverages to boost immunity.
Region-Wise Analysis
The regions analyzed for the market include North America, Europe, Latin America, Asia Pacific, the Middle East, and Africa.
With a market share of 26.3%, North America is anticipated to be the most lucrative region in the worldwide lipids market. Increasing health awareness encourages people to include lipids in their regular meals.
Because of rising consumer spending power, the Asia Pacific region is anticipated to be a promising market for the lipid sector. Due to the simple access to palm oil, which is eaten regularly, the need for lipid products is anticipated to increase in Malaysia.
Competition Analysis
To meet customer demand for healthy products, major corporations are investing in the launch of lipid-based organic products. Many players worldwide are developing new nutritious ingredients to increase their presence in the food, beverage, and pharmaceutical industries. They are among the most active firms in the global lipid market.
In the worldwide lipid market, mergers & acquisitions and new product launches are the two most popular techniques. The leading producers on the international market consistently increase both their top and bottom lines. To draw in the lion's share of customers and satisfy their expanding specialized needs, businesses are increasing the proportion of innovations they safeguard.
The key developments in the Global Lipid Market are:
In July 2019, in a joint venture with Evonik, Royal DSM launched Veramaris 50-50, a manufactured omega 3 with a market cap of USD 200 million. Here, marine algae are used to create the lipid, which is advantageous for salmon rearing.
In February 2021, Omega 3 multivitamins were produced by OZiva in line with the current dietary lipid market trend. Several supplements were made per the nutritional lipid market perspective, which helped fuel the marketing trend.
A list of some of the key suppliers present in the market are:
DSM
Polaris
ADM
Stepan Company
BASF SE
Solutes GC
Smith & Zoon
FMC Corporation
Pharma Marine AS
Croda International Plc
Cargill, Incorporated
Aker Bio Marine
Clover Corporation
Omega Protein Corporation
Lonza Group AG
GC Rieber Oil A/S
Kerry
Cellana Inc.
Nordic's Naturals Inc.
Global Lipid Market 2022-2032: Report Coverage and Highlights
Assessment of the historical and current market size (2017-2021), market projections (2022-2032), and its contribution to the parent market
Key drivers, restraints, opportunities, and key emerging trends impacting market growth
Predictions on critical supply, demand, and technological trends and changes in consumer behavior
Value chain analysis (list of manufacturers, distributors, end-users, average profitability margins, etc.)
Segment-wise, country-wise, and region-wise market analysis
Competition mapping, market share analysis, key strategies adopted by top players, and competitive tactical intelligence
Key product innovations and regulatory framework
Covid-19 impact on the market and how to navigate
Strategic market analysis and recommendations on crucial winning strategies
| | |
| --- | --- |
| Research Scope | Details |
| Forecast period | 2022-2032 |
| Historical data available for | 2017-2021 |
| Market analysis | USD Million for Value and Tons for Volume, and CAGR from 2022 to 2030 |
| Key regions covered | North America, Latin America, Europe, Asia-Pacific, Middle East, and Africa |
| Key countries covered | US, Canada, Brazil, Mexico, Germany, Italy, France, UK, Spain, Netherlands, Norway, Russia, China, Japan, South Korea, India, Indonesia, Thailand, Vietnam, Australia & New Zealand, Saudi Arabia, Turkey, UAE, South Africa, Nigeria, Egypt |
| Key segments covered | By Source, Application, Product Type, and Region |
| Customization scope | Available upon Request |
| Pricing and purchase options | Available upon Request |