Liquid Biofuels Market Size Analysis
According to a recent survey conducted by ChemView Consulting, the Global Liquid Biofuels Market grew at a CAGR of 6.8% between 2017-2021 and is estimated to be US$ 62,145.6Mn in 2022. Currently, the market is anticipated to grow at a CAGR of 7.3% and is expected to reach a valuation of US$ 1,25,720.9Mn by 2032 end.
Due to their potential to lessen or completely remove reliance on fossil fuels, biofuels are predicted to experience an increase in demand. These more environmentally friendly energy options employ plant-based raw materials during manufacturing and emit no carbon dioxide during combustion.
Market Dynamic
THE LIQUID BIOFUEL MARKET GAIN MOMENTUM AMIDST ENVIRONMENTAL CONCERNS AND DEPLETING NATURAL RESOURCES
The market for liquid biofuels has developed largely due to some obvious contemporary problems, such as climate change, global warming, price volatility of crude oil, and the depletion of fossil resources. Additionally, the burdensome effects of these difficulties have significantly increased the market's interest in research and development initiatives for biofuels. The creation of fuels and energy sources produced from biomass is continuing to receive attention on a global scale, which is why liquid biofuels are becoming more and more well-liked.
The liquid biofuel industry, which is still in its infancy, is anticipated to enter its golden age over the projected period. The function liquid biofuels play in reducing greenhouse gas emissions is one of the major elements expected to drive their demand in the upcoming years.
HIGH RETROFIT COSTS MAY HINDER MARKET GROWTH
The cost-intensive process of replacing current diesel engines and systems fueled by conventional fossil fuels with biofuel systems may be necessary since full or partial upgrades must be made without compromising the operational hours. Additionally, the investment costs of these plants vary from region to region based on the region's solar intensity and uniformity. The availability of low-cost labor and an abundance of raw materials in the Asia Pacific region contributes significantly to the lower investment costs of these factories than in Europe.
FOCUS ON SUPPLY SECURITY & RISK ABATEMENT OF CONVENTIONAL OIL TO BOOST THE MARKET
The Middle East and North American nations own most of the world's crude oil reserves. However, supply pressure on these reserves has intensified due to rising demand in industrialized countries and even faster-increasing demand in developing nations like China and India. This may be the starting point for future battles between countries that produce oil to control the residual reserves for their use. Therefore, one strategy for risk mitigation in this circumstance is the diversification of energy sources.
Additionally, some regions that produce the most biomass globally, like South America, Russia, and Sub-Saharan Africa, have exceptionally bright futures. Only Russia produces fossil fuels in addition to being one of these regions. As a result, new nations will enter the global energy market, potentially reducing reliance on a small number of countries. Liquid Biofuels development can reduce the dependency on energy for transport, cooking, and other conventional usages. It will also help reduce the use of fossil fuel vehicles as biofuel development can occur in energy-consuming countries and regions.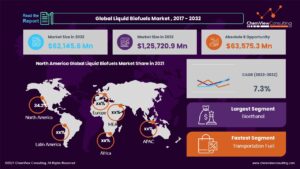 Market Segments Covered in Report
By Product Type:
Biodiesel
Bioethanol
Others
By Application:
Transportation Fuel
Power Generation
Thermal Heating
By Region and Country:
North America (U.S., Canada)
Latin America (Brazil, Mexico, Rest of Latin America)
Europe (Germany, Italy, France, UK, Spain, Netherlands, Norway, Russia, Rest of Europe)
Asia-Pacific (China, Japan, South Korea, India, Indonesia, Thailand, Vietnam, Australia & New Zealand, Rest of Asia-Pacific)
Middle East (Saudi Arabia, Turkey, UAE, Rest of Middle East)
Africa (South Africa, Nigeria, Egypt, Rest of Africa)
Segment-Wise Analysis
What application is increasing in demand in the anticipated period?
By 2032, the amount of transportation-related biofuels consumed must have tripled, in line with the Sustainable Development Scenario (SDS). This contrasts the current level, roughly 3.5%, with 10% of the world's transportation fuel demand.
To balance the adoption of biofuels and advanced biofuel use in the various transportation sectors, as predicted by the sustainable development scenario, stronger policy assistance, and cost-saving innovations are needed. Higher sustainability governance must be combined with sustainable biofuel production because sustainable biofuels have a place in the sustainable development scenario.
Region-Wise Analysis
The regions analyzed for the market include North America, Europe, Latin America, Asia Pacific, Middle East, and Africa.
Due to the region's supply of feedstock and arable land for the production of biofuels, North America has dominated the global market over the past few years, with a 34.2% market share.
With the help of Brazil's booming ethanol output, Latin America is predicted to overtake the United States as the second most important region in the market. Additionally, Argentina is rapidly growing its renewable energy industry, which is positive for this market. As the world's largest producer and consumer of biodiesel, Europe is anticipated to present various attractive prospects for market participants.
Competition Analysis
In light of the long-term advantages and the current regulatory environment, leading market players have embraced sustainable sourcing strategies. To expand and survive in the market, businesses concentrate on providing shareholders with long-term value. The primary stakeholders are developing an effective and low-risk procedure that is anticipated to give the stockholders a solid basis.
A list of some of the key suppliers present in the market are:
Archer Daniels Midland Company
Gevo
Green Plains
Wilmar International
Algenol
Pacific Ethanol Inc.
Valero Energy Corp.
Petrobras; Butamax
Renewable Energy Corp.
Bunge North America Inc.
Report Coverage and Highlights
Our comprehensive, data-backed, and facts-oriented report provides niche and cross-sectional analysis at global and country levels.
Assessment of the historical (actual data) and current market size (2017-2021), market projections (2022-2032), and CAGR.
The market assessment across North America, Europe, East Asia, South Asia & Pacific, Latin America, Middle East, and Africa.
Competitive tactical intelligence, key strategies adopted by top players, production capacity and company shares analysis, product brand surveys, and export-import analysis
Pricing analysis to set and benchmark your current or future offerings across each product type helps you understand whether your pricing strategy is aligned with market expectations and can be compared to market disruptions.
Predictions on critical supply and demand trends and technological expertise needed to address operations scalability.
Consumer behavior shifts and their implications for players, list of end-users, and their consumption analysis.
Key drivers, restraints, opportunities, and emerging trends impacting the market growth.
Value chain analysis (list of manufacturers, distributors, end-users, and average profitability margins).
Strategic market analysis, recommendations, and future headways on crucial winning strategies.
| | |
| --- | --- |
| Research Scope | Details |
| Forecast period | 2022-2032 |
| Historical data available for | 2017-2021 |
| Market analysis | USD Million for Value and Tons for Volume, and CAGR from 2022 to 2032 |
| Key regions covered | North America, Latin America, Europe, Asia-Pacific, Middle East, and Africa |
| Key countries covered | US, Canada, Brazil, Mexico, Germany, Italy, France, UK, Spain, Netherlands, Norway, Russia, China, Japan, South Korea, India, Indonesia, Thailand, Vietnam, Australia & New Zealand, Saudi Arabia, Turkey, UAE, South Africa, Nigeria, Egypt |
| Key segments covered | By Product Type, Application, and Region |
| Customization scope | Available upon Request |
| Pricing and purchase options | Available upon Request |