Global Mining Collectors Market Size Analysis
According to a research survey conducted by ChemView Consulting, in 2022, the Global Mining Collectors Market was worth US$ 5,782.9 Mn and is expected to grow at a CAGR of 5.2% over the forecast period. While the historical CAGR is 4.4%, the market is expected to hit US$ 9,600.7 Mn by 2032 end.
Chemicals called mining collectors are employed to separate minerals from their ores. Due to the difference in their hydrophobicity, mining collectors are typically introduced to the froth flotation process to separate the minerals from the gangue. Minerals are separated from their sulfides, carbonates, and other ores using the froth flotation technique.
The difficult selective separation process is made economically viable by using mining reagents. The global depletion of high-quality reserves has decreased productivity and yield in the mining sector.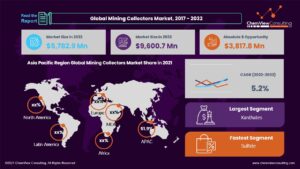 Market Dynamic
INCREASING MINING AND EXPLORATION ACTIVITIES TO DRIVE MINING COLLECTORS' MARKET GROWTH
The mining collectors market is predicted to have great potential throughout the projection period in developing nations like China, Brazil, Peru, South Africa, and others. Governments and mining companies in emerging nations are concentrating on mining most of their country's natural resources to optimize development.
Market Segments Covered in Report
By Product Type:
Xanthates
Dithiophosphates
Dithiocarbamates
Others
By Ore Type:
By Grade:
By Region and Country:
North America (U.S., Canada)
Latin America (Brazil, Mexico, Rest of Latin America)
Europe (Germany, Italy, France, UK, Spain, Netherlands, Norway, Russia, Rest of Europe)
Asia-Pacific (China, Japan, South Korea, India, Indonesia, Thailand, Vietnam, Australia & New Zealand, Rest of Asia-Pacific)
Middle East (Saudi Arabia, Turkey, UAE, Rest of Middle East)
Africa (South Africa, Nigeria, Egypt, Rest of Africa)
Segment-Wise Analysis
Which Product types is most commonly used?
The most popular Mining Collectors are xanthates. On the other hand, dithiophosphates and dithiocarbamates are anticipated to expand at a significant CAGR throughout the forecast period.
Manufacturers are concentrating on creating less expensive xanthates, like sodium-based varieties, and other substitutes, like dithiocarbamates and dithiophosphates, which are more frequently employed in place of xanthates.
Why does the Sulfide ores segment dominate the Mining Collectors market?
The Sulfide ores sector commands the Mining Collectors market in terms of volume and value. The predicted period is expected to see this trend continue. Rapid urbanization and industrialization, particularly in developing nations like India and China, can be largely blamed for the segment's expansion.
Region-Wise Analysis
The regions analyzed for the market include North America, Europe, Latin America, Asia Pacific, the Middle East, and Africa.
With a market share of 51.9% in production and consumption, the Asia Pacific region is predicted to lead the global market for mining collectors. China, a significant player in the mining collectors market in the Asia Pacific, is anticipated to rule the international mining collectors market throughout the forecast year.
Additionally, Latin America holds a sizable market share for mining collectors worldwide. Recently, the demand for mining collectors has increased in nations like Chile, Peru, and Columbia.
Competition Analysis
To maintain their market position and expand their product offerings, the firms use various essential methods, including mergers and acquisitions, joint ventures, partnerships, and innovations.
A list of some of the key suppliers present in the market are:
Orica
Senmin International
SNF FloMin
Clariant
Solvay
Coogee Chemicals
CTC Mining
Vanderbilt Chemicals
QiXia TongDa Flotation Reagent
Yantai Humon Chemical
Tieling Flotation Reagents
Hainan Huarong Chemical
Global Mining Collectors Market 2022-2032: Report Coverage and Highlights
Assessment of the historical and current market size (2017-2021), market projections (2022-2032), and its contribution to the parent market
Key drivers, restraints, opportunities, and key emerging trends impacting market growth
Predictions on critical supply, demand, and technological trends and changes in consumer behavior
Value chain analysis (list of manufacturers, distributors, end-users, average profitability margins, etc.)
Segment-wise, country-wise, and region-wise market analysis
Competition mapping, market share analysis, key strategies adopted by top players, and competitive tactical intelligence
Key product innovations and regulatory framework
Covid-19 impact on the market and how to navigate
Strategic market analysis and recommendations on crucial winning strategies
| | |
| --- | --- |
| Research Scope | Details |
| Forecast period | 2022-2032 |
| Historical data available for | 2017-2021 |
| Market analysis | USD Million for Value and Tons for Volume, and CAGR from 2022 to 2030 |
| Key regions covered | North America, Latin America, Europe, Asia-Pacific, Middle East, and Africa |
| Key countries covered | US, Canada, Brazil, Mexico, Germany, Italy, France, UK, Spain, Netherlands, Norway, Russia, China, Japan, South Korea, India, Indonesia, Thailand, Vietnam, Australia & New Zealand, Saudi Arabia, Turkey, UAE, South Africa, Nigeria, Egypt |
| Key segments covered | By Product Type, Ore Type, Grade,  and Region |
| Customization scope | Available upon Request |
| Pricing and purchase options | Available upon Request |