Nonwoven Materials Market Size Analysis
According to a research survey conducted by ChemView Consulting, in 2022, the Global Nonwoven Materials Market was worth US$ 45.7 Bn and is expected to grow at a CAGR of 6.0% over the forecast period. The market is expected to hit US$ 72.9 Bn by 2030 end.
Nonwoven fabric is mostly used in the textile and automotive sectors since it is lightweight and comfortable to wear. Nonwoven fabric will become even more popular as the demand for personal care products grows worldwide.
With the ongoing Covid-19 epidemic affecting all nations worldwide, the demand for industrial and medical protective gear has never been higher, driving up demand for nonwoven fabric. As a result, the worldwide nonwoven fabric market is expected to increase at a healthy rate from 2020 to 2030.
Market Dynamic
What are the causes driving the rise in demand for Nonwoven Materials?
Demand for nonwoven goods and solutions for hygiene, medicinal, construction, and filtration applications is driving the nonwoven fabrics market growth. The expansion of the contemporary healthcare sector in emerging regions, the rise in birth rates, and the increase in the geriatric population in Western countries are the primary growth drivers of the nonwoven textiles market.
The usage of nonwoven textiles in medical applications is growing due to the advent of low-cost goods for use in cost-conscious hospitals. Disposable and reusable surgical gowns, drapes, gloves, and instrument coverings are often used in hospitals. Several government programs to manage HAIs (Hospital Acquired Infections) advocate the use of nonwoven medical items, such as disposable patient gowns, drapes, and linens, which aid in the reduction of HAI spread.
Automotive manufacturers all around the globe are attempting to lower vehicle weight to make fuel-efficient, low-CO2-emitting vehicles. As a result, the need for lightweight, high-strength materials for interior applications is increasing. Nonwoven fabrics are 15%-20% lighter than competitive materials and can reduce vehicle weight by up to 2 kg.
What are the opportunities in the Nonwoven Materials Market?
Technological advancements have rapidly expanded the textile industry's majority of product areas, particularly nonwoven textiles. New technologies are projected to reduce production costs, making nonwoven textile manufacturing financially viable. Nanofiber and high-performance material technologies are developing as possible alternatives to conventional membranes, opening up new markets for nonwoven makers.
What are the major challenges confronting the Nonwoven Materials Market?
One of the most significant aspects that directly influences the end-product market is the availability of raw materials. More than 80% of the basic material fibers in nonwoven textiles are synthetic. Some raw material fibers, such as polyester and cotton, are widely available and reasonably priced; others, such as carbon fibers, glass fibers, high tenacity yarns, and aramids, are more expensive and difficult to get.
COVID-19 Impact
The nonwoven textiles industry is predicted to increase significantly during COVID-19. In response to the COVID-19 epidemic, nonwoven producers worldwide are expanding their production capacity and investing in technology to meet healthcare needs. During the forecast period, demand for disposable hospital supplies and nonwoven materials is predicted to rise due to an increase in the number of cases globally and a growing requirement for healthcare staff.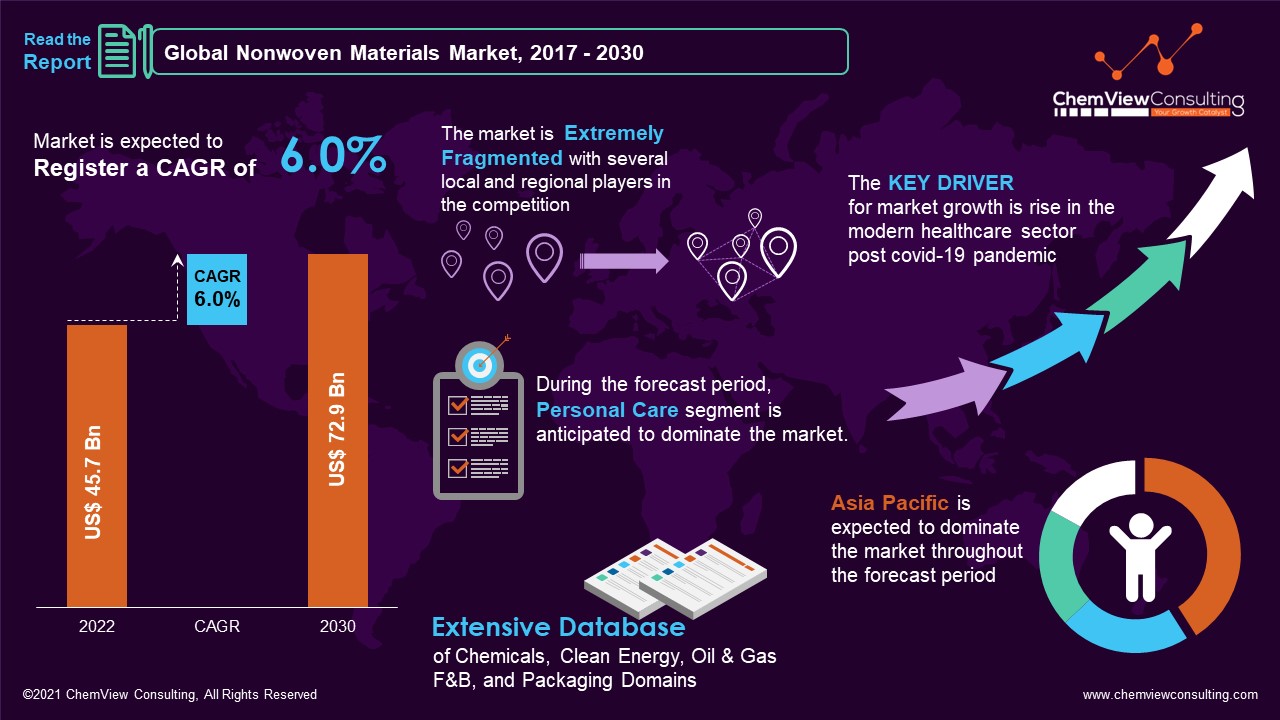 Segment-Wise Analysis
Why are Spunbound segment of  Nonwoven Materials expected to grow at the fastest CAGR?
Based on technology, the spunbond sector is expected to be the largest market for nonwoven textiles. The segment's dominating market position may be attributable to a growth in demand for spunbond nonwovens in various applications such as hygiene goods, construction, coating substrates, agriculture, battery separators, wipes, and filtering. Spunbond is one of the most used processes for producing large volumes of nonwoven textiles.
Why is the Personal care segment likely to grow rapidly throughout the forecast period?
Personal care is expected to be the biggest in the nonwoven textiles market. The outstanding absorption qualities, softness, smoothness, strength, comfort & fit, stretchability, and cost-effectiveness, nonwovens are utilized as an alternative to traditional textiles in hygiene goods. Because of the growth of the COVID-19 pandemic, demand for nonwoven fabrics for hygiene applications is increasing, creating new prospects for nonwoven hygiene product makers.
Which region has promising opportunities in the Nonwoven Materials market?
Factors such as a better global economy, an increasing labor force, and increased domestic demand for hygiene goods are projected to drive the nonwoven fabric market. Because of the unique functional properties offered by nonwoven fabrics, such as hygiene and safety, cost-effectiveness, durability, strength, lightweight, versatility, user-friendliness, environmental friendliness, and logistical convenience, the market for nonwoven fabrics in the Asia Pacific is growing in the automobile, agriculture, geotextiles, industrial/military, medical/healthcare, and construction industries.
The key drivers driving market expansion in these areas include expanding population, increased investments in the medical and healthcare sectors, rising per capita income, and fast developing construction industry.
Competition Analysis
Because of the presence of several players, the market for nonwoven textiles is extremely fragmented. Increased attempts by companies to get more healthcare projects following post-pandemic regulations, in partnership with local and national governments, will exacerbate the rivalry. Aside from that, certain businesses are pursuing alliances, joint ventures, and merger and acquisition tactics to maintain a prominent position in market rivalry.
Some of the key developments that have taken place in the Nonwoven Materials Market include:
In June 2020, Lydall invested in a new fine fiber melt-blown production line to accommodate expanding global demand for face masks. This new manufacturing line will allow Lydall to create high-quality fine fiber melt blown filtering media for N95, surgical, and medical face masks, considerably increasing their supply and helping to alleviate melt blown material shortages in the United States and worldwide.
In May 2020, Berry Global announced adding an asset to its Meltex melt-blown capacity to satisfy the rising demand for face masks during COVID-19. The new line will produce nonwoven protective and filter materials for premium FFP2 (N95) and FFP3 (N99) grade filter media.
In April 2020, in response to COVID-19, Ahlstrom-Munksjo boosted nonwoven manufacturing throughout its whole protective materials offering. The firm has increased its protective materials product line to include civil, surgical, and breathing masks.
A list of some of the key suppliers present in the market are:
Ahlstrom-Munksjo
Berry Global Inc.
Kimberly-Clark Corporation
Glatfelter
Dupont
Toray Industries Inc.
Lydall Inc.
Fitesa
Suominen Corporation
Johns Manville
Market Segments Covered in Report
By Technology:
Spunlaid

Spunbond

Polypropylene
Polyester
Polyethylene
Bicomponent fiber

Spun-Melt-Spun (SMS)
Meltblown

Dryland

Needlepunch
Spunlace
Thermal Bonded
Latex or Chemical Bonded
Airlaid
Carded

Wetland
Others
By Material:
Polypropylene (PP)
Polyethylene (PE)
Polyester
Nylon
Polyurethane
Rayon
By Application:
Construction

Geotextile
Wall Wraps
Ground Covers

Textiles

Furniture Fabrics
Carpet
Medical Protective Apparel
Industrial Protective Apparel

Personal Care

Disposable Diapers
Feminine Care Products
Adult Incontinence
Filtration & Others
By Region and Country:
North America (U.S., Canada)
Latin America (Brazil, Mexico, Rest of Latin America)
Europe (Germany, Italy, France, UK, Spain, Netherlands, Norway, Russia, Rest of Europe)
Asia-Pacific (China, Japan, South Korea, India, Indonesia, Thailand, Vietnam, Australia & New Zealand, Rest of Asia-Pacific)
Middle East (Saudi Arabia, Turkey, UAE, Rest of Middle East)
Africa (South Africa, Nigeria, Egypt, Rest of Africa)
Global Nonwoven Materials Market 2022-2030: Report Coverage and Highlights
Assessment of the historical and current market size (2017-2021), market projections (2022-2030), and its contribution to the parent market
Key drivers, restraints, opportunities, and key emerging trends impacting market growth
Predictions on critical supply, demand, and technological trends and changes in consumer behavior
Value chain analysis (list of manufacturers, distributors, end-users, average profitability margins, etc.)
Segment-wise, country-wise, and region-wise market analysis
Competition mapping, market share analysis, key strategies adopted by top players, and competitive tactical intelligence
Key product innovations and regulatory framework
Covid-19 impact on the market and how to navigate
Strategic market analysis and recommendations on crucial winning strategies
| | |
| --- | --- |
| Research Scope | Details |
| Forecast period | 2022-2030 |
| Historical data available for | 2017-2021 |
| Market analysis | USD Million for Value and Tons for Volume, and CAGR from 2022 to 2030 |
| Key regions covered | North America, Latin America, Europe, Asia-Pacific, Middle East, and Africa |
| Key countries covered | US, Canada, Brazil, Mexico, Germany, Italy, France, UK, Spain, Netherlands, Norway, Russia, China, Japan, South Korea, India, Indonesia, Thailand, Vietnam, Australia & New Zealand, Saudi Arabia, Turkey, UAE, South Africa, Nigeria, Egypt |
| Key segments covered | By Technology, Material, Application, and Region |
| Customization scope | Available upon Request |
| Pricing and purchase options | Available upon Request |