Organic Cheese Market Size Analysis
According to a recent survey conducted by ChemView Consulting, the Global Organic Cheese Market grew at a CAGR of 6.8% between 2017-2021 and is estimated to be US$ 7,345.6 Mn in 2022. Currently, the market is anticipated to grow at a CAGR of 6.5% and is expected to reach a valuation of US$ 13,788.7 Mn by 2032 end.
Throughout the projected period, The organic cheese market is expected to witness significant growth during the forecast period, as the rising inclination of the consumers towards a healthy diet pattern and rising disposable income are the factors that are triggering this market. In addition to this, the easy availability of numerous best organic cheese brands in terms of flavor, size, and taste is fueling the demand for these products.
Market Dynamic
GROWING AWARENESS REGARDING ARTIFICIAL CHEMICAL HARMFULNESS WILL BOOST THE MARKET FOR ORGANIC CHEESE.
The organic cheese market is continuing to grow at a steady pace. Scientific proof of the detrimental health effects of artificial pesticide residues and growing concerns about animal health problems in the dairy sector have resulted in a significant increase in the organic cheese market growth in recent years.
This is likely due to consumers' growing concerns about the health effects of pesticides and herbicides found on conventional products like milk, eggs, and meat (which are commonly used as additives in processed foods such as cheese).
HIGH PRICE TAGS HAMPER THE MARKET GROWTH
The massive price of organic cheese as compared to ordinary cheese is expected to restrain the development of the worldwide organic cheese market shortly.
The organic dairy industry is a challenging one, and it's not surprising that there are many challenges facing it. The cost of organic cheese is constantly rising, which has made it more difficult for small farmers to compete with large-scale farms that can afford to pay higher prices for their milk. This means that smaller farms will have trouble getting their product into supermarkets and restaurants, where it could be truly appreciated.
GROWING PREFERENCE AMONG MILLENNIUM WILL CREATE MORE OPPORTUNITIES FOR THE MARKET
Cheese is a food that has been used for centuries to accompany meals. Cheese has a long history of being made from different types of milk and in different styles. Recently, organic cheese has become very popular. Organic cheese is made from milk that is not treated with pesticides or any other harmful chemicals. This type of cheese is becoming more popular because it does not contain any artificial ingredients.
The use of organic cheese in the production of snacks is expected to rise exponentially as the demand for such products increases due to health concerns regarding regular cheeses.
COVID-19 Impact
The Covid-19 pandemic has had a significant impact on the cheese industry, which is still experiencing bottlenecks in its distribution chain.
As a result of the lockdown, grocery stores and other outlets were closed, including supermarkets and specialty shops. This caused sales volumes and total revenue to drop significantly. In addition to this, the demand for cheese is expected to grow during the post-lockdown period as distribution channels become operational again and the distribution network begins to recover from shutdown effects.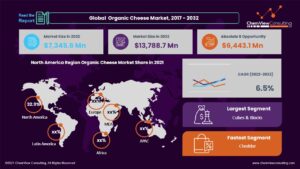 Market Segments Covered in Report
By Product Type :
Cheddar
Hard Continental
Soft Continental
Territorials Ex.Blue
Others
By Distribution Channel :
Specialty Stores
Modern Trade
Convenience Stores
Traditional Grocery Stores
Online store
Other Distribution Channel
By Form :
Cubes & Blocks
Slices
Spreadable
Other Forms
By Region and Country:
North America (U.S., Canada)
Latin America (Brazil, Mexico, Rest of Latin America)
Europe (Germany, Italy, France, UK, Spain, Netherlands, Norway, Russia, Rest of Europe)
Asia-Pacific (China, Japan, South Korea, India, Indonesia, Thailand, Vietnam, Australia & New Zealand, Rest of Asia-Pacific)
Middle East (Saudi Arabia, Turkey, UAE, Rest of Middle East)
Africa (South Africa, Nigeria, Egypt, Rest of Africa)
Segment-Wise Analysis
Why is Cheddar projected to expand the fastest during the forecast period?
The growing popularity of organic cheddar cheese as a versatile ingredient and its use in many prepared recipes continues to drive gains. Widening exposure to unusual and international food varieties is predicted to influence demand for continental organic cheese, by the fast penetration of the internet. During much of the review period, the food service industry's consumption of organic cheddar cheese increased. Smaller restaurants have been reported to consume larger retail packs of organic cheddar cheese, which has fuelled growth in the "block" version of the cheese.
How will specialty retailers increase the demand for organic cheese?
The global market for organic cheese is growing, as more customers are looking for products that are produced in environmentally-friendly ways.
To maintain a strong market share, modern trade companies are stocking more varieties of organic cheese to attract customers with a wide range of tastes and preferences. However, online businesses are focusing on millennial shoppers who polish their purchasing skills on the internet, reviewing product ratings and reviews to aid in decision-making.
Why are New Entrants Supporting the Market for Organic Cheese's Growth?
The organic cheese market is a crowded one, and start-up brands are looking to further their hold on this market with product innovation and incorporating cheese with a diverse range of flavors and other taste innovations. They are collaborating and making continuous efforts to further expand their hold in this market.
Region-Wise Analysis
The regions analyzed for the market include North America, Europe, Latin America, Asia Pacific, Middle East, and Africa.
In 2021, the North American market held a sizeable revenue share of 32.9%. Organic cheese has become more accessible across the United States as consumers are shifting from conventional to organic dairy products for a variety of reasons including concerns about antibiotic use, animal health, and farming's environmental effects.
Consumers in Asia Pacific have been increasingly interested in health and wellness, which has led them to seek out organic products. Dairy products are one of the most popular types of organic foods that are consumed in the Asia Pacific. The rising demand for organic food has also led to an increase in the number of lactose intolerance cases among people. Lactose-intolerant people can eat dairy products like curd, cheese, and yogurt because the lactose in these products is broken down during fermentation.
Competition Analysis
To keep up with conventional cheese sales, several organic cheese companies are focusing on improving and extending their core business through new product introductions. Introducing new tastes to cream cheese and developing organic cheese snack packs to retain and attract new customers are two other areas where manufacturers are focusing their efforts.
Some of the key developments that have taken place in the Organic Cheese Market include:
In 2020, American, Parmesan, Blue, and Swiss cheeses were used to create the organic cheese powder developed by Land O'Lakes.
In August 2020, Glanbia successfully acquired Foodarom (Germany). The acquisition boosted Glanbia's expertise in the field of tastes and nutritional combinations.
A list of some of the key suppliers present in the market are:
Kerry Group Plc
Groupe Lactalis S.A.
Aurora Organic Dairy Corp.
Unilever N.V
The Kroger Co.
Eden Foods, Inc.
Purity Foods, Inc.
Danone
Fonterra Co-operative Group Limited
Organic Valley.
Report Coverage and Highlights
Our comprehensive, data-backed, and facts-oriented report provides niche and cross-sectional analysis at global and country levels.
Assessment of the historical (actual data) and current market size (2017-2021), market projections (2022-2032), and CAGR.
The market assessment across North America, Europe, East Asia, South Asia & Pacific, Latin America, Middle East, and Africa.
Competitive tactical intelligence, key strategies adopted by top players, production capacity and company shares analysis, product brand surveys, and export-import analysis
Pricing analysis to set and benchmark your current or future offerings across each product type helps you understand whether your pricing strategy is aligned with market expectations and can be compared to market disruptions.
Predictions on critical supply and demand trends and technological expertise needed to address operations scalability.
Consumer behavior shifts and their implications for players, list of end-users, and their consumption analysis.
Key drivers, restraints, opportunities, and emerging trends impacting the market growth.
Value chain analysis (list of manufacturers, distributors, end-users, and average profitability margins).
Strategic market analysis, recommendations, and future headways on crucial winning strategies.
| | |
| --- | --- |
| Research Scope | Details |
| Forecast period | 2022-2032 |
| Historical data available for | 2017-2021 |
| Market analysis | USD Million for Value and Tons for Volume, and CAGR from 2022 to 2032 |
| Key regions covered | North America, Latin America, Europe, Asia-Pacific, Middle East, and Africa |
| Key countries covered | US, Canada, Brazil, Mexico, Germany, Italy, France, UK, Spain, Netherlands, Norway, Russia, China, Japan, South Korea, India, Indonesia, Thailand, Vietnam, Australia & New Zealand, Saudi Arabia, Turkey, UAE, South Africa, Nigeria, Egypt |
| Key segments covered | By Product Type, Distribution Channel, Form, and Region |
| Customization scope | Available upon Request |
| Pricing and purchase options | Available upon Request |