Organic Solar Cell  Market Size Analysis
According to a recent survey conducted by ChemView Consulting, the Global Organic Solar Cell  Market grew at a CAGR of 11.6% between 2017-2021 and is estimated to be US$ 97.1 Mn in 2022. Currently, the market is anticipated to grow at a CAGR of 14.5% and is expected to reach a valuation of US$ 376.1 Mn by 2032 end.
OPV cells, which offer long-term performance and improved efficiency, have emerged as a potential PV technology. Additionally, soluble organic compounds enable roll-to-roll manufacturing and are effective in low-light environments.
Market Dynamic
RAPID DEMAND FOR BIPV DRIVES THE MARKET FOR ORGANIC SOLAR CELL
BIPV technology helps buildings to produce their power. The building-integrated photovoltaics (BIPV) products offer added functionalities to a building, whereas traditional construction materials use traditional methods to provide the same functionalities. BIPVs protect buildings from climatic conditions and noise and offer thermal insulation. Henceforth, their popularity has constantly been growing.
HIGH INVESTMENT FOR BIPV COSTS HAMPER THE MARKET GROWTH
BIPV technology is relatively new, expensive, and not widely used in the global market. However, buildings represent a higher proportion of global energy consumption than transportation systems. BIPV technology can convert the building into energy producers by using solar radiation as the main power source. To achieve this, construction technology needs to be merged with BIPV technology.
FAVORABLE GOVERNMENT POLICIES CREATES OPPORTUNITY FOR MARKET
The global market for ZEB is expected to increase in the coming years due to various initiatives by governments and private companies. These initiatives will encourage new constructions to be constructed as zero-energy buildings (ZEB). This report covers global market trends, products/services, size, challenges, opportunities, and growth prospects in the international Zero Energy Building (ZEB) market.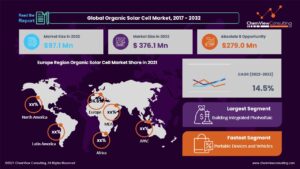 Market Segments Covered in Report
By Type:
Organic photovoltaic cells
Bilayer Membrane Heterojunction
Schottky Type
Others
By Material :
By Application:
Building Integrated Photovoltaic (BIPV)
Portable Electronics
Defense Application
Conventional Solar
Others
By End User :
Commercial
Industrial
Residential
Others
By Region and Country:
North America (U.S., Canada)
Latin America (Brazil, Mexico, Rest of Latin America)
Europe (Germany, Italy, France, UK, Spain, Netherlands, Norway, Russia, Rest of Europe)
Asia-Pacific (China, Japan, South Korea, India, Indonesia, Thailand, Vietnam, Australia & New Zealand, Rest of Asia-Pacific)
Middle East (Saudi Arabia, Turkey, UAE, Rest of Middle East)
Africa (South Africa, Nigeria, Egypt, Rest of Africa)
Segment-Wise Analysis
Why are Organic photovoltaic cells projected to ensure the most revenue during the forecast period?
Organic photovoltaic cells have the potential to produce electricity at a lower cost per unit of energy compared to silicon-based cells. The use of organic solar cells could potentially cut carbon emissions, but they are mechanically weaker and less efficient than their inorganic counterparts. This limits the market's ability to sell and install enough equipment to meet global demand by 2021.
Why is the Building Integrated Photovoltaic segment expected to expand the fastest during the forecast period?
In 2021, The Building Integrated Photovoltaic (BIPV) market was expected to dominate the building integrated photovoltaic (BIPV) segment shortly. Organic photovoltaic cells had the highest revenue share, with 55.0% of the market. Pumped hydro energy storage technology and superior levels of efficiency are anticipated to enhance renewable installations, thereby boosting the BIPV installations over the forecast period. Also, it provides an effective and sustainable solution for retrofitting the structure's exterior while providing an aesthetic appeal to the building.
Region-Wise Analysis
The regions analyzed for the market include North America, Europe, Latin America, Asia Pacific, Middle East, and Africa.
In 2021, the Europe market held a sizeable revenue share of 34.6%. The region relies heavily on oil and natural gas, so it must rely more on renewable energy sources such as hydroelectric plants, wind farms, and solar power plants until alternative fuels are in place due to climate change.
The Asia-Pacific region is set to grow with the highest growth rate during the forecast period. Government tax breaks and subsidies to producers and purchasers of solar power equipment also stimulate the regional market.
Competition Analysis
The organic solar cell (OPV) market has evolved from a niche market to the next frontier for power generation. The rise in the usage of renewable energy, especially for solar plants, is expected to have a huge impact on the development of this particular market segment.
Some of the key developments that have taken place in the Organic Solar Cell  Market include:
In November 2017, In La Rochelle, France, Heliatek constructed the "world's largest building-integrated organic photovoltaic" (BIOPV) system atop a school.
In January 2020, The Danish university Aarhus University was the driving force behind the research project that gave rise to the tiny organic PV technology. The development of light-based, neural-stimulating scaffolds inside the human body is possible thanks to this technology.
A list of some of the key suppliers present in the market are:
Heliatek
ARMOR
infinityPV ApS
Solarmer Energy, Inc.
NanoFlex Power Corporation
Optodot
Eni
New Energy Technologies Inc.
Novaled GmbH
Brite Solar
Report Coverage and Highlights
Our comprehensive, data-backed, and facts-oriented report provides niche and cross-sectional analysis at global and country levels.
Assessment of the historical (actual data) and current market size (2017-2021), market projections (2022-2032), and CAGR.
The market assessment across North America, Europe, East Asia, South Asia & Pacific, Latin America, Middle East, and Africa.
Competitive tactical intelligence, key strategies adopted by top players, production capacity and company shares analysis, product brand surveys, and export-import analysis
Pricing analysis to set and benchmark your current or future offerings across each product type helps you understand whether your pricing strategy is aligned with market expectations and can be compared to market disruptions.
Predictions on critical supply and demand trends and technological expertise needed to address operations scalability.
Consumer behavior shifts and their implications for players, list of end-users, and their consumption analysis.
Key drivers, restraints, opportunities, and emerging trends impacting the market growth.
Value chain analysis (list of manufacturers, distributors, end-users, and average profitability margins).
Strategic market analysis, recommendations, and future headways on crucial winning strategies.
| | |
| --- | --- |
| Research Scope | Details |
| Forecast period | 2022-2032 |
| Historical data available for | 2017-2021 |
| Market analysis | USD Million for Value and Tons for Volume, and CAGR from 2022 to 2032 |
| Key regions covered | North America, Latin America, Europe, Asia-Pacific, Middle East, and Africa |
| Key countries covered | US, Canada, Brazil, Mexico, Germany, Italy, France, UK, Spain, Netherlands, Norway, Russia, China, Japan, South Korea, India, Indonesia, Thailand, Vietnam, Australia & New Zealand, Saudi Arabia, Turkey, UAE, South Africa, Nigeria, Egypt |
| Key segments covered | By Type, Material, Application, End User, and Region |
| Customization scope | Available upon Request |
| Pricing and purchase options | Available upon Request |