Outdoor Power Equipment Market Size Analysis
According to a recent survey conducted by ChemView Consulting, the Global Outdoor Power Equipment Market grew at a CAGR of 4.7% between 2017-2021 and is estimated to be US$ 27,685.4Mn in 2022. Currently, the market is anticipated to grow at a CAGR of 5.1% and is expected to reach a valuation of US$ 45,527.9Mn by 2032 end.
The market for outdoor power equipment is predicted to rise due to increasing urbanization, disposable income, infrastructure development, and rising demand for landscaping services.
Additionally, as people become more aware of environmental issues, more lithium-ion batteries are being used in outdoor power equipment because they are environmentally benign and increase energy output. Many businesses are concentrating on innovation in lithium-ion batteries.
Market Dynamic
GROWING DEMAND FOR LANDSCAPING SERVICES AND INCREASING INTEREST OF HOMEOWNERS IN GARDENING ACTIVITIES
The market is primarily driven by the rising demand for landscaping services from business customers and homeowners looking to improve the aesthetic appeal of their properties.
For various landscaping tasks like lawn upkeep, hardscaping, tree care, lawn renovation, organic or natural lawn care, and snow removal, various outdoor power tools like lawn mowers, hedge trimmers, blowers, and saws are employed.
The outdoor power equipment market is driven by homeowners' increasing propensity to spend more time engaging in outdoor and gardening activities in industrialized nations. Golf course design and maintenance also involve the usage of outdoor power equipment. As the number of golfers and golfers-to-be increases in the upcoming years, the demand for outdoor power equipment will likely increase.
HIGH MAINTENANCE COST AND AVAILABILITY OF OUTDOOR POWER EQUIPMENT ON LEASE
Lawnmowers and hedge trimmers are examples of outdoor power equipment. Many outdoor power equipment components, including motors, air, and fuel filters, need routine maintenance.
Outdoor power equipment needs to be calibrated regularly to ensure exact operations. Oiling, sharpening, changing parts, and other repairs necessary for the correct operation of tools are all included in routine maintenance. As a result, maintaining outdoor power equipment is rather expensive.
Consumers, especially those in developing nations, are unwilling to spend much money maintaining this equipment because laborers are readily accessible for less money. These maintenance and repair requirements also raise the expense of owning outdoor power equipment.
DEVELOPMENT OF SMART AND CONNECTED OUTDOOR POWER EQUIPMENT
Manufacturers prioritize providing linked equipment in response to the increased acceptance of IoT devices and the appeal of smart and connected products. The development of smart and connected gadgets results from technological advancements and the acceptance of wireless networking techniques.
Leading outdoor power equipment producers increasingly emphasize the creation of connected and smart outdoor power equipment. For instance, John Deere began providing JDLink, a digital platform that gathers real-time equipment data and communicates it to John Deere repair centers to customers at no additional cost.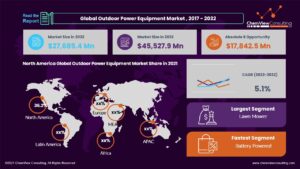 Market Segments Covered in Report
By Power:
Gasoline
Battery Powered
Electric Corded
By Type:
Lawn Mower
Walk-Behind Lawn Mowers
Ride-on Lawn Mowers
Robotic Lawn Mowers
Zero-Turn Mowers
Chainsaw
Trimmer & Edger
Trimmers & Brush Cutter
Hedge Trimmers
Walk-Behind Edgers & Trimmers
Blowers
Snow
Leaf
Tillers & Cultivators
Snow Throwers
Others
By End-Use:
Residential
Commercial/ Government
By Region and Country:
North America (U.S., Canada)
Latin America (Brazil, Mexico, Rest of Latin America)
Europe (Germany, Italy, France, UK, Spain, Netherlands, Norway, Russia, Rest of Europe)
Asia-Pacific (China, Japan, South Korea, India, Indonesia, Thailand, Vietnam, Australia & New Zealand, Rest of Asia-Pacific)
Middle East (Saudi Arabia, Turkey, UAE, Rest of Middle East)
Africa (South Africa, Nigeria, Egypt, Rest of Africa)
Segment-Wise Analysis
Why does lawn mowers the most extensively used outdoor power equipment in the market?
The outdoor power equipment market is expected to be dominated by the segment of lawnmowers. The rising popularity of lawn and garden maintenance tasks among residential users and the increasing need for landscaping services contribute to the rising demand for lawnmowers.
Municipalities and landscaping service companies are some more significant end consumers of lawnmowers. The popularity of turf sports like golf also drives up the demand for lawnmowers.
Why is battery powered segment increasing in demand in the anticipated period?
It is anticipated that the battery power source market will grow at a CAGR more than 6.9% during the projection period. Because they are more affordable to buy online and have cheaper delivery costs than gasoline-powered alternatives, battery-powered sources are growing in popularity.
Additionally, many online shops are modifying their inventories to comply with the latest legislative directives for creating products for electric outdoor power equipment.
Region-Wise Analysis
The regions analyzed for the market include North America, Europe, Latin America, Asia Pacific, Middle East, and Africa.
The North American market held a 36.2% share of the global market. Due to North America's bigger geographic size than its population, which results in more gardens and lawns, the regional market is expected to grow.
Throughout the projection period, it is anticipated that the Asia Pacific market will grow at a 6.5% CAGR. The considerable growth rate of the region is a result of changing lifestyles and increased disposable income in several developing nations, like China and India.
Competition Analysis
The market is divided and is characterized by fierce competition among businesses. These businesses concentrate on product innovation, product launches, and R&D expenditures. Numerous companies prioritize producing affordable and ergonomic items as a core component of their product offers.
The recent developments in the Global Outdoor Power Equipment Market:
In January 2022, Keo, a cordless yard saw, was introduced by Robert Bosch GmbH. Keo is one of the goods produced by the cooperation between Husqvarna Group and 18V Power for All System. The product features a strong interchangeable battery pack with replaceable saw blades for DIY applications.
In September 2021, the MSA 300 cordless chainsaw from STIHL will be lighter and offer higher energy content. The STIHL AP 500 S battery pack is included with this, which is made for professional use in industries including forestry, landscaping, and horticulture.
A list of some of the key suppliers present in the market are:
Husqvarna AB
Makita Corp
Honda Motors Co. Ltd
Briggs & Stratton Corp.
Andreas Stihl AG & Company KG
MTD Holdings Inc.
Stanley Black and Decker Inc.
Andreas Stihl AG & Company KG
CHERVON (China) Trading Co., Ltd
Techtronic Industries Ltd.
Yamabiko Corporation
Robert Bosch
AL-KO Kober Group
Ariens Company
The Toro Company
Deere & Company
Report Coverage and Highlights
Our comprehensive, data-backed, and facts-oriented report provides niche and cross-sectional analysis at global and country levels.
Assessment of the historical (actual data) and current market size (2017-2021), market projections (2022-2032), and CAGR.
The market assessment across North America, Europe, East Asia, South Asia & Pacific, Latin America, Middle East, and Africa.
Competitive tactical intelligence, key strategies adopted by top players, production capacity and company shares analysis, product brand surveys, and export-import analysis
Pricing analysis to set and benchmark your current or future offerings across each product type helps you understand whether your pricing strategy is aligned with market expectations and can be compared to market disruptions.
Predictions on critical supply and demand trends and technological expertise needed to address operations scalability.
Consumer behavior shifts and their implications for players, list of end-users, and their consumption analysis.
Key drivers, restraints, opportunities, and emerging trends impacting the market growth.
Value chain analysis (list of manufacturers, distributors, end-users, and average profitability margins).
Strategic market analysis, recommendations, and future headways on crucial winning strategies.
| | |
| --- | --- |
| Research Scope | Details |
| Forecast period | 2022-2032 |
| Historical data available for | 2017-2021 |
| Market analysis | USD Million for Value and Tons for Volume, and CAGR from 2022 to 2032 |
| Key regions covered | North America, Latin America, Europe, Asia-Pacific, Middle East, and Africa |
| Key countries covered | US, Canada, Brazil, Mexico, Germany, Italy, France, UK, Spain, Netherlands, Norway, Russia, China, Japan, South Korea, India, Indonesia, Thailand, Vietnam, Australia & New Zealand, Saudi Arabia, Turkey, UAE, South Africa, Nigeria, Egypt |
| Key segments covered | By Power, Type, End-Use, and Region |
| Customization scope | Available upon Request |
| Pricing and purchase options | Available upon Request |