Pigments Market Size Analysis
According to a research survey conducted by ChemView Consulting, in 2022, the Global Pigments Market was worth US$ 38.3 Bn and is expected to grow at a CAGR of 5.3% over the forecast period. The market is expected to hit US$ 57.8 Bn by 2030 end.
Pigments are solid materials used to improve the appearance of a substrate or add color to the medium in which they are utilized. These improve qualities like light and weather resistance, thermal stability, hiding power, and tinting strength. Pigments impart a distinct appearance and style effect to plastic items.
Market Dynamic
What are the causes driving the rise in demand for Pigments?
The global Pigments Market is expected to develop due to increased demand for high-performance pigments (HPP) and rising consumer preference for environmentally friendly products. Pigments improve the stability and resistance of plastics to weather conditions such as heat and moisture.
What opportunities exist in the Pigments Market?
More use of nanotechnology in pigment manufacture to improve mechanical and optical qualities is projected to be a prominent trend in the industry.
Growing housing projects and increased infrastructure activity frequency worldwide have created new opportunities for paints and coatings, plastics, and building materials. Furthermore, pigment demand is expected to expand significantly over the assessment period, with a noticeable move toward sustainable and eco-friendly products.
What are the most significant issues affecting the Pigments Market?
Rising energy and raw material prices are the key limitations inhibiting pigment expansion internationally. The price element has been a battleground for pigment providers in their efforts to sell pigments to diverse end-use sectors.
In recent years, environmental and regulatory organizations have begun examining the pigment sector for dangerous pollutants. The main difficulty in the pigment sector is achieving supply stability for intermediates and finished products.
COVID-19 Impact
In 2020, the pigments Industry, like other firms worldwide, saw a significant drop in its annual valuation. It was due to restricted supply chain capabilities due to stringent lockdown procedures.
In 2020, product pricing, raw material sourcing, and procurement risks were volatile. As a result, the market deteriorated by 2.0% year on year. Due to high demand from the construction, paints, coatings, and printing inks industries, the business returned from 2021 onwards.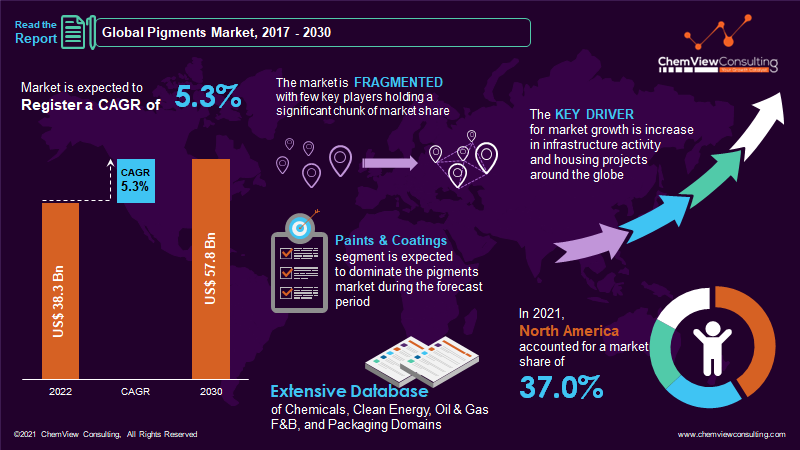 Segment-Wise Analysis
Why is Paint & Coatings projected to lead the pigments market?
Rapid urbanization and housing projects worldwide have increased the demand for paints and coatings. This expansion has prompted the use of pigments at the same time. The demand curve for pigments in paints and coating applications has been steadily rising due to manufacturers' enhanced adaptability and chemical composition.
Customers demand a glossy wall surface, which can be efficiently improved by adding pigments to paints. These pigments diminish the cause of weathering and work as efficient binders to keep the glossy and colorful appearance of walls for a longer period.
Why is the Organic pigment segment likely to grow rapidly throughout the forecast period?
Organic pigments include carbon atoms, are non-toxic, have a low toxicity level, and are thus safe for the environment. Organic pigments have great color strength and durability and are available in a wider range of vibrant colors. They tend to be less opaque and chemically inert.
What benefits are obtained from inorganic pigments?
Inorganic pigments are coloring compounds created by calcining metal oxides at high temperatures. They have a high light fastness and a high hiding power, are non-migratory, non-wrapping, and do not bleed. Inorganic pigments are more resistant to adverse weather and high temperatures than organic pigments. Hence they are frequently employed in paints and coatings, polymers, construction materials, printing ink, and other applications.
How is Printed Ink making inroads into the Pigments market?
Printing ink firms use pigments to improve color fidelity. Pigments used in printing ink applications can be obtained naturally or synthetically. Furthermore, these pigments have demonstrated high rates of acceptance in printing inks, which has increased overall pigment demand.
Pigments are colorants insoluble in water and other key solvents and are utilized in various printing inks.
Why is North America projected to grow exponentially in the forecast period?
During the projection period, the North America area is expected to have the greatest CAGR with a market share of 37%. The high CAGR is mostly attributable to rising disposable income and urbanization in these countries. The mature automobile industry also contributes to the growth in demand for pigments in the region.
Why is China consolidating its worldwide leadership in the Pigments Market?
As the world's leading producer and user of pigments, China efficiently maintains a supply chain network to deliver high-end solutions to end-use industries. Over the last few decades, China has produced the most pigments, making it the world's largest producer.
China is home to a cheap labor force, which helps firms cut their entire production costs. High output and process optimization have assisted China in obtaining enhanced work to aid the paints and coatings, printing inks, and construction industries.
Competition Analysis
The global pigments market is largely fragmented. Companies are introducing new products to better connect their services with changing consumer behaviors and new government regulations and environmental rules. Pigment producers focus on cultivating ecological sustainability due to increased consumer awareness about using eco-friendly products.
Some of the key developments that have taken place in the Pigments Market include:
In July 2021, Sun Chemical's production site in Goose Creek, South Carolina, USA, was acquired by DCL. It would provide specialist pigment families with the best performance, particularly high chromaticity, durability, heat stability, and transparency, for the most demanding applications, such as automotive, industrial coatings, and engineered plastics.
In June 2021, DIC intended to complete its acquisition of BASF SE's worldwide Colors and Effects business in the first half of 2021 to increase its market share in the organic Pigments Market.
In 2019, Venator introduced a new pigment product line for increasing solar reflectance and ultra-low moisture applications in the plastics industry.
A list of some of the critical suppliers present in the market are:
Chemours
TRONOX Holding PLC
Venator
Lomon Billions Group
KRONOS Worldwide Inc.
LANXESS
DIC Corporation
Altana AG
Heubach GmbH
Ferro Corporation
Cathay Industries Group
Market Segments Covered in Report
By Product Type:
Inorganic Pigments
Titanium Dioxide
Iron Oxide
Carbon Black
Chromium Compounds
Others
Organic Pigments
Azo
Phthalocyanine
Quinacridone
Others
Specialty Pigments
Classic Organic
Metallic
High performance organic
Light Interference
Complex Inorganic
Fluorescent
Luminescent/phosphorescent
Thermochromic
Others
By Application:
Paints & Coatings
Printing Inks
Plastics
Commodity
Engineered
Construction Materials
Others
By Region and Country:
North America (U.S., Canada)
Latin America (Brazil, Mexico, Rest of Latin America)
Europe (Germany, Italy, France, UK, Spain, Netherlands, Norway, Russia, Rest of Europe)
Asia-Pacific (China, Japan, South Korea, India, Indonesia, Thailand, Vietnam, Australia & New Zealand, Rest of Asia-Pacific)
Middle East (Saudi Arabia, Turkey, UAE, Rest of Middle East)
Africa (South Africa, Nigeria, Egypt, Rest of Africa)
Global Pigments Market 2022-2030: Report Coverage and Highlights
Assessment of the historical and current market size (2017-2021), market projections (2022-2030), and its contribution to the parent market
Key drivers, restraints, opportunities, and key emerging trends impacting market growth
Predictions on critical supply, demand, and technological trends and changes in consumer behavior
Value chain analysis (list of manufacturers, distributors, end-users, average profitability margins, etc.)
Segment-wise, country-wise, and region-wise market analysis
Competition mapping, market share analysis, key strategies adopted by top players, and competitive tactical intelligence
Key product innovations and regulatory framework
Covid-19 impact on the market and how to navigate
Strategic market analysis and recommendations on crucial winning strategies
| | |
| --- | --- |
| Research Scope | Details |
| Forecast period | 2022-2030 |
| Historical data available for | 2017-2021 |
| Market analysis | USD Billion for Value and Tons for Volume, and CAGR from 2022 to 2030 |
| Key regions covered | North America, Latin America, Europe, Asia-Pacific, Middle East, and Africa |
| Key countries covered | US, Canada, Brazil, Mexico, Germany, Italy, France, UK, Spain, Netherlands, Norway, Russia, China, Japan, South Korea, India, Indonesia, Thailand, Vietnam, Australia & New Zealand, Saudi Arabia, Turkey, UAE, South Africa, Nigeria, Egypt |
| Key segments covered | By Product Type, Application, and Region |
| Customization scope | Available upon Request |
| Pricing and purchase options | Available upon Request |