Plant-based Yogurt Market Size Analysis
According to a recent survey conducted by ChemView Consulting, the Global Plant-based Yogurt Market grew at a CAGR of 10.6% between 2017-2021 and is estimated to be US$ 1897.4 Mn in 2022. Currently, the market is anticipated to grow at a CAGR of 12.9% and is expected to reach a valuation of US$ 6,384.1 Mn by 2032 end.
The market for plant-based yogurt, which was previously thought to be in its infancy, has recently experienced a surge, partly due to flexitarians, who alternate between eating dairy and non-dairy products. These yogurts now taste much better, with more flavor options than before.
Market Dynamic
TASTE FOR EXOTIC AND NOVEL FLAVORS TIPS THE SCALES IN FAVOR OF PLANT-BASED YOGURT
Traditional flavors are losing their appeal to consumers more quickly than anticipated. They want more indulgent experiences, and they won't probably be afraid to try new and unusual flavors. Their bold decisions have given rise to several developments in plant-based products and improved ingenuity to satisfy sweet needs.
The cultured dairy industry is expanding and becoming more congested than ever on the shelves. The market for plant-based yogurt is positioned to expand and grow due to several intriguing developments that have emerged over the past few years.
Health professionals praise the advantages of eating cultured yogurt, including improved gut health and weight management. The addition of fresh flavors to plant-based goods helps with this.
HIGH COST & POOR MANUFACTURING PRACTICES TO CURB GROWTH POTENTIAL
By merely adopting the popular veganism practice, the global food industry has undergone one of the most profound cultural shifts in recent years. The number of vegans is growing, ranging from middle-class members to well-known athletes or celebrities.
Due to shifting consumer attitudes regarding food and the environment, these situations have enabled dairy-free producers to focus more on "better for you" goods. The largest consumer base comprises the Gen Z or millennial generation, which will drive rapid expansion. Many businesses are also reacting to the growing veganism trend, which is spearheaded by the younger generation.
SURGING OPPORTUNITIES FOR THE MARKET PLAYERS TO EXPAND IN UNTAPPED MARKETS
In contrast to wealthy nations in North America and Europe, the vegan market is still in its early stages in many other countries. In industrialized nations, popular yogurt flavors like chocolate, strawberry, and blueberry are launched. The tendencies are different in developing nations where the market is in its infancy. Trends in terms of the source are emerging in these developing regions. In developing countries, soy is the most popular vegan food ingredient because customers are unaware of alternative options like rice, oats, and peas. By making significant investments in the domestic R&D divisions of the corporations, new and appealing flavors can also be introduced in these new areas.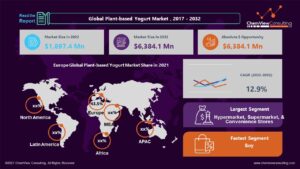 Market Segments Covered in Report
By Product:
By Distribution Channel:
Hypermarkets, Supermarkets, & Convenience Stores
Specialty Stores
Online
By Nature:
By Flavour:
Regular
Vanilla
Strawberry
Blueberry
Cherry
Peach
Raspberry
Coconut
Coffee
Others
By Price Range:
By Region and Country:
North America (U.S., Canada)
Latin America (Brazil, Mexico, Rest of Latin America)
Europe (Germany, Italy, France, UK, Spain, Netherlands, Norway, Russia, Rest of Europe)
Asia-Pacific (China, Japan, South Korea, India, Indonesia, Thailand, Vietnam, Australia & New Zealand, Rest of Asia-Pacific)
Middle East (Saudi Arabia, Turkey, UAE, Rest of Middle East)
Africa (South Africa, Nigeria, Egypt, Rest of Africa)
Segment-Wise Analysis
Which is the most important product segment in the Plant-based Yogurt market?
The soy section was responsible for the largest portion of revenue. Consumers are becoming increasingly interested in plant-based foods, especially dairy substitutes like soy yogurt. In addition, compared to yogurt made from milk, these yogurts made from seeds are a fantastic source of protein. Yogurt made from soybeans lowers blood sugar and cholesterol levels. These advantages are increasing consumer demand for vegan products made from soy, which is boosting the market.
Which distribution channel is expected to expand the fastest during the forecast period?
Over 50.0% of sales were generated by supermarkets, hypermarkets, and convenience stores. Global grocery store chains operated by Walmart, Target, 7Eleven, SPAR, Aldi, Carrefour, and Lidl have a sizable client base. For instance, the Target Inc. official website states that approximately 26 new locations are anticipated to be opened nationwide. Consumers' growing choice is also driving the market for non-dairy yogurt. Over the projected term, it is expected that these consumer patterns will keep this distribution channel in the lead.
Region-Wise Analysis
The regions analyzed for the market include North America, Europe, Latin America, Asia Pacific, Middle East, and Africa.
More than 43.5% of the market's revenue was generated in Europe. The region is expected to maintain its dominance in developed economies like Germany, the United Kingdom, and France due to consumers' favorable attitudes about plant-based foods as a consequence of an increase in social media campaigns and satellite television channels.
From 2023 to 2032, the market revenue from Asia Pacific is projected to grow at a CAGR of 3%. It is anticipated that soy yogurt will continue to significantly impact in the coming years because of rising domestic knowledge of gluten-free products in nations like Japan. Additionally, the market in the region has been expanding because of the rising number of people who are lactose intolerant and the growing consumer demand for a vegan diet.
Competition Analysis
The world market for plant-based yogurt has become extremely consolidated due to multiple behemoths. Increasing their portfolio and growing their distribution networks are two important techniques businesses use to become more competitive. The global market is growing at a remarkable rate due to multinational corporations focused on acquiring and establishing production facilities in developing nations.
The majority of businesses greatly value taking a consumer-centric approach. For instance, a good plan and research into consumer behavior patterns guide product introductions. In light of this, more businesses are incorporating exotic ingredients into non-dairy yogurts.
Some of the key developments that have taken place in the Plant-based Yogurt Market include the following:
In March 2022, The AYO firm created a "plain almond milk yogurt" in various flavors to introduce a new plant-based yogurt line. Because the product is created from almonds that have been farmed, it is suitable for vegan or keto diet adherents. The item can also make dips, desserts, or smoothies.
In November 2021, Plant Veda, a renowned producer of dairy alternatives, just introduced "Plant Gurt," a plant-based yogurt that contains millions of live probiotics and can be used with smoothies or breakfast cereals.
A list of some of the key suppliers present in the market are:
Danone S.A.
General Mills Inc.
Oatly A.B.
Forager Project
Coyo Pty Ltd
Nancy's Probiotic Foods
Chobani Global Holdings
Kite Hill
Daiya Foods Inc.
GT's Living Foods LLC
Report Coverage and Highlights
Our comprehensive, data-backed, and facts-oriented report provides niche and cross-sectional analysis at global and country levels.
Assessment of the historical (actual data) and current market size (2017-2021), market projections (2022-2032), and CAGR.
The market assessment across North America, Europe, East Asia, South Asia & Pacific, Latin America, Middle East, and Africa.
Competitive tactical intelligence, key strategies adopted by top players, production capacity and company shares analysis, product brand surveys, and export-import analysis
Pricing analysis to set and benchmark your current or future offerings across each product type helps you understand whether your pricing strategy is aligned with market expectations and can be compared to market disruptions.
Predictions on critical supply and demand trends and technological expertise needed to address operations scalability.
Consumer behavior shifts and their implications for players, list of end-users, and their consumption analysis.
Key drivers, restraints, opportunities, and emerging trends impacting the market growth.
Value chain analysis (list of manufacturers, distributors, end-users, and average profitability margins).
Strategic market analysis, recommendations, and future headways on crucial winning strategies.
| | |
| --- | --- |
| Research Scope | Details |
| Forecast period | 2022-2032 |
| Historical data available for | 2017-2021 |
| Market analysis | USD Million for Value and Tons for Volume, and CAGR from 2022 to 2032 |
| Key regions covered | North America, Latin America, Europe, Asia-Pacific, Middle East, and Africa |
| Key countries covered | US, Canada, Brazil, Mexico, Germany, Italy, France, UK, Spain, Netherlands, Norway, Russia, China, Japan, South Korea, India, Indonesia, Thailand, Vietnam, Australia & New Zealand, Saudi Arabia, Turkey, UAE, South Africa, Nigeria, Egypt |
| Key segments covered | By Product, Distribution Channel, Nature, Flavour, Price Range,  and Region |
| Customization scope | Available upon Request |
| Pricing and purchase options | Available upon Request |