Solar Thermal Market Size Analysis
According to a recent survey conducted by ChemView Consulting, the Global Solar Thermal Market grew at a CAGR of 4.7% between 2017-2021 and is estimated to be US$ 19,463.5  Mn in 2022. Currently, the market is anticipated to grow at a CAGR of 4.6% and is expected to reach a valuation of US$ 30,516.7 Mn by 2032 end.
The market is anticipated to grow in response to rising demand throughout the projected period. Due to the green energy goals that nations have established, solar thermal energy has become more popular recently in all locations.
Market Dynamic
THE RISE IN THE ADOPTION OF CLEAN FUEL ALTERATION DRIVES THE MARKET FOR SOLAR THERMAL
The solar thermal market is an energy generation system for space or off-grid applications. The increasing emphasis on adopting clean fuel alternatives to curb carbon emissions is one of the primary factors driving the growth of the solar thermal market. Solar thermal systems can be deployed for diverse applications, which certainly reduces fossil fuel dependency. This, coupled with the operational and economic advantages for the user and the service provider, will act as the driving factors for solar thermal market growth.
MASS AVAILABILITY &  LESS KNOWLEDGE OF PRODUCTS HAMPER THE MARKET GROWTH
Some key factors that will reduce the market growth in the forecast period are limited mass availability, lack of knowledge of potential demand, and growing competition from other product categories.
GOVERNMENT INITIATION WILL CREATE MORE OPPORTUNITIES FOR THE MARKET
The solar thermal market is expected to witness high growth during the forecast period, mainly driven by a growing demand for desalination and other industrial applications. The government's efforts to promote green energy, expand installation base, and strong support offered by government agencies and energy-efficient building standards. The global solar energy market development has increased the expectations for this technology.
COVID-19 Impact
The abrupt coronavirus outbreak has had a negative impact on the expansion of utility applications. In several projects, the installation of Solar Thermal systems was declining in 2021. Additionally, the worldwide closure of production facilities in 2020's first and second quarters is to blame for slowing the market's expansion.
However, it is anticipated that the adoption of batteries and, therefore, Solar Thermal systems will expand due to the growing installation of Solar Thermal systems in operational projects and the growing government focus on upgrading the electricity sector. The market value might not catch up to the pre-COVID-19 value until 2027.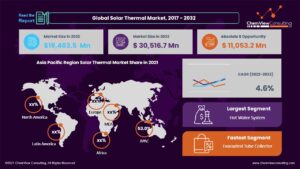 Market Segments Covered in Report
By Collector Type:
Evacuated Tube Collector
Flat Plate Collector
Unglazed Water Collector
Air Collector
By Type of System:
Thermosiphon Solar Heating Systems
Pumped Solar Heating System
By Application :
Domestic hot water systems
Large DHW systems
Solar Combi systems
Swimming pool heating
Others
By Region and Country:
North America (U.S., Canada)
Latin America (Brazil, Mexico, Rest of Latin America)
Europe (Germany, Italy, France, UK, Spain, Netherlands, Norway, Russia, Rest of Europe)
Asia-Pacific (China, Japan, South Korea, India, Indonesia, Thailand, Vietnam, Australia & New Zealand, Rest of Asia-Pacific)
Middle East (Saudi Arabia, Turkey, UAE, Rest of Middle East)
Africa (South Africa, Nigeria, Egypt, Rest of Africa)
Segment-Wise Analysis
Why is Evacuated Tube Collector projected to ensure the most revenue during the forecast period?
The evacuated tube solar thermal collector segment is dominant in the global solar thermal market, with a share of around 69.0% in revenue. This segment is also expanding at an impressive rate and is expected to continue its growth throughout the forecast period. The demand for solar thermal is growing rapidly due to its dual benefits like reducing CO2 emission, increasing energy efficiency, and reducing energy expenditure. Moreover, countries like the USA, Europe, and Japan are driving the global solar thermal market in terms of demand.
Why is the Thermosiphon Solar Heating Systems segment expected to expand the fastest during the forecast period?
In 2021, The teralsiphon systems were gaining popularity as a more affordable alternative to solar thermal systems. The usage of this technology is growing in regions like Africa, South America, and the Middle East. In these regions, there is a need for a hot water supply during winter. These systems are also used for pool heating in warmer climates. Severe weather conditions make it hard to rely on solar power alone.
Region-Wise Analysis
The regions analyzed for the market include North America, Europe, Latin America, Asia Pacific, Middle East, and Africa.
In 2021, the Asia Pacific market held a sizeable revenue share of 53.0%. China has a large hot water market; solar thermal systems are deployed for domestic hot water system applications. Solar thermal devices are equipped with a heat transfer fluid to transfer heat from the collector to the dish or panel and then radiate it toward the absorber.
The U.S. is the main driver of regional growth in North America, which has the second-largest proportion of the Solar Thermal systems market. On the other hand, swimming pool applications for solar thermal systems are common throughout North America. Thus, the solar thermal energy trend finds its application dependent on the specific requirement in a certain place, and this is further predicted to continue in the projection term.
Competition Analysis
Manufacturers dominate the solar thermal market at a national scale. Some major solar thermal industry companies include the Murugappa group, Welspun energy group, and Tata power corporation. The increasing focus on R&D activities has enabled key players to pursue new projects of more efficient equipment procured from leading vendors in the industry.
Some of the key developments that have taken place in the Solar Thermal Market include:
In July 2021, a Concentrated Solar Thermal (CST) testing facility was created in Hyderabad to aid India's expanding solar industry. This facility allows solar thermal components, including solar receiver tubes, heat transfer fluids, and concentrating mirrors, to be tested.
In 2020, Absolicon Solar Co., Ltd was a professional manufacturer of solar collectors connected to German technology. By using innovative technologies, the company comes up with a wide range of systems designed with the utmost ease of use and efficiency.
A list of some of the key suppliers present in the market are:
HTP Comfort Solutions LLC
Heliodyne, Inc.
Solimpeks
Sunerg Solar s.r.l.
Absolicon Solar Collector AB
GREENONETEC SOLARINDUSTRIE GMBH
SunEarth
Ouraset
TVP Solar
Alternate Energy Technologies, LLC
Report Coverage and Highlights
Our comprehensive, data-backed, and facts-oriented report provides niche and cross-sectional analysis at global and country levels.
Assessment of the historical (actual data) and current market size (2017-2021), market projections (2022-2032), and CAGR.
The market assessment across North America, Europe, East Asia, South Asia & Pacific, Latin America, Middle East, and Africa.
Competitive tactical intelligence, key strategies adopted by top players, production capacity and company shares analysis, product brand surveys, and export-import analysis
Pricing analysis to set and benchmark your current or future offerings across each product type helps you understand whether your pricing strategy is aligned with market expectations and can be compared to market disruptions.
Predictions on critical supply and demand trends and technological expertise needed to address operations scalability.
Consumer behavior shifts and their implications for players, list of end-users, and their consumption analysis.
Key drivers, restraints, opportunities, and emerging trends impacting the market growth.
Value chain analysis (list of manufacturers, distributors, end-users, and average profitability margins).
Strategic market analysis, recommendations, and future headways on crucial winning strategies.
| | |
| --- | --- |
| Research Scope | Details |
| Forecast period | 2022-2032 |
| Historical data available for | 2017-2021 |
| Market analysis | USD Million for Value and Tons for Volume, and CAGR from 2022 to 2032 |
| Key regions covered | North America, Latin America, Europe, Asia-Pacific, Middle East, and Africa |
| Key countries covered | US, Canada, Brazil, Mexico, Germany, Italy, France, UK, Spain, Netherlands, Norway, Russia, China, Japan, South Korea, India, Indonesia, Thailand, Vietnam, Australia & New Zealand, Saudi Arabia, Turkey, UAE, South Africa, Nigeria, Egypt |
| Key segments covered | By Collector Type, Type of System System, Application, and Region |
| Customization scope | Available upon Request |
| Pricing and purchase options | Available upon Request |