Specialty Cosmetic Ingredients Market Size Analysis
According to a research survey conducted by ChemView Consulting, in 2022, the Global Specialty Cosmetic Ingredients Market was worth US$ 12.4 Bn and is expected to grow at a CAGR of 4.3% over the forecast period. The market is expected to hit US$ 17.4 Bn by 2030 end.
Specialty cosmetic ingredients are compounds added to body goods and cosmetics to provide the finished product with specialized qualities. These specialty components provide the finished cosmetic product with distinctive attributes such as foaming and water resistance.
Specialist cosmetic chemicals are used in many applications, including hair, skin, dental, scent, and makeup.
Market Dynamic
BODY PRODUCTS WITH ENHANCED PROPERTIES DRIVE THE MARKET GROWTH
Growing improvements and innovations in end products, as well as rising consumption of cosmetics and personal care products, are some of the reasons driving the growth of the specialty cosmetic ingredients market.
The changing lifestyles, the rising spending power of consumers in emerging nations, and the rapid increase in multifunctional personal care components are the primary drivers driving the specialty Cosmetic ingredients market's rise.
The increased awareness of personal cleanliness and health has increased the need for personal care products. This shift has resulted in increasing production of skincare and hair care products, fuelling demand for specialty cosmetic ingredients.
STRINGENT GOVERNMENTAL REGULATIONS HAMPER THE MARKET GROWTH
Various government agencies across the world control personal care items. These regulatory regimes differ from nation to country, but they all aim to ensure the safety and accurate labeling of personal care goods. It limits the usage of novel components worldwide, stifling the development of personal care products.
These strict rules cause new product launches to be delayed or halted, raise the pricing of any new product put to the market, and may result in development recalls. As a result, new laws and current regulations change impact market growth.
COVID-19 Impact
The coronavirus outbreak has impacted the specialty cosmetics sector, namely the specialty cosmetics ingredients market. The drop is mostly due to the lockdown enforced by countries to adhere to social distancing standards. The global economic slump is also contributing to industrial upheaval.
The closure of manufacturing facilities has negatively influenced the personal care ingredients industry. The epidemic has impacted consumer expenditure on necessities.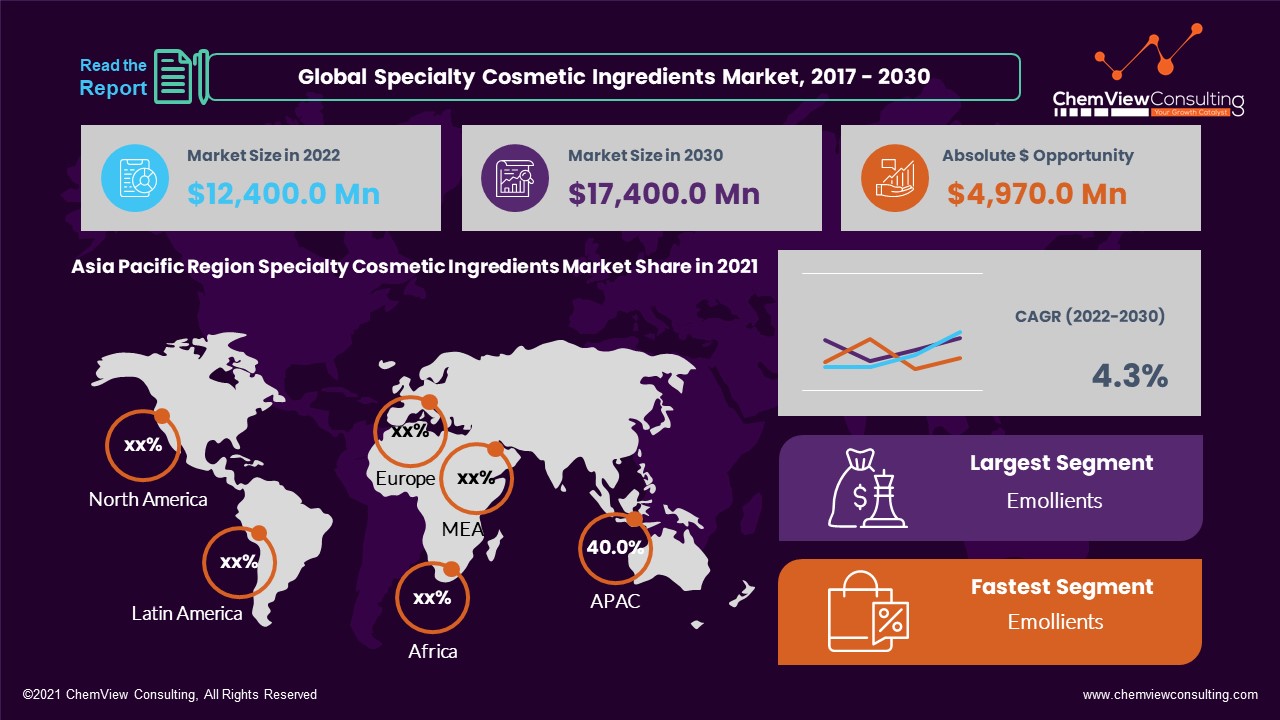 Market Segments Covered in Report
By Type:
Emollients
Surfactants

Anionics
Non-Anionics
Cationics
Amphoterics
Others

 Conditioning polymers
 Rheology control agents
 UV absorbers
 Emulsifiers
 Antimicrobials
 Others
By Application:
Skincare
Hair care
Oral care
Makeup
Fragrance
Other
By Region and Country:
North America (U.S., Canada)
Latin America (Brazil, Mexico, Rest of Latin America)
Europe (Germany, Italy, France, UK, Spain, Netherlands, Norway, Russia, Rest of Europe)
Asia-Pacific (China, Japan, South Korea, India, Indonesia, Thailand, Vietnam, Australia & New Zealand, Rest of Asia-Pacific)
Middle East (Saudi Arabia, Turkey, UAE, Rest of Middle East)
Africa (South Africa, Nigeria, Egypt, Rest of Africa)
Segment-Wise Analysis
Why are emollient Type Specialty Cosmetic Ingredients projected to have the highest CAGR?
The emollients market is gaining traction due to the widespread use of emollients in various skincare products due to their lubricating and moisturizing qualities.
This category is expected to rise at a 5.0% annual pace during the projected period because of the significant development in global demand for moisturizers. Because of their widespread usage in skin care, hair care, oral care, makeup, and toiletry goods is the most often used ingredient in the personal care products industry.
It's calming and smoothing characteristics, which act as a protective barrier on the skin's surface, promote its popularity.
Why is the skincare and haircare segment expected to expand the fastest during the forecast period?
In the worldwide specialty cosmetic ingredients market, skincare and hair care are the most important application segments. Recent urbanization and growth tendencies in industries such as cinema and fashion have increased sales of specialist cosmetic ingredients in the makeup application market.
Region-Wise Analysis
The regions analyzed for the market include North America, Europe, Latin America, Asia Pacific, Middle East, and Africa.
Regarding value, Europe is predicted to have the greatest market share in Specialty cosmetics ingredients during the forecast period. It is due to the rising demand for personal care components in various luxury products such as skin care, hair care, dental care, makeup, and so on.
Moreover, the high spending power of consumers in the region and the growing demand for natural cosmetics with good quality products have been driving the growth of personal care ingredients in Europe.
Rapidly rising economies in Asia, including India and China, provide abundant prospects for growth in the worldwide specialized cosmetic ingredients market.
Since the country's opening to public, private, and international investment, China has emerged as a prominent region in the global economy. Manufacturers of specialist cosmetic ingredients are developing and investing primarily in this area because it provides significant development potential in the worldwide specialty cosmetic ingredients industry.
Competition Analysis
The worldwide specialized cosmetic ingredients market is fairly concentrated, with large market shares held by notable players.
Some of the key developments that have taken place in the Specialty Cosmetic Ingredients Market include:
In October 2018, Croda International Plc. Formally introduced its bio-based specialty cosmetic component (surfactant) to suit market demand.
In January 2018, Polyaldo® Polyglyceryl Esters, a naturally derived surfactant used as a specialized cosmetic component in washing formulations, was released as a new highlighted product by the Lonza Group.
A list of some of the key suppliers present in the market are:
BASF SE
Croda International Plc.
Evonik Industries AG
Akzo Nobel N.V.
Solvay SA
The Dow Chemical Company
Lonza Group
Eastman Chemical Company
Clariant AG
Ashland Global Specialty Chemicals Inc.
Innospec Inc.
Novacap Group
Actives International
Variati S.p.A.
INOLEX Inc.
Archer Daniels Midland Company
Global Specialty Cosmetic Ingredients Market 2022-2030: Report Coverage and Highlights
Assessment of the historical and current market size (2017-2021), market projections (2022-2030), and its contribution to the parent market
Key drivers, restraints, opportunities, and key emerging trends impacting market growth
Predictions on critical supply, demand, and technological trends and changes in consumer behavior
Value chain analysis (list of manufacturers, distributors, end-users, average profitability margins, etc.)
Segment-wise, country-wise, and region-wise market analysis
Competition mapping, market share analysis, key strategies adopted by top players, and competitive tactical intelligence
Key product innovations and regulatory framework
Covid-19 impact on the market and how to navigate
Strategic market analysis and recommendations on crucial winning strategies
| | |
| --- | --- |
| Research Scope | Details |
| Forecast period | 2022-2030 |
| Historical data available for | 2017-2021 |
| Market analysis | USD Billion for Value and Tons for Volume, and CAGR from 2022 to 2030 |
| Key regions covered | North America, Latin America, Europe, Asia-Pacific, Middle East, and Africa |
| Key countries covered | US, Canada, Brazil, Mexico, Germany, Italy, France, UK, Spain, Netherlands, Norway, Russia, China, Japan, South Korea, India, Indonesia, Thailand, Vietnam, Australia & New Zealand, Saudi Arabia, Turkey, UAE, South Africa, Nigeria, Egypt |
| Key segments covered | By Type, Application, and Region |
| Customization scope | Available upon Request |
| Pricing and purchase options | Available upon Request |