Stainless Steel Market Size Analysis
According to a research survey conducted by ChemView Consulting, in 2022, the Global Stainless Steel Market was worth US$ 125.7 Bn and is expected to grow at a CAGR of 5.6% over the forecast period. The market is expected to hit US$ 194.3 Bn by 2030 end.
Stainless steel is a form of iron-based steel that contains chromium and a specified percentage of carbon, molybdenum, nickel, and other metals that improve the properties of stainless steel. It is a highly corrosion-resistant material with good elasticity, flexibility, hardness, and wear and tear resistance.
Stainless steel is also used in the building, construction, automotive, and transportation industries. It is also utilized to manufacture many home appliances, cookware, cutlery, and other components.
Market Dynamic
DIVERSE APPLICATIONS DRIVE THE MARKET GROWTH
Because of its growing application in different sectors such as chemical, petrochemical, oil and gas, food and beverage, and power generation, the worldwide Stainless Steel Market is expected to rise significantly during the forecast period.
Because of its outstanding corrosion, wear and tear, and tensile strength capabilities, stainless steel is utilized in pumps, valves, pipe systems, storage tanks, and reactors, among other locations. These applications of stainless steel will drive the market further.
INCREASING RAW MATERIAL PRICES HAMPER THE MARKET GROWTH
Increasing changes in the price of stainless steel and steel products have been noted over the last decade, which has had a substantial influence on the market. Furthermore, a significant drop in stainless steel pricing and rising raw material costs have cut steelmakers' and distributors' profit margins. Debt protection metrics in the industry have also deteriorated.
THE RISE IN THE CONSTRUCTION INDUSTRY CREATES OPPORTUNITIES FOR THE STAINLESS STEEL MARKET
Due to rising population and urbanization, there is an increasing need for the construction of residential and commercial structures, as well as hospitals, all over the world. Furthermore, there is a growing desire for a quick construction mode. Growing urbanization necessitates the development of additional buildings and infrastructure. These reasons are expanding the market opportunity for stainless steel.
COVID-19 Impact
The pandemic issue has had a substantial influence on the growth of the stainless steel market in the year 2020, leading to a considerable fall in demand from various end-use industries.
Construction project delays, lockdowns, and poor automotive demand slowed the stainless steel industry's expansion in 2020.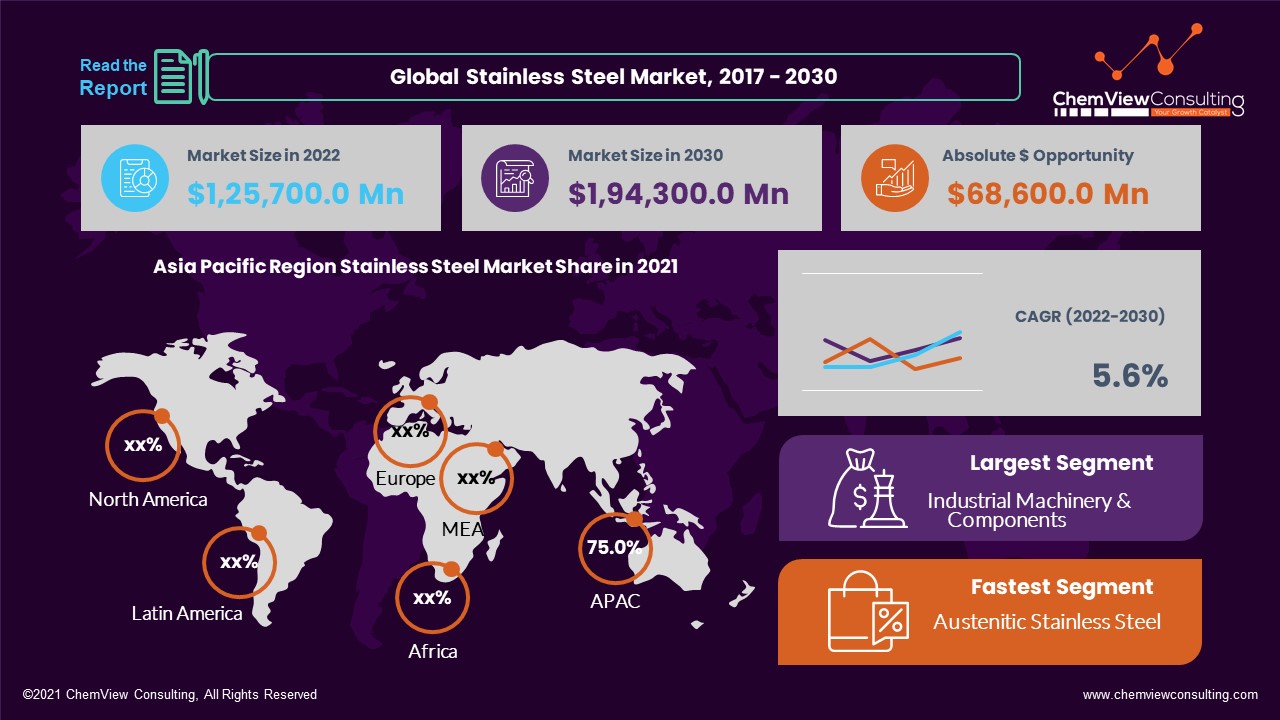 Market Segments Covered in Report
By Type:
Austenitic
Ferritic
Duplex
Martensitic
Precipitation Hardening
By Form:
By End-Use:
Building & Construction
Industrial Machinery & Components
Automotive & Transportation
Home Appliances
Cookware & Cutlery
Medical & Surgical Tools
Others
By Region and Country:
North America (U.S., Canada)
Latin America (Brazil, Mexico, Rest of Latin America)
Europe (Germany, Italy, France, UK, Spain, Netherlands, Norway, Russia, Rest of Europe)
Asia-Pacific (China, Japan, South Korea, India, Indonesia, Thailand, Vietnam, Australia & New Zealand, Rest of Asia-Pacific)
Middle East (Saudi Arabia, Turkey, UAE, Rest of Middle East)
Africa (South Africa, Nigeria, Egypt, Rest of Africa)
Segment-Wise Analysis
Why is Austenitic Type Stainless Steel projected to have the highest CAGR?
Austenitic stainless steel is predicted to be popular in the global stainless steel market. It is expected that this category will account for roughly three-fourths of the stainless steel market. Austenitic type is popular in many industrial industries such as chemical, petrochemicals, oil & gas, etc., in heavy engineering, and other end-use sectors due to good corrosion resistance, wear and tear resistance, tensile strength, and many others.
Which form segment is expected to expand the fastest during the forecast period?
The tubular sector is expected to increase significantly worldwide the stainless steel market. Increasing demand from the chemical, petrochemical, food, and beverage industries and the building and infrastructure sectors will boost stainless steel tubular goods.
Why is it projected that the industrial machinery and components category would grow the quickest throughout the projection period?
Because of the application of stainless steel in the manufacturing, heavy engineering, and power generation sectors, the industrial machinery and components segment is expected to remain one of the top-end consumers of stainless steel. Stainless steel consumption is driven by rising demand for storage tanks, reactors, pipelines, valves, and other chemicals, food, beverage, oil, gas, and power generating industries.
Region-Wise Analysis
The regions analyzed for the market include North America, Europe, Latin America, Asia Pacific, Middle East, and Africa.
The Asia Pacific will likely dominate the stainless steel market with the largest volume share of nearly 0% in 2021 throughout the assessment period due to high consumption from the region's stringent end-use industries and enormous stainless steel production rate, particularly in China.
It is expected to account for over a third of all stainless steel produced globally.
Competition Analysis
Significant players are working on growing their presence through collaboration with other companies and strategic acquisition of medium-sized and other key players. Key market participants also focus on creating unique and advanced products by heavy spending on research and development (R&D).
Some of the key developments that have taken place in the Stainless Steel Market include:
In February 2021, Vinco introduced a new line of steel wires and slings. These goods are commonly used in the lifts, fishing, and elevating industries. This launch will assist the organization in meeting the customer demands for these applications.
In November 2020, Industrials AB debuted Industrilas Klima-flex, an acid-resistant steel clasp, and handled handle for HVAC applications. The company's product line will be expanded due to this launch.
A list of some of the key suppliers present in the market are:
ArcelorMittal
Nippon Steel Corporation
POSCO
JFE Steel Corporation
AK Steel
Thyssenkrupp AG
Hyundai Steel Co., Ltd.
Outokumpu
Acerinox
Yieh United Steel Corp.
Baosteel Group
Aperam
Jindal Stainless Limited
Gerdau
Vallourec
Global Stainless Steel Market 2022-2030: Report Coverage and Highlights
Assessment of the historical and current market size (2017-2021), market projections (2022-2030), and its contribution to the parent market
Key drivers, restraints, opportunities, and key emerging trends impacting market growth
Predictions on critical supply, demand, and technological trends and changes in consumer behavior
Value chain analysis (list of manufacturers, distributors, end-users, average profitability margins, etc.)
Segment-wise, country-wise, and region-wise market analysis
Competition mapping, market share analysis, key strategies adopted by top players, and competitive tactical intelligence
Key product innovations and regulatory framework
Covid-19 impact on the market and how to navigate
Strategic market analysis and recommendations on crucial winning strategies
| | |
| --- | --- |
| Research Scope | Details |
| Forecast period | 2022-2030 |
| Historical data available for | 2017-2021 |
| Market analysis | USD Billion for Value and Tons for Volume, and CAGR from 2022 to 2030 |
| Key regions covered | North America, Latin America, Europe, Asia-Pacific, Middle East, and Africa |
| Key countries covered | US, Canada, Brazil, Mexico, Germany, Italy, France, UK, Spain, Netherlands, Norway, Russia, China, Japan, South Korea, India, Indonesia, Thailand, Vietnam, Australia & New Zealand, Saudi Arabia, Turkey, UAE, South Africa, Nigeria, Egypt |
| Key segments covered | By Type, Form, End-Use, and Region |
| Customization scope | Available upon Request |
| Pricing and purchase options | Available upon Request |