Global Sulphur Bentonite Market Size Analysis
According to a research analysis conducted by ChemView Consulting, in 2022, the worldwide sulfur bentonite market was worth US$ 186.7 Million. It is expected to grow at a CAGR of 5.3% over the forecast period. The market is expected to hit US$ 282.2 Million by 2030 end.
Increased agricultural investments and a significant increase in crop production will continue to drive sales in the sulfur bentonite industry. Sulfur bentonite is a micronutrient that is one of the essential components of amino acids. It is primarily used to improve plant metabolic activities. It also boosts the effectiveness of a slew of other critical nutrients for high crop yields.
Market Dynamics
What are the key drivers bolstering the growth of the sulfur bentonite market?
The worldwide demand for sulfur drives the need for sulfur bentonite as fertilizers. The motivation originates from the necessity to increase agricultural yields for various plants. Regulatory restrictions on the amount of sulfur allowed in marine fuel in several world areas are developments that bode well for the sulfur bentonite industry.
The rising use of sulfur bentonite derivatives is likely to drive market expansion during the projected period. The most common products are zinc bromide, sodium bromide, tetrabromobisphenol A, and decabromodiphenyl ethane.
What are the opportunities in the sulfur bentonite business?
The growing commercialization of sulfur-containing fertilizers will propel the sulfur bentonite market forward. The market is being boosted by the increasing use of upstream sulfur bentonite mixing solutions. The need to improve agricultural productivity for various plants will likely drive market expansion in the following years.
The worldwide sulfur bentonite market is expected to increase with the increasing commercialization of sulfur-containing fertilizers. Furthermore, the increased focus of numerous governments on sulfur-based fertilizers is projected to provide profitable opportunities for manufacturers.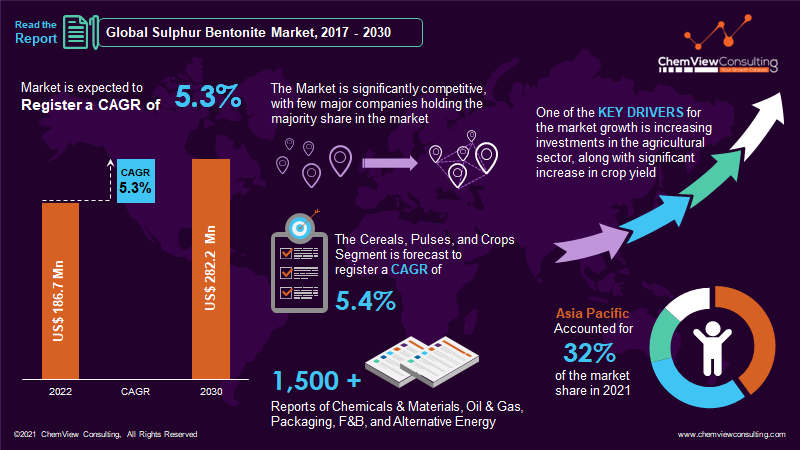 Segment-Wise Analysis
Why are sulfur bentonite sales for cereals, pulses, and crops on the rise?
Over the projection period, sales of sulfur bentonite for use in cereals, pulses, and crops are predicted to increase at a rate of 5.4%. Because of the usage of sulfur bentonite, crop yields in cereals such as corn, rice, and wheat have steadily increased, and this trend is likely to continue in the projection future.
Sulfur bentonite is also becoming more popular for Asia Pacific rice and North America corn. Sales of the chemical sulfur bentonite for use in cereals, pulses, and crops are expected to rise throughout the projection period due to these causes.
Why are sales of sulfur bentonite for use in oilseeds picking up steam?
The oilseeds category is expected to provide an absolute dollar potential of more than US$ 30 Mn between 2022 and 2030, accounting for over a third of the worldwide sulfur bentonite market.
Sulfur bentonite is commonly used to boost main oil crops' productivity and oil content, such as rapeseed, soybean, sunflower, and groundnuts. During the evaluation period, this will continue to be a positive factor for sulfur bentonite sales.
Which Region accounts for the largest market share in the sulfur bentonite market?
North America holds a significant market share in the sulfur bentonite market, with an expected growth rate of 4.1% between 2022 and 2030. The increased uptake of sulfur bentonite fertilizers to enhance agricultural production, particularly for plants like soybean, has given the regional market much impetus during the last several years.
How is Asia-Pacific faring in the Sulfur Bentonite market?
Asia Pacific's emerging areas are predicted to provide a sizable portion of the worldwide market's revenue. The region is estimated to hold a market share of 32% in 2021. Fast advancements will fuel a significant expansion in agriculture methods in the country's primary economies to increase food crop yields.
India is expected to have a 23.3% market share in the Asia Pacific sulfur bentonite. It is one of the leading agricultural countries, with numerous essential firms such as Coromandel International Limited and National Fertilizer Limited. Additionally, these top players' profit-generating growth strategies, product advancements, and government measures to enhance the agriculture sector will likely drive sulfur bentonite sales throughout the assessment period.
Competition Analysis
The global market is significantly competitive, with few major companies holding the majority share in the market. To remain competitive in the industry, key market players are investing in expanding their market footprint.
Several vital players invest a fair share of their revenue in research and development to boost their product portfolio. Market participants focus on technological development and utilizing a product in several applications.
Some of the key developments that have taken place in the sulfur bentonite market include:
In 2021, National Fertilizers Ltd (NFL), a state-owned company, announced that sales of sulfur-based fertilizer increased by more than two-fold to 26,456 tons from April to October this year.
In 2016, National Fertilizer Limited, which had previously imported sulfur bentonite, opened a new manufacturing factory in Panipat, India, in 2016, with 25,000 tonnes per year, to fulfill domestic demand.
A list of some of the key suppliers present in the market are:
Coromandel International
H Sulphur Corp
Tiger Sul Products LLC
Devco Australia Holdings
Coogee Chemicals
National Fertilizer Ltd
Deepak Fertilisers & Petrochemicals Corporation Ltd
Aries (Amarak Chemicals)
National Fertilizer Limited (NFL)
DFPCL
Market Segments Covered in Report
 By Product Type:
Sulphur-90%
Sulphur-85%
Others
By Application:
Oilseeds
Cereals, Pulses, and Crops
Fruits and Vegetables
Lawn, Turfs, Trees, and Others
By Region and Country:
North America (U.S., Canada)
Latin America (Brazil, Mexico, Rest of Latin America)
Europe (Germany, Italy, France, UK, Spain, Netherlands, Norway, Russia, Rest of Europe)
Asia-Pacific (China, Japan, South Korea, India, Indonesia, Thailand, Vietnam, Australia & New Zealand, Rest of Asia-Pacific)
Middle East (Saudi Arabia, Turkey, UAE, Rest of Middle East)
Africa (South Africa, Nigeria, Egypt, Rest of Africa)
Global Sulphur Bentonite Market 2022-2030: Report Coverage and Highlights
Assessment of the historical and current market size (2017-2021), market projections (2022-2030), and its contribution to the parent market
Key drivers, restraints, opportunities, and key emerging trends impacting market growth
Predictions on critical supply, demand, and technological trends and changes in consumer behavior
Value chain analysis (list of manufacturers, distributors, end-users, average profitability margins, etc.)
Segment-wise, country-wise, and region-wise market analysis
Competition mapping, market share analysis, key strategies adopted by top players, and competitive tactical intelligence
Key product innovations and regulatory framework
Covid-19 impact on the market and how to navigate
Strategic market analysis and recommendations on crucial winning strategies
| | |
| --- | --- |
| Research Scope | Details |
| Forecast period | 2022-2030 |
| Historical data available for | 2017-2021 |
| Market analysis | USD Million for Value and Tons for Volume, and CAGR from 2022 to 2030 |
| Key regions covered | North America, Latin America, Europe, Asia-Pacific, Middle East, and Africa |
| Key countries covered | US, Canada, Brazil, Mexico, Germany, Italy, France, UK, Spain, Netherlands, Norway, Russia, China, Japan, South Korea, India, Indonesia, Thailand, Vietnam, Australia & New Zealand, Saudi Arabia, Turkey, UAE, South Africa, Nigeria, Egypt |
| Key segments covered | Product Type, Application, and Region |
| Customization scope | Available upon Request |
| Pricing and purchase options | Available upon Request |