Global Surface Treatment Market Size Analysis
According to a research survey conducted by ChemView Consulting, in 2022, the Global Surface Treatment Market was worth US$ 13,782.1 Mn and is expected to grow at a CAGR of 5.8% over the forecast period. While the historical CAGR is 4.9%, the market is expected to hit US$ 24,219.9 Mn by 2032 end.
Surface treatment is a procedure for improving the qualities of various surfaces, such as hardness, wear- and corrosion resistance, etc. Effective surface treatment techniques can provide products of exceptional quality and longevity. It has also been shown to be an effective way to stop metals from generating sludge while providing superior corrosion protection. Cleaning, activation, phosphating, and passivation are common steps in the procedure.
Market Dynamic
GROWING DEMAND FOR ECO-FRIENDLY CHEMICALS DRIVES THE MARKET
Due to rising consumer demand for environmentally friendly chemicals and rising investment in the chemical sector, the global surface treatment market is predicted to expand significantly during the projected period. Surface treatment is in high demand worldwide because of the rising need for products that are robust and resistant to wear. By 2031, rising industrial and infrastructure activity is anticipated to further fuel the expansion of the surface treatment market.
STRINGENT ENVIRONMENTAL REGULATIONS CONTRAINS THE MARKET
In some geographical markets, the sales volume of particular surface treatment chemicals is constrained by strict environmental emissions regulations.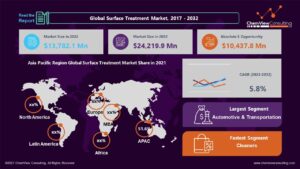 Market Segments Covered in Report
By Chemical Type:
Anodizing chemicals
Alkaline Degreaser
Etchants and additives
Electrolytic coloring and brightening
Others
Cleaners
Paint Strippers
Passivation
Additives and Sealants
Corrosion Protection
Others (primers, coatings, etc.)
By Application:
Electronics and Electrical
Automotive and Transportation
Industrial machinery
Aerospace
Construction and infrastructure
Others
By Region and Country:
North America (U.S., Canada)
Latin America (Brazil, Mexico, Rest of Latin America)
Europe (Germany, Italy, France, UK, Spain, Netherlands, Norway, Russia, Rest of Europe)
Asia-Pacific (China, Japan, South Korea, India, Indonesia, Thailand, Vietnam, Australia & New Zealand, Rest of Asia-Pacific)
Middle East (Saudi Arabia, Turkey, UAE, Rest of Middle East)
Africa (South Africa, Nigeria, Egypt, Rest of Africa)
Segment-Wise Analysis
Why are Cleaners estimated to maintain their huge dominance during the forecast period?
With their widespread use in numerous applications and high volume production, cleaners are predicted to maintain their enormous market domination during the projection period. Traditional alkaline-based cleansers still have a significant market share, but low-temperature surfactants are also becoming more popular, along with sustainable products free of boron and phosphate.
Why is the Automotive & Transportation industry expected to remain the largest demand generator for surface treatment?
Throughout the forecast period, the surface treatment market is anticipated to continue to be driven primarily by the automotive industry. Some of the main reasons influencing the market expansion of the category include the widespread use of surface treatment chemicals on the body sections of cars, the size of the automotive fleet, and the anticipated recovery in vehicle manufacturing in the post-pandemic market trends. Additionally, there is a rise in demand for items resistant to wear and corrosion across various industry sectors, including automotive, steel, aluminum, metal processing, etc.
Region-Wise Analysis
The regions analyzed for the market include North America, Europe, Latin America, Asia Pacific, the Middle East, and Africa.
With a market share of 51.6% throughout the forecast period, Asia-Pacific is well-endowed with lucrative growth potential as China and India are the two most important rising nations and are therefore gaining ground.
Sales volumes in Brazil and Mexico are anticipated to be quite high, with demand prospects coming from the infrastructure and construction application segment.
Competition Analysis
Several players are supplying the fragmented surface treatment market. The businesses' main marketing methods include significant investments in R&D, portfolio expansions, new and innovative products, geographic expansions, collaborations, partnerships, and acquisitions to increase their consumer base.
The key developments in the Global Surface Treatment Market are:
In May 2020, for the food and beverage industry, the coating division of BASF, which operates under the Chemetall name in China, introduced FiSan, a full line of sanitization products, including cleaners, adhesives, and conveyer lubricants.
In July 2021, an antimicrobial surface treatment for paper products was introduced by Arjowiggins, a French firm, to proactively prevent the growth of hazardous microorganisms for the product's intended lifetime or up to 10 years.
A list of some of the key suppliers present in the market are:
Atotech Deutschland GmbH
BASF SE
Curtis-Wright Corporation
Element Solution Inc.
Henkel Ag & Co.
Nippon Paint Co., Ltd
Nihon Parkerizing Co., Ltd
NOF Corporation
DUBOIS Chemicals
Surtec
PPG Industries
Quaker Chemical Corporation.
Arjowiggins
Global Surface Treatment Market 2022-2032: Report Coverage and Highlights
Assessment of the historical and current market size (2017-2021), market projections (2022-2032), and its contribution to the parent market
Key drivers, restraints, opportunities, and key emerging trends impacting market growth
Predictions on critical supply, demand, and technological trends and changes in consumer behavior
Value chain analysis (list of manufacturers, distributors, end-users, average profitability margins, etc.)
Segment-wise, country-wise, and region-wise market analysis
Competition mapping, market share analysis, key strategies adopted by top players, and competitive tactical intelligence
Key product innovations and regulatory framework
Covid-19 impact on the market and how to navigate
Strategic market analysis and recommendations on crucial winning strategies
| | |
| --- | --- |
| Research Scope | Details |
| Forecast period | 2022-2032 |
| Historical data available for | 2017-2021 |
| Market analysis | USD Million for Value and Tons for Volume, and CAGR from 2022 to 2030 |
| Key regions covered | North America, Latin America, Europe, Asia-Pacific, Middle East, and Africa |
| Key countries covered | US, Canada, Brazil, Mexico, Germany, Italy, France, UK, Spain, Netherlands, Norway, Russia, China, Japan, South Korea, India, Indonesia, Thailand, Vietnam, Australia & New Zealand, Saudi Arabia, Turkey, UAE, South Africa, Nigeria, Egypt |
| Key segments covered | By Chemical Type, Application, and Region |
| Customization scope | Available upon Request |
| Pricing and purchase options | Available upon Request |