Global Water Desalination Equipment System Market Size Analysis
According to a research survey conducted by ChemView Consulting, in 2022, the Global Water Desalination Equipment System Market was worth US$ 6,745.9 Mn and is expected to grow at a CAGR of 7.4% over the forecast period. While the historical CAGR is 6.8%, the market is expected to hit US$ 13,774.7 Mn by 2032 end.
Equipment for desalinating water is used in industry to clean brackish water, seawater, or other water sources. Desalination technology allows it to extract salts and minerals from various water sources, including industrial feed, wastewater, wells, and others, and then transform those waters into freshwater or potable water. As a result, the machinery is frequently employed in many different industries, including oil and gas, mining, agriculture, chemical, and municipal contexts.
Market Dynamic
GROWING WATER SCARCITY AND DEPLETION OF FRESHWATER SOURCES PUSHES THE MARKET FORWARD
Only 3% of the 71% of the earth's surface covered by water is pure water that may be used for agriculture and drinking. Water conservation is essential to guarantee the long-term supply for consumption and other applications. According to UNICEF, at least 2,000 million people utilize tainted drinking water sources, and 785 million people lack access to clean drinking water globally. The United Nations (UN) estimates that water consumption has been rising at a 1% per year since the 1980s. This growth trend will continue until 2050 due to rapid population increase, socioeconomic development, and shifting consumption habits.
Nearly half of the world's population is anticipated to experience water scarcity by 2030. The bulk (2.5%) of all freshwater resources is in a frozen condition in the form of icecaps. Only 1% of all freshwater resources are readily accessible to humans for direct consumption. The need for water desalination technology has increased due to the expanding world population and diminishing freshwater resources.
SCALING AND FOULING ISSUES ASSOCIATED WITH RO MEMBRANES restrains the growth
The fouling that develops on the membrane's surface or in its holes is a significant issue when employing RO membranes. Both cellulose-based and thin-film composite membranes can foul. There are four kinds of fouling: organic, scaling, colloidal, and biological. Scaling in desalination facilities is mostly caused by salt saturation on the membrane surface, and fouling shortens the membrane's lifespan and flux. Disinfectants, anti-scaling, and other pre-treatments can help control it, but they raise operating costs. It persists and continues to be a crucial area for membrane quality improvement.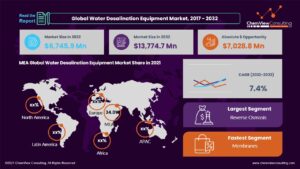 Market Segments Covered in Report
By Technology:
Reverse Osmosis
Multi-stage flash Distillation
Multiple-effect distillation
Others
By Application:
Municipal
Industrial
Others
By Product:
Membranes
Pumps
Evaporators
Others
By Region and Country:
North America (U.S., Canada)
Latin America (Brazil, Mexico, Rest of Latin America)
Europe (Germany, Italy, France, UK, Spain, Netherlands, Norway, Russia, Rest of Europe)
Asia-Pacific (China, Japan, South Korea, India, Indonesia, Thailand, Vietnam, Australia & New Zealand, Rest of Asia-Pacific)
Middle East (Saudi Arabia, Turkey, UAE, Rest of Middle East)
Africa (South Africa, Nigeria, Egypt, Rest of Africa)
Segment-Wise Analysis
Why does reverse osmosis remain highly sought-after?
The demand for reverse osmosis technology is anticipated to expand at a healthy rate because of its advantages, including low installation costs, ease of processing, the capacity to treat all types of feed water, and minimal chemical use, allowing the category to have the greatest share of the market. The segment is also anticipated to grow the fastest during the projected period.
Which product accounts for dominant share in water desalination equipment systems market?
The rapid development rate of the membranes market may be ascribed to the fact that these membranes are excellent for use in municipal applications because of their high water permeability and impermeability to dissolved salts and particle matter.
Region-Wise Analysis
The regions analyzed for the market include North America, Europe, Latin America, Asia Pacific, the Middle East, and Africa.
With a market share of 34.0%, the MEA area is predicted to be the water desalination equipment's largest market. The significant market share of the MEA region is primarily caused by the region's low consumable water availability, water shortage, and rapid decline in consumable water quality.
Asia Pacific is anticipated to grow at a CAGR of 7.8% during the anticipated period. In the next years, it is expected that the demand for water desalination technology will increase due to declining groundwater levels, particularly in developing nations like Bangladesh and India. The governments of Australia, China, and India have also launched plans to build desalination facilities.
Competition Analysis
The market comprises national and international companies that design, produce, and sell water desalination machinery. A competitive market environment is anticipated as the number of companies grows.
The key developments of the Global Desalination Equipment Market are:
In July 2021, for the Sorek B desalination facility in Israel, DuPont was chosen by IDE Water Technologies to supply SWRO membrane components, including dry SWRO membranes. Membranes from DuPont were selected for this project due to their adaptability and simplicity of installation.
In July 2021, 24 new partners signed a contract with Veolia Water Technologies to help advertise, sell, and deliver various Veolia Water Technologies products across the APAC area. The partners will help the company's products reach a wider worldwide market thanks to their local distribution knowledge. China, Indonesia, Malaysia, Thailand, Vietnam, Bangladesh, Sri Lanka, and New Zealand are the nations covered.
In June 2021, the contract to renovate and modernize an outdated seawater reverse osmosis (SWRO) system in Fujairah, United Arab Emirates, was given to Advanced Watertek. To update the obsolete control panel and automate the existing plant, the company replaced the older equipment, such as pressure switches, conductivity analyzers, pH analyzers, flow transmitters, and motorized actuated valves, with new and upgraded equipment.
A list of some of the key suppliers present in the market are:
General Electric
Doosan Heavy Industries and Co
Acciona SA
Genesis Water Technologies
Koch Membrane Systems
Degremont Sas
IDE Technologies
Hyflux Ltd
Biwater Holdings Limited
Cadagua Solvay S.A.
Ferrovial
Abengoa
Fisia Italimpianti S.p.A.
Xylem
Acciona, S.A.
Aquatech International LLC
Veolia
Guangzhou KangYang Seawater Desalination Equipment Co., Ltd.
Dow
Global Water Desalination Equipment System Market 2022-2032: Report Coverage and Highlights
Assessment of the historical and current market size (2017-2021), market projections (2022-2032), and its contribution to the parent market
Key drivers, restraints, opportunities, and key emerging trends impacting market growth
Predictions on critical supply, demand, and technological trends and changes in consumer behavior
Value chain analysis (list of manufacturers, distributors, end-users, average profitability margins, etc.)
Segment-wise, country-wise, and region-wise market analysis
Competition mapping, market share analysis, key strategies adopted by top players, and competitive tactical intelligence
Key product innovations and regulatory framework
Covid-19 impact on the market and how to navigate
Strategic market analysis and recommendations on crucial winning strategies
| | |
| --- | --- |
| Research Scope | Details |
| Forecast period | 2022-2032 |
| Historical data available for | 2017-2021 |
| Market analysis | USD Million for Value and Tons for Volume, and CAGR from 2022 to 2030 |
| Key regions covered | North America, Latin America, Europe, Asia-Pacific, Middle East, and Africa |
| Key countries covered | US, Canada, Brazil, Mexico, Germany, Italy, France, UK, Spain, Netherlands, Norway, Russia, China, Japan, South Korea, India, Indonesia, Thailand, Vietnam, Australia & New Zealand, Saudi Arabia, Turkey, UAE, South Africa, Nigeria, Egypt |
| Key segments covered | By Technology, Application, Product, and Region |
| Customization scope | Available upon Request |
| Pricing and purchase options | Available upon Request |